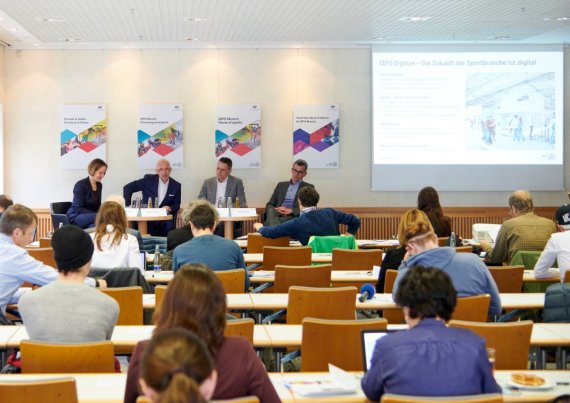 Individualization is a common catchword. But why does Messe München CEO Klaus Dittrich focus on this topic in his speech at ISPO Munich 2019?
He says: "For the end customer, digitalization accelerates the megatrend of individualization."
"The more 'I' in a product, the more attractive the brand is for a customer," says Dittrich. This is a great opportunity for the industry. Examples are individualized running shoes or ski boots: "In the end, the megatrend of individualization in society corresponds to the personalized product."
There will be many innovative examples of this at ISPO Munich. Among other things, a microfactory. It connects the 3D simulation of clothing directly with production and digital textile printing.
The winner of the start-up competition ISPO Brandnew "Original+" has also individualized his alpine skis: Personal details such as driving style, range of use or weight and size are translated into an individual ski with the help of artificial intelligence. The manufacturers can thus supply skis by "mass production".
Personal contact is indispensable despite digitalization, which is why, according to Dittrich, "the trade fair in Munich has not lost any of its radiance". The figures for ISPO Munich 2019 prove him right:
2,943 exhibitors (2018:

2,801)

Participants from 56 countries (plus 5 percent)

International exhibitors: 89 percent (2018: 88 percent).

18 halls for the first time

334 new exhibitors

41 new exhibitors in the Health & Fitness sector

57 new exhibitors in the outdoor sector

90 new exhibitors in the field of winter sports
Another focus - already for two years - for ISPO is women. First under the aspect of women as a target group and then under the aspect of "women as managers". A survey by ISPO with over 800 dealers and manufacturers shows:
94 percent of manufacturers involve women in product development

66 percent of manufacturers offer women-specific products

46 percent of respondents say that women as a target group have gained in importance for them over the past two years

But: o

nly 22 percent of manufacturers and dealers have female decision-makers.
Dittrich: "We see: There is still great potential for the sports industry". That is why the ISPO Munich will once again feature the ISPO Women's Lounge with many lectures, discussions and workshops.
This year the lounge will also be curated for the first time by the women's network of Messe München "Frauen Verbinden". Among others, guests from companies such as Microsoft and Hugo Boss will be present in line with the cross-industry concept.