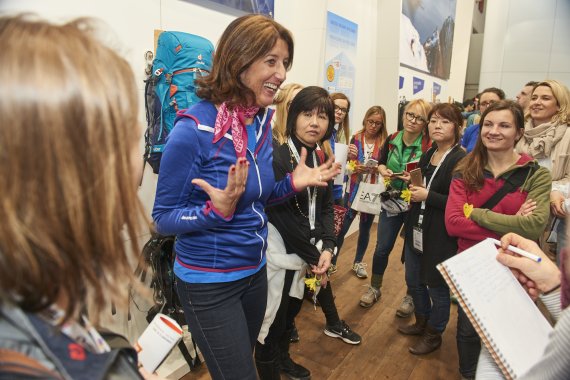 The big players within the sports industry – including the likes of Adidas, Nike, Puma, and Under Armour – identified women as a target group with growing potential some time ago now. And countless studies confirm that more and more women are showing an interest in sport. Lots of manufacturers and brands from the winter sports, outdoor, and teamsports, are now following in the footsteps of the industry giants and developing products and services aimed specifically at their female customer base.
And if you're just picturing a shelf of pink sneakers right now, you either haven't quite understood the point or there's a chance you're horribly underestimating the huge potential we are referring to here. Believe us – we are well past the days when the same product would simply be issued in two different colors for men and women. Gender-specific products that take into account all of the anatomical, ergonomic, and social requirements – and marketing campaigns that do this level of attention justice – are the name of the game here.
Women are highly influential within the sports business, playing an important role as customers but naturally also as managers, product developers, marketing specialists, sellers of sporting goods, sports bloggers, and sporting trip operators.
Following on from the success of the "Women in the Sports Business" initiative at ISPO Munich 2017 and 2018, the world's largest sports trade fair will once again be putting the spotlight on women in sport, offering a special program aimed specifically at female trade visitors, exhibitors, and members of the press at ISPO Munich 2019.
Messe München GmbH and ISPO are showing their commitment with a primary focus on "Women in Leadership," a topic we are set to hear about more and more within the sports industry and trade going forward. In partnership with the "Connecting Women" initiative, working groups and conferences are being formed to provide talented and motivated young women with the opportunity to talk to female experts about the potential and prospects for career progression.
The following are among the other highlights on the ISPO Munich 2019 program:
The Womens Lounge powered by Frauen verbinden is the ideal port of call for women attending the event as trade visitors, exhibitors, journalists, or bloggers. It provides the perfect setting for reconnecting with existing contacts and establishing new ones as well as planning the day ahead at the trade fair. All while sipping on a delicious Italian coffee and taking in the relaxed atmosphere.
Guided tours are available on every day that the trade fair is open. Groups will visit selected brands that are exhibiting products and services especially for women. Experts will shed light on the details of their collections, thereby granting everyone on the tour a fascinating insight into the current state of the market. 
Looking at opportunities and potential in gender marketing, experts will outline various options for addressing target groups, such as marketing in retail outlets, events, story-telling, and live communication, during a podium discussion.