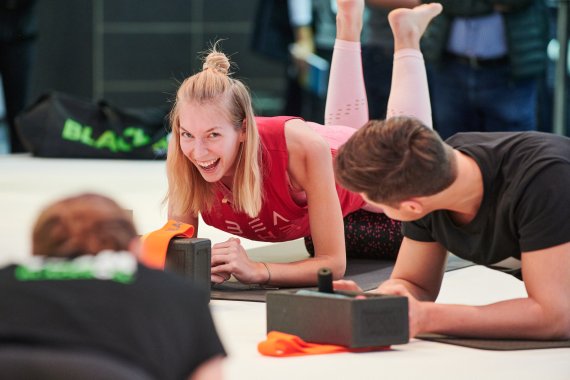 At the main press conference, Klaus Dittrich, Chairman of the Board of Management of Messe München, will present how ISPO will continue to transform itself in order to find solutions to social challenges with the help of sports.
"In view of the changes in the world and in the industry, we will go from being the world's largest platform for sporting goods to a global platform for sport in all its facets," said Dittrich. The aim is to transform itself from the largest platform for sporting goods to a global platform for all those who are convinced of the positive power of sport.
At the ISPO Munich 2020 VIP dinner, Messe München CEO Klaus Dittrich presented the ISPO Cup to marathon legend Tegla Loroupe - a woman who manages to open up new perspectives with the power of sports. The 46-year-old was the world's leading long-distance runner in the 1990s.
Today she is a UN ambassador for sports and is involved in peace and development aid organisations. She promised to return to Munich for the first ISPO SDG Summit. "I'm not going to run away with this trophy," she says. "Together with ISPO, I want to make the world a better place with the help of sports."
Skiing world star Lindsey Vonn is thrilled at her premiere visit to the ISPO Munich 2020: "a great first time," she calls her visit to Munich. Patiently she signed autographs for hundreds of interested people and had her picture taken on selfies. However, she still misses skiing painfully almost a year after her retirement: "I have to replace the adrenalin, find something that gives me back that feeling of skiing. I haven't found it yet," she says.
The 26-year-old Czech Adam Ondra is considered the best climber in the world. By being the first to conquer a route with a difficulty level of 9c with the Silence route in Norway, he has pushed the limits of what's possible not only for himself but for all climbers. He spoke to ISPO.com about how to motivate yourself as an athlete when it has become very difficult to become better: "At a certain point, it becomes demotivating when you compare yourself to others. You have to want to keep improving yourself."
At the 7th Running Symposium at ISPO Munich 2020, Urs Weber, Runner's World running expert, presented the industry's new figures. He brings good news: The average expenditure for running clothing has risen by almost ten percent to 324 euros per person per year. Leisure and hobby runners continue to dominate, but new brands and other innovations are pushing onto the market.
ISPO Brandnew is the place at ISPO Munich where the best 50 newcomers of the year present themselves - selected by an expert jury of entrepreneurs, trade journalists, traders, investors, manufacturers and former winners.
The Austrian Jörg Tragatschnik from Zell am See secured the title of Overall Winner of the ISPO Brandnew 2020 with his Exolung. With his inexpensive diving equipment, water sports enthusiasts can dive up to five meters deep - without expensive compressed air bottles and almost unlimited in length.