A healthy diet is not only the order of the day for fitness athletes. More and more people are paying close attention to what finds its way into their home kitchen and what they prefer to leave on the supermarket shelf. For some years now, the vegan diet has been particularly in vogue. Meat, fish, eggs, dairy products and even honey - vegans do without all of these and eat only plant-based food. Even if the science could not prove the advantages of a veganen nutrition for our health yet clearly: Followers of the meatless diet swear by the benefits of rice, lentils, beans and Co. and report again and again of a real energy boost that comes with the renunciation of animal products. Our 5 vegan breakfast recipes form the ideal basis.
For foodies who pay attention to a healthy diet, baked apple pancakes should be just the thing for a healthy breakfast. Simply mix 250 grams of whole grain rice flour, 250 grams of oat flour, 2 teaspoons of baking powder and two tablespoons of coconut blossom sugar in a bowl. Then add one cup of soy milk and one cup of applesauce and mix until you get a creamy pancake batter - stir in some more soy milk if needed. Season with a little cinnamon and vanilla powder and place in a hot pan with coconut oil. Slice two apples into thin slices and place on top of the pancake. Fry until crispy brown on both sides and finally pour some agave syrup on top - done.
If you do a lot of sport, you need a good portion of protein. Chia seeds are a top protein supplier - they contain about twice as much protein as cereals. In combination with fresh fruit, they form the ideal basis of a healthy diet for fitness enthusiasts and other athletes. Simply mix a quarter cup of chia seeds with a cup of almond milk and let sit for about ten minutes - stirring occasionally to prevent the mixture from clumping. Meanwhile, chop up an apple, a banana, a mango and about 200 grams of strawberries. Now stir some vanilla powder and a level teaspoon of cocoa into the pudding mixture and fill everything into small bowls. Add the chopped fruit and serve garnished with some macadamia nuts and some cocoa powder.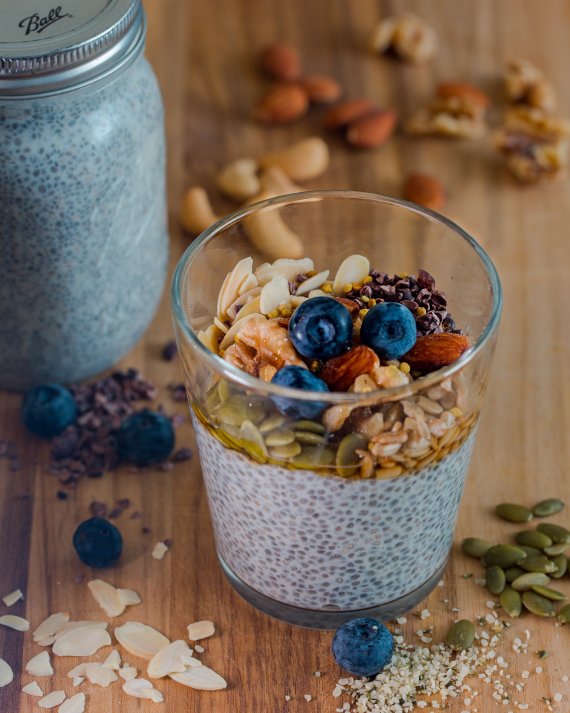 A busy day is coming up and you want to start the morning well satiated? With soaked fresh grains you are guaranteed to stay full for a long time and get all the important nutrients that are important for a healthy diet. Soak half a cup of fresh oat grains in two cups of water and leave overnight. In the morning, drain the water and mix the grain porridge with one and a half cups of almond milk. Now add two cups of frozen wild berries and a handful of dates and blend the mixture with a blender or blender. Season the whole thing with a little vanilla powder and a little sweetener if needed, and you've got a healthy breakfast.
First, soak a cup of cashews in water for about four to five hours. Drain the water and mix the nuts with half a cup of Rejuvelac - add a little water if needed and blend until you have a creamy mixture. (Rejuvelac is a drink made from fermented grains such as rice, quinoa or cereals. Due to its probiotic effect, it is excellent for making vegetable cheese or yoghurt). Place the mixture in a bowl, cover and leave to stand for about seven hours. Then skim off the settled yogurt portion and refine with cocoa, vanilla powder or fruit as desired and enjoy.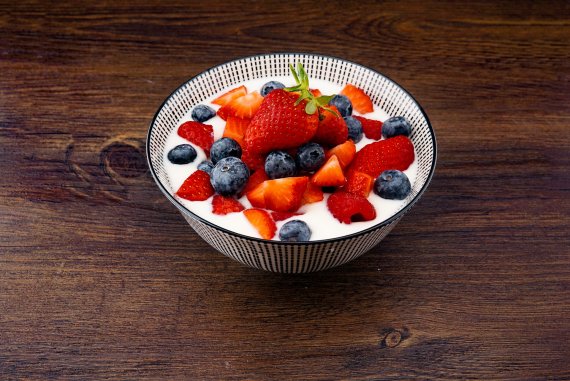 For the vanilla rice pudding with blueberries, simply bring 150 grams of rice pudding to the boil with half a litre of soy milk. Caution: Stir more often, because the whole thing burns quickly. After a short boil, let it simmer until the rice pudding is nice and soft. Add more soy milk if necessary. Meanwhile, add 300 grams of frozen blueberries to another saucepan and heat slowly on low. Put the finished rice pudding in a bowl and sprinkle with vanilla powder. Now pour the warm blueberries over it, round off with some agave syrup and enjoy - healthy breakfast with style.