The decision has been made - this year it simply has to work out with the beach figure. Regular trips to the gym are a fixed part of everyday life, and the diet has been optimally adapted to the new athlete's life. In short: everything is in the green zone, if it weren't for that urgent craving for sweets and tasty snacks. Especially during the cozy evening hours on the couch, thoughts revolve around chocolate and other sinful nibbles. The danger of giving in to temptation increases from day to day.
If you allow yourself a piece of chocolate now and then - and can leave it at that - you can now sit back and relax. For all those with a sweet tooth who know that a bar of chocolate is gone faster than you can imagine, here's a healthy alternative: snacking without remorse with low-carb recipes containing protein.
Protein Pancakes
Protein granola bar
Carrot Pudding
Protein Brownie
Low carb milk slice
One egg, two egg whites and a banana: That's all it takes to make a healthy and delicious breakfast. Simply mash or grind the banana, stir in the eggs and the basic batter for banana protein pancakes is ready. Before it goes with the raw mass in the pan, the taste can still be refined with protein powder or spices such as cinnamon.
Then spread a layer of low-fat quark or low-fat yogurt and garnish the whole thing with blueberries or raspberries. Small tip: Even frozen berries still contain plenty of vitamins and minerals. Simply warm them up briefly in the oven or microwave and the red fruit jelly in fitness style is ready - healthy nutrition made easy.
Whether in the office, on the road or after sports - protein muesli bars are the ideal snack when you need to go fast. For the basic mixture, you need three eggs, 300 grams of low-fat quark or Skyr and 100 grams of rolled oats. 40 grams of goji berries and 30 grams of grated almonds add just the right amount of flavor and provide an extra serving of unsaturated fatty acids, vitamins and antioxidants.
Spread the mixture on a baking sheet and bake in the oven at 160 degrees for about 20 minutes. Then cut into oblong rectangles; done. If you like it extra sweet, you can also refine the dough here with some protein powder.
Pudding made from carrots? What sounds unusual at first quickly turns out to be the ideal sportsman's sweet - perfect for fitness and health and absolutely low in calories. For two people, eight carrots, two tablespoons of grated coconut, 100 ml of coconut milk and a pinch each of cinnamon, nutmeg and ground cloves are needed.
To begin, peel the carrots and boil them in water for about 20 minutes until soft. Then puree the carrots together with the coconut milk and spices until a pudding-like paste is formed. Sprinkle with coconut flakes and enjoy.
Sunday afternoon: As always, mountains of cakes and cookies are served with coffee and tea - it's really not always easy to remain steadfast. The solution: the protein brownie. Simply mix an egg white with a tablespoon of chocolate protein powder and a teaspoon of cocoa powder - at least 70% cocoa content - and microwave for about three minutes. Then sprinkle with chocolate shavings and the cookie substitute is ready.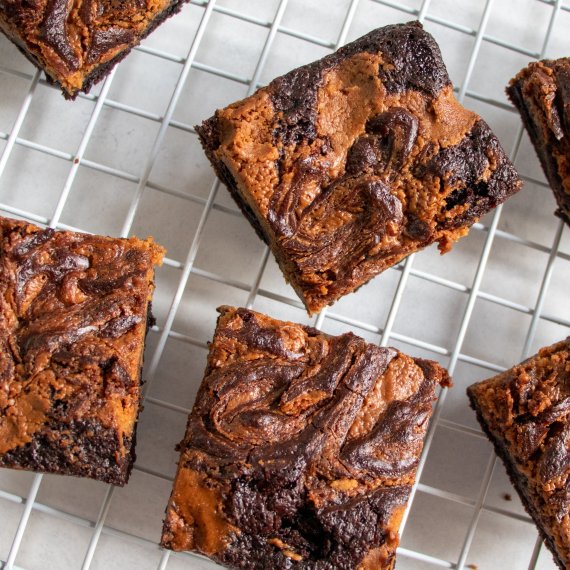 Creamy-sweet inside covered in soft chocolate biscuit - the milk slice is a popular treat. It's just a shame that the milk snack contains an extremely high amount of sugar and is therefore not exactly the ideal snack for health and fitness. But no problem: Four eggs, 70 grams of chocolate protein powder, two teaspoons of cocoa, a packet of baking powder and 100 ml of soy milk - is needed for the biscuit dough of the healthy LowCarb variant. To begin, separate the four egg whites from the yolks and beat with a mixer until stiff. Mix the remaining ingredients into a creamy mixture and then gently fold in the beaten egg whites. Spread out generously on a baking sheet and bake at about 150 degrees for 15 minutes.
For the filling, mix 250 grams of low-fat quark with about 30 grams of egg white powder - preferably a fruity variety - and chill in the refrigerator during the baking time. Cut the baked biscuit dough into even pieces and spread the bottom side with the filling. Put the top layer on top and the healthy milk slice is ready.