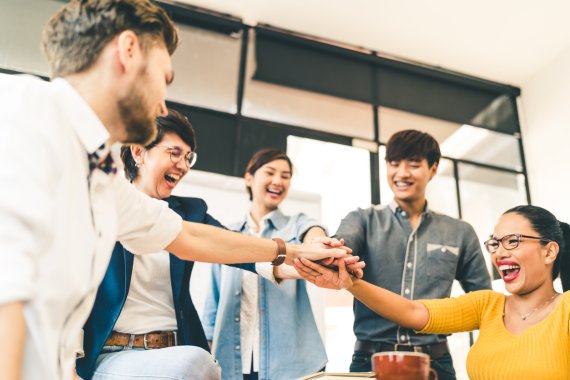 The cooperation between start-ups and medium-sized companies is based on mutual give and take. Both have already gained great experience. SMEs are mostly established and organically grown companies with experience in bookkeeping, accounting or dealing with numerous employees. "Even when it comes to establishing their own positioning on the market, the wealth of experience of medium-sized companies is worth its weight in gold for young start-ups," said Mario Ohoven, President of the Federal Association of Small and Medium-Sized Enterprises Germany.
"Start-ups, on the other hand, provide the experienced entrepreneur with a valuable external view of the structures in his own company, some of which are stuck. In addition, they learn how to satisfy customer needs faster, more flexibly and more modernly and how new technologies can be used sensibly. This also applies to the recruitment of young professionals."
Experienced companies therefore know how a business process has to run, while start-ups know new ways to optimize this process. This creates fruitful synergies that help both sides to adapt products and services to the challenges of digitalization.
Some large companies have already understood this. According to a study by the Federal Association of German Industry, Deutsche Bank and the Institute for SME Research, half of the largest family-owned companies in Germany already cooperate with start-ups. However, according to a survey by the IT association Bitkom, around two thirds of medium-sized companies do not (yet) cooperate with founders.
Ministries or banks offer various programs of cooperation between companies. The Digital Hub Initiative of the Federal Ministry of Economics and Energy, for example, aims to network companies and start-ups in twelve regions. But that is not enough for the Federal Association of Small and Medium-Sized Enterprises. Such programs are often one-sided, said Ohoven. "As an association, we have therefore set ourselves the goal of enabling networking at eye level. In addition to Young SMEs - a successful platform that brings innovative young entrepreneurs and established SMEs together - we have, among other things, developed the format 'Start-up meets Mittelstand' (start-up meets medium-sized companies). Together with our partners, we hold events in various regions."
The ANWR Group, parent company of the Sport 2000 dealer network, has also joined Start-ups meets Mittelstand. Since September 2018, the company has been a partner of the Retailtech Hub innovation platform, which brings together retailers, brands and selected start-ups to test and pilot new technologies and digital business models.
Gregor F. Bernhart, Director Corporate Development of the ANWR Group said: "The special attraction of the Retailtech Hub for us lies in the fact that we can identify and test innovative products and services at an early stage on an international level. These 'early stage pilot phases' allow us to offer innovative products to our dealers more quickly.
This will also enable us to further expand our position as an innovation driver in the environment of stationary specialist retailers. For our Group, this partnership is more than a logical step in the group's 'Inspiring Retail' strategy".
In the Bundesliga, too, some clubs see decisive opportunities for the future in the exchange with the founding scene. At the very front are the 1. FC Cologne, the VfL Wolfsburg or also Eintracht Frankfurt. All three clubs have started so-called accelerator programs. These are said to be a win-win situation: the business youngsters need experienced donors and supporters, who can support the soccer clubs with innovative technologies, e.g. in the areas of training control, match analysis or fan and stadium experience.
Axel Hellmann, CEO of Eintracht Frankfurt Fußball AG, commented: "As in all areas of life, digitalization has become an integral part of sport. As a medium-sized company in the region, the dialogue with start-ups within the framework of cooperation with the Techquartier offers us opportunities for our own corporate development. At the same time, we support founders in implementing interesting business ideas and thus make the location attractive for start-ups. This is all part of our corporate goal to become the most digital Bundesliga club."
It sounds similar with the 1. FC Cologne. There they are committed to the further development of the sports market and have recently joined forces with, among others, the Hype Sports Innovation platform, which combines and invests in sports innovations worldwide.
"We are eager to promote the next generation of sports start-ups together with Hype Foundation", FC Managing Director Alexander Wehrle explained the decision. "We will contribute our know-how to support ideas from which we as a club and the sports industry as a whole can benefit. And we want to learn as much as possible from the creative entrepreneurs who are thinking about the future of sport."
Classically, a cooperation can start with a sales partnership. "Through the mutual transfer of knowledge, it then develops into a financial arrangement. It is becoming increasingly common for medium-sized companies to invest in start-ups. It is also not uncommon for start-ups to work as service providers for medium-sized companies. This is particularly the case in industries with a focus on high-tech," explained BVMW President Ohoven.
The Swiss company Intersport, for example, entrusts part of its customer service to the newcomer Guuru. As a service provider, the start-up company uses innovative technologies to ensure that loyal customers (so-called Guurus) can take over the consulting of Intersport online customers. An algorithm finds the right Guuru for every customer question within seconds. This example shows how young companies with their know-how in new technologies can support established companies to satisfy customer needs faster, more flexibly and more modernly.
When a traditional entrepreneur and the founder of a start-up want to agree on a cooperation, two worlds often collide. "Many young companies pursue the goal of an exit as quickly as possible, i.e. a company sale, while medium-sized companies think in terms of generations," reported Ohoven. Particularly in the early days, start-ups struggled with a low reputation and difficult financial conditions.
"The established medium-sized companies, on the other hand, have difficulties adapting to the mostly disruptive business environment. Here both sides must show understanding and respect for each other and try to reconcile the different corporate philosophies," Ohoven continued. It's an appeal to think about the future.
You can gather further know-how for your future in the sports business, for example, at the ISPO Digitze Summit. In workshops, key notes and expert discussions, you will get to know the most important facts and trends.