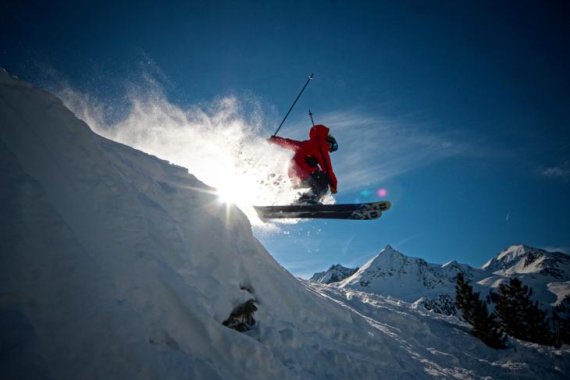 Ski touring is a trend. Piste touring and pleasure touring are become increasingly popular; the terrain offers far more possibilities for ambitious winter sportspeople. Ski touring in high alpine terrain, free-riding and big mountain skiing are more extreme varieties of the sport which also entice alpinists off the beaten track.
It is apparent that growth is also occurring in these segments, even on the piste. Freeriders, who are also referred to as off-piste skiers in the German-speaking area, explore the terrain off the beaten track of the piste. They are recognizable wide their wide skis and avalanche backpacks. They use the infrastructure in the ski regions to explore the back country. 
Big mountain skiers and free tourers are specialists when it comes to daring descents in unprepared terrain. The professionals in this segment feel at home in the most difficult of terrains. In the case of big mountain skiing or free-touring, the huge mountains and descents are the focus; they can usually be reached in alpine tour mode with climbing rope and crampons, or immediately by helicopter. The terrain is extremely challenging and steep, and in many cases, the conditions only really become clear when you get going for the first time.
An advanced skiing ability, even in the most difficult of circumstances, an exceptionally good awareness of hazardous situations and bravery are basic requirements to be able to face such extremes. These athletes must be able to rely completely on their equipment. The skis must remain ridable during broken hard snow, ice, deep snow and in crazy terrain, even during extreme speeds. 
The small skis of the ski racers illustrate the complete opposite. They can also often be seen training next to the pistes. However, their focus is not on the spectacular descent, but more so on an efficient and rapid ascent. For this reason, the skis are narrow and simple in terms of their design. Your entire equipment is designed to be light – here every gram truly counts because the strongest tourers measure their skills in competition with one another.
Mountaineering competitions were originally held by the military as military patrols. They were followed by civil competitions as well the 1920s. The world's largest mountaineering race is the glacier patrol in Wallis, in Switzerland. Further races within the scope of world and European cup mountaineering are the Mountain Attack in Saalbach Hinterglemm, the Sella Ronda ski marathon in South Tirol and the Jennerstier in Berchtesgadener Land. 
Ski touring races, free-riding and Big Mountain touring are the supreme skiing disciplines among those in open country. Expert leading winter sport brands explain on ISPO.com how significant these more extreme varieties of ski touring are in their business field – and which developments can be seen as long-term ones. 
Black Diamond: Stephan Hagenbusch, Vice-President of International Sales
Dynafit: Alexander Nehls, International Marketing Director 
Fischer: Franz Föttinger, CEO
Rossignol: Hilmar Bolle, Country Manager
Hagan: Walter Wiesinger, Sales Director
K2 Sports: Stefan Stankalla, Sales Manager K2 Skis
ABS Protection: Michael Vogt, Marketing Director
Ortovox: Hendrik Reschke, Head of Communication
Black Diamond Equipment is a manufacturer of climbing, skiing, and mountain sports equipment headquartered in Utah, USA. The company was founded in 1954 and also maintains branches overseas in Innsbruck, Austria, and Zhuhai, China.
Stephan Hagenbusch, Vice President of International Sales: "The outdoor/nature experience is paramount for Black Diamond when it comes to skiing. For this reason, alpine touring and big mountain touring are more important to us than ski touring races. If you have any chance of traversing alpine terrain safely, you need to know how to find your way, assess the avalanche situation and practice a lot. In this respect, the extreme varieties of the sport will probably not really become 'suitable' for the mass market." 
Dynafit Sports GmbH is a mountain sports and ski touring specialist headquartered in Munich. Dynafit has been part of the Salewa Group/Oberalp Group since 2003 and employs more than 200 people.
Alexander Nehls, International Marketing Director: "We are proud to say that many of these sport varieties would have never even eventuated if it wasn't for us. Dynafit has divided the ski touring sport into four categories for many years: race, speed, tour & free.
Every customer has other goals, individual needs and also different abilities. We offer everyone the right equipment – from 690-gram-light racing skis to the high-alpine ski set, through to descent-oriented freeriding skis with 108 cm under the binding.
We are not concerned with the latest trend. Rather, we have been trying to develop the right products in all four sectors for years to provide a perceptible quality. It's hard to say whether high-alpine projects will really appeal to the masses. It's clear that the goals and needs of the customers are becoming more ambitious, and mountain guides should also offer such tours more often. As long as everyone treats the mountains with respect and correctly estimates their ability, everything is possible."
Fischer Sports GmbH manufactures items for alpine and nordic ski sports. The company is headquartered in Ried im Innkreis, Austria, where it employs more than 450 people.
Franz Föttinger, CEO: "Mass appeal will be difficult to achieve for these winter sport segments; nonetheless, every sector is enormously important for us as a brand. The starting point in our product development often stems from the extreme requirements in these niches. We derive products for other target groups from this variety of sport."
The company Rossignol is a ski and snowboard specialist headquartered in French Saint-Jean-de-Moirans. The company, which was founded in 1907, merged with Quicksilver Inc. in 2005. Rossignol's German headquarters are located in Saarbrücken.
Hilmar Bolle, Country Manager: "This segment is extremely important for us. However, it is still not suitable for the mass market. Ski touring in high-alpine terrain, big mountain and Co. fascinate people and awake their desires. The overwhelming majority will be at home on the prepared pistes as usual and that will remain the case in the future as well.
However, we will naturally make the right material available to ambitious winter sportspeople who are active in these sectors. Our products in this sector score just as high in terms of performance and comfort. They are therefore a loyal companion for all those who are active in these segments."
The winter sporting goods manufacturer Hagan develops and distributes touring skis, bindings, and accessories. The family-owned company is located in Antiesenhofen, in Upper Austria.
Walter Wiesinger, Sales Director: "We are interested in all the above segments, but we focus primarily on alpine and racing tourers." Although all segments still have further growth potential, I do not see any mass appeal in racing sport, apart from in very few events (Mountain Attach, Sella Rounda) in racing sport none."
K2 Sports was founded as K2 Inc. on Vashon Island, near Seattle in 1961. The company manufactures skis, inline skates, snowboards and mountain bikes. K2 Skis is a full-line supplier for the alpine sports and touring sectors.
Stefan Stankalla, Sales Manager K2 Skis: "Apart from equipment for ski touring races, we a full-service provider and have the right product for every customer; there are now also many subsegments with a clear target group definition in the tour sector. If the customer is an alpinist, it makes no difference whether they are involved in alpine ski touring or alpine tourism they must be equipped accordingly and also experienced. In this case, mass appeal is less important to us than providing these special target groups with suitable products."
ABS Protection GmbH has been developing and producing safety equipment for touring skiers, back-country snowboarders and ski freeriders since the mid-1980s. The company is based in Grafing near Munich and even today manufactures exclusively in Bavaria.
Michael Vogt, Marketing Director: "As I said at the start, the trend is obviously there. More and more people are increasingly looking for adventure and in part for the extreme. The higher and more extreme the tour, the more relevant the avalanche backpack becomes. It is already compulsory for advanced tourers. You could say that the entire market moves a few meters higher every year; however, the proportionality will naturally stay the same and big mountain tours will remain reserved only for the specialists."
ORTOVOX Sportartikel GmbH is specialized in mountain sports and produces AVS devices, backpacks, avalanche emergency equipment, and sportswear made from Merino and Swiss wool. The company has 45 employees and is located in Taufkirchen, near Munich.
Hendrik Reschke, Head of Communication: "Ortovox sees itself both as a winter and a summer brand. The passion for untouched snow on ski tours or free rides pushes the market as much as joint experiences during alpine climbing, mountain climbing or on alpine tours. The sectors for which we develop technical and functional clothing and first aid products such as bivibags, backpacks or full avalanche safety equipment are heavily influenced by the alpine environment.
As I have already mentioned, we are not synonymous with higher, faster, further but instead for wonderful moments – together with friends. Without a pulse monitor, without competition. This is why we do not stock equipment for ski touring races or for overly extreme varieties of this sport. 
There have always been a handful of mountaineers and alpinists who push the boundaries and have become devotees of the more extreme sport varieties. I very much doubt that it can appeal to the mass market. Don't forget that these people often do it as sponsored athletes, have many years of experience, and it is their 'job' . There are always people who are out and about in extreme circumstances – however, this is not the target group  of Ortovox."