ISPO Munich is set to reveal the future of winter sports in its Snowsports area. Spread across five halls, the segment reveals the changing face of the winter sports sector, as the boundaries between skiing, snowboarding, sledding, cross-country skiing, and winter hiking become more blurred, and a steady flow of new activities and trends emerges. Head to the "Snowsports" segment to discover all the latest trends in hardware, clothing, and accessories.
People find winter sports exciting and we are with them! The winning combination of snow and sport continues to be as popular as ever. In fact, it is gaining in appeal, with sporting types taking to the snow-covered stage armed with one innovative idea and product after the other. Winter sports facilities are welcoming unprecedented visitor numbers, as they adapt to respond to the diverse demands of the population.
ISPO Munich – the world's largest trade fair for the sports business – is ready to reveal the trends set to take hold on and off the piste in future. The hall design has been updated and the optimized "Snowsports" segment reunites skiing and snowboarding, while forging synergies with all other winter sports.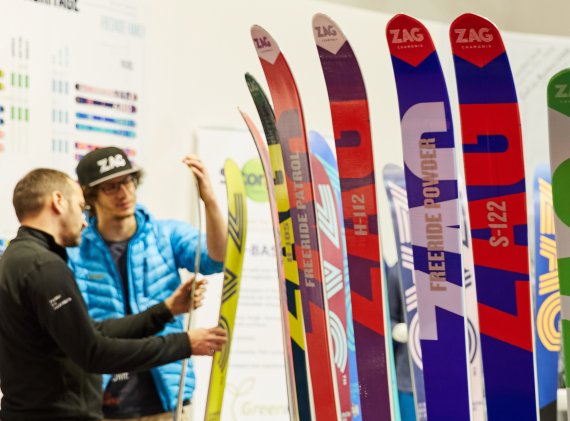 Halls B2 to B6 are home to everything specialist dealers, retailers, and representatives of purchasing associations need to know about the trends for the new season and beyond. The halls in the Snowsports segment have been clearly divided up into different categories, giving the audience of some 85,000 trade visitors (including around 2,000 journalists and influencers) at ISPO Munich a full overview of the market.
Winter sports fanatics also need to make sure they have suitable clothing and modern accessories. There's a hall dedicated to each within the Snowsports segment, so visitors can check out the must-have winter sports accessories as well as the latest color and design trends for winter coats, functional clothing, skiing and snowboarding pants, gloves, hats, water bottles, and so much more. There's even space for the digital solutions that make the lives of many winter sports fans so much easier. 
The center of the focus area Woolstreet in hall B2 is natural wool surrounded by related products made from processed wool fibers.
For a long time now, skiing has meant so much more than just your traditional alpine skiing. If you're heading out for a spot of skiing, you could be carving on piste, freestyling at the leisure park or over moguls, freeriding in the backcountry, or ski touring. 
We might have to change the name to "sport and leisure in the wintry mountains" these days. The journey, depending on the specific circumstances, is made by plane, train, bus, or car. The equipment is more and more often hired on site and the piste and weather conditions determine whether skiers head to the piste, into the backcountry, or off to build igloos with the little ones under the watchful eye of an instructor. And even the evening après-ski agenda is optional these days. For one thing, you've got the option of going to the spa.
The sheer diversity that exists now is reflected in the Snowsports segment (but don't worry – we haven't neglected good old alpine skiing entirely). As a permanent entry on the calendar of international sports business professionals, ISPO Munich is responding to the latest demands within the winter sports sector.
Snowboarding is coming back into fashion. The sector has addressed the vast number of individual customer requests by offering new shapes and materials. There is huge potential among children and people reviving a past passion for snowboarding in particular for companies willing to adapt in line with the snowboarders of tomorrow.
With all this in mind, ISPO Munich is dedicating the "Welcome to Snowsports!" focus area to all the snowboarders out there. All of the key technologies and innovations will be on display in this open meeting point for the entire sector. Complete with its very own lounge, we can expect to see retailers, manufacturers, professionals, and influencers gather here.
In addition we honour the Heroes of Snowsports in a focus area in hall B6: Pyeongchang, South Korea is far away, but also close – focus is on brands and their participating athletes.
Safety on and off the piste has come to be an important issue within the winter sports industry – and that's not just on the basis of helmets and goggles having been part of the standard equipment worn even by recreational sports enthusiasts for some time now. Having the right ski goggles can prevent accidents during spells of bad weather, while the widespread use of ski helmets has reduced the number of serious head injuries by some considerable margin.
Special hardware, such as protective gear, avalanche transceivers, avalanche airbags, snow shovels, avalanche probes, and even emergency radio technology, is also appealing to an ever expanding range of customers. ISPO Munich is putting the issue of safety firmly in the spotlight with its Snow and Safety Platform, which you'll be able to find in Hall A3.
Some amateur sports enthusiasts are not so keen to be quite as adventurous. There is now an impressive range of sports and motion equipment aimed at those who would rather travel through snow-covered landscapes in a little more comfort. Cross-country skiing is covered within the ISPO Munich Snowsports segment, as is snowshoeing, sledding, and ice skating. 
The increased level of variety is a development that is also set to benefit service providers and servicing machine manufacturers, who are being called upon to offer their services for a growing range of products. For them, a visit to the new Snowsports segment will reveal the latest innovations related to waxing, polishing, and adapting shoes, skis, and boards. When the materials are spot on, winter sports can be twice as much fun.
Head to the Snowsports halls at ISPO Munich to discover all things winter sports. We look forward to seeing you there!
Retailers selling equipment, clothing, and accessories for skiing, snowboarding, cross-country skiing, ice skating, and sledding 

Retailers based in chains and department stores with sports departments 

Managers of hotels, resorts, and facilities that offer winter sports

Skiing and snowboarding instructors, trainers, and coaches