Since its market launch in 2007, GORE-TEX PRO garments have been considered the measure of all things when it comes to robust, waterproof, windproof and breathable laminates from W.L. Gore & Associates (Gore). From autumn 2020, the company will introduce three new GORE-TEX PRO textile technologies. The promise: even more robust, elastic and breathable - and they can be combined with each other. The ecological footprint is also said to have improved. Gore calls the technologies a redefinition of extreme weather protection.
ISPO.com shows the possibilities Gore is aiming to unlock with these technologies, introduces the three new GORE-TEX PRO product categories and also shows where the materials can be found at ISPO Munich.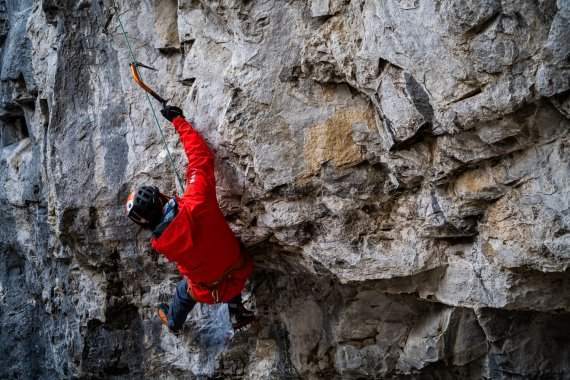 With the new GORE-TEX PRO product line, brands will in future be able to choose from three technology categories: "GORE-TEX PRO Most Rugged", "GORE-TEX PRO Stretch" and "GORE-TEX PRO Most Breathable" - each of which has been optimised for the core attribute already visible in the name.
Another new feature is that the three-layer laminates can be individually combined in a single garment (e.g. a hardshell jacket).
"Now, brands can optimize at a much higher level for different kinds of performance and different sorts of activities," explains Mark McKinnie, product specialist for GORE-TEX PRO - "by combining three different fabric technologies in the same piece of apparel or by choosing the technology that best suits the intended end use."
The three-layer laminates are aimed at clothing that demanding, extreme athletes are looking for: reliable, maximum-comfort materials in even the toughest conditions.
GORE-TEX PRO Most Rugged Product Technology: the name alone implies that the functional focus of this technology is on extreme robustness and durability - according to Gore, the most robust material they have ever developed for mountain sports. Among other things, this is due to the following factors: a 70-120 denier strong, abrasion-resistant outer material, a new, strong membrane and a stable, spin-dyed Micro Grid lining.
GORE-TEX PRO Stretch Product Technology: Perhaps the greatest innovation: GORE-TEX PRO garments can now be equipped with a stretch content of up to 20 percent. This is made possible by an industry-unique, Gore proprietary process - without compromising functionality or durability. The elastic material is intended to significantly increase freedom of movement in sports such as climbing or freeriding and therefore offer improved comfort.
GORE-TEX PRO Most Breathable Product Technology: With this three-layer laminate, Gore offers maximum functionality optimized for extreme breathability. Designed for strenuous, intensive activities and changing environmental conditions, Gore cites the lighter outer materials and spin-dyed Micro Grid lining as the main reasons for increased performance comfort when worn.
For all three innovations Gore makes its "GUARANTEED TO KEEP YOU DRY™" promise, meaning permanently waterproof and windproof as well as breathable.
Not only has the performance of the textiles been improved, but the environment also benefits from the new technologies, the company assures:
Lining and upper materials can be dyed with the so-called spin-dye method. The process: The granules are dyed before the fibres are made and then the fabric is made from the already dyed fibres. This means that the material is colored throughout (like a carrot). In addition to improved durability and functionality, this should even include two sustainability aspects:

Significant reduction in water usage of up to 49.7 %
Reduced CO2 emissions by up to 1.9 %

In addition, Gore offers outer fabrics made from recycled materials
For more first-hand product information, Gore is holding a press conference at ISPO Munich on Monday, January 27th 2020 at 11:00 am in the Press Center East, 2nd floor. How the high-end brand partners use the new technologies for their products can also be seen at ISPO Munich.
Gore is regarded as one of the driving innovators of highly technical functional materials. Gore wants to be sure that its materials will always work outdoors, even in the toughest extreme conditions: They rely on standardized extreme load tests and tough practical tests from top athletes. Four years of further development has gone into the Ferrari amongst their materials, the new GORE-TEX PRO laminates.
As early as 2016, extreme athletes Stefan Glowacz and Robert Jasper used clothing with these new technologies: "On our expeditions, we not only push ourselves to our limits, but also our equipment," says Glowacz "so we have to choose the right products very carefully. We worked with Gore to create a GORE TEX PRO fabric that gives us perfect durability, breathability and flexibility."
The 5-Finger Scratch Test is said to have played a decisive role on the way to an even more robust GORE-TEX PRO material: reliable and measurable are the magic words here. The process originates from the automotive industry. Five steel needles scratch the test material with varying force - this shows how resistant it is to scratching and scraping, even under high loads.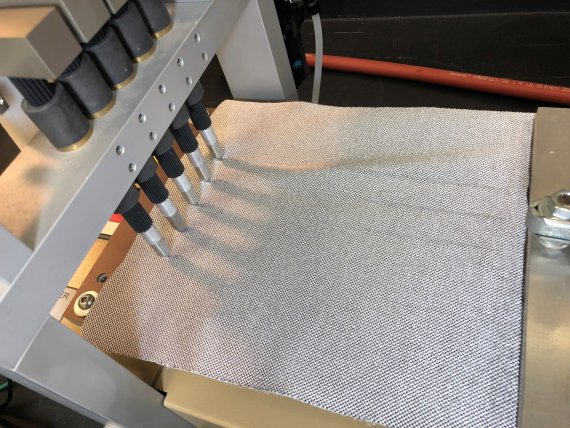 For the stretch technology, Gore used a specially developed process from the field of Clothing Physiology. The objective: to support the physiological processes in the body in the best possible way. Gore explains that they have equipped mannequins with special resistance measuring devices. This made it possible to investigate how stretchable the textile laminates are at which required tensile force. The mannequins were used to imitated typical athletic movements, for example from climbing or mountaineering. This way the product specialists were able to find out how much and what kind of stretch is needed to noticeably improve freedom of movement and comfort.
Gore is exhibiting at ISPO Munich in hall A1, booth 404