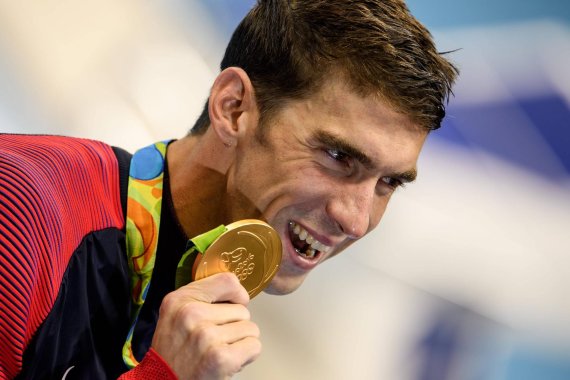 Michael Phelps cannot be stopped. The American athlete has secured Olympic gold medals numbers 19, 20, and 21 at the 2016 Games in Rio: in the 100 and 200-meter freestyle relays and the 200-meter butterfly.
Never before has there been a more successful athlete at the Olympics. And Phelps' outfitter, Under Armour (UA), can delight along with him.
ISPO.com explains the deal between the successful swimmer and the ambitious outfitter.
How long have Michael Phelps and Under Armour been partners?
Back in 2010, Under Armour secured the then highly decorated swimmer as an advertiser for three years. Since then, Phelps has worn clothes and shoes by the number two company in the US sporting goods market. Aqua Sphere provides the swimwear in the pool – replacing Speedo since 2015.
Just how much Phelps collects from Under Armour is unclear. In any case, more than before his contract extension in 2013. According to experts from Baker Street Advertising, Phelps' earnings are said to have amounted to approximately five million dollars.
The signs were good for the cooperation on both sides from the beginning: Like the sporting goods manufacturer founded in 1996, Phelps also comes from Baltimore. "For me, growing up in Baltimore, Under Armour is the sports line. It's what I grew up with my whole life," said the 30-year-old at a UA press conference prior to the Olympic Games in Rio.
Read more here about the 2016 Olympics and sports business.
How is Under Armour advertising with Michael Phelps?
Since Under Armour, in contrast to Nike, is not an official Olympic sponsor , its activities with the Olympian Phelps are strictly regulated. According to Rule 40 of the IOC regulations, campaigns with participating athletes are only permitted for non-IOC partners if they make absolutely no reference to the Olympic Games, medals, Rio, or 2016.
Under Armour thus had to advertise with an Olympic hero without being able to show his greatest moments. So, as part of its "Rule Yourself" campaign, the sporting goods manufacturer produced an emotional video (see above) which portrays the rough daily routine of the professional athlete Phelps. Without any scenes of jubilation.

Under Armour brings Phelps' family to tears
The video became an online hit. It's gotten over six million views on YouTube. If nothing else, because Under Armour whet people's appetites for the video: one day before the spot's broadcast, UA played a video on social media in which Phelps, upon watching the ad, breaks out in tears (see below).
Not only was he profoundly moved, but also his fiancée and his mother, as Phelps revealed: "The ad brought tears to my eyes, it brought tears to Nicole's eyes. My mother, without question, tears—multiple times during the commercial. I think it's a deep commercial, and it's really incredible how they did it."
In Rio itself, Under Armour has few of Phelps' medals: Since Nike is the US Olympic team's outfitter, Phelps accepts his medals at the presentation ceremonies in the competition's tracksuit, of all things.
How is Under Armour performing with Michael Phelps against Nike?
With anticipated earnings of 4.92 billion dollars, Under Armour is still nowhere near equal footing in comparison to the US market leader Nike (33.91 billion). But the rise of the company, founded in 1996 by CEO Kevin Plank, is meteoric. In the meantime, Under Armour increased its sales by at least 20 percent for six years at a stretch. In the first quarter of 2016, they rose by 30 percent.
Considered the greatest UA coup of recent years is the engagement of NBA superstar Stephen Curry in 2013. Last season's MVP left Nike in order to commit himself to Under Armour.
Michael Phelps, too, made a dig at Nike at a UA event before the Olympic Games: "I don't know another brand. To be honest, I have never worn a pair of Nikes in my entire life."
How attractive is Michael Phelps for sponsors?
In terms of successes, Phelps can't be topped. 21 Olympic gold medals are unrivaled. As a swimmer, the myriad of Olympic decisions in his sport are to his benefit. In no other summer Olympic sport can a dominant athlete clear out so many medals.
At the same time, swimming is still just a fringe sport outside of the Olympic Games, even in the USA. While the stars of the NBA or the NFL are discussed for almost the entire year, Phelps is only in the athletic spotlight every four years.

And even then, not always live: The major broadcaster NBC only recently incurred the wrath of viewers by broadcasting Olympic swimming finals with an hour-long time lag.
And Phelps didn't make things easy for himself in early 2009: After the Olympic Games in Beijing, there emerged photos of the swimmer with marijuana. His largest sponsor, Kellogg's, subsequently pulled its extension of a contract set to expire in March 2009. 
Other major sponsors like Omega, however, kept faith with the swimming star.
What other athletes does Under Armour have under contract?
By now, the UA catalogue reads like a who's who of US sports: NBA superstar Stephen Curry could become the superstar for Under Armour that Michael Jordan was for Nike for decades (and still is). With Cam Newton and Tom Brady, two superstars of the NFL are also under contract. The brand also enhanced its portfolio in other sports with alpine ski racer Lindsey Vonn, golfer Jordan Spieth, and dancer/gymnast Misty Copeland.
Under Armour chanced the leap across the Atlantic through deals with tennis pro Andy Murray, Tottenham Hotspur, and soccer player Memphis Depay of Manchester United. In Germany, was outfitter for Hannover 96 from 2008 to 2011, and Jonathan Tah was the single German national player to take to the field in UA shoes. 

The company is currently outfitting the second-division soccer team FC St. Pauli. Supermodel Gisele Bündchen is also sharpening the international lifestyle profile.
Welcome Hell.

The 🔥 is on! Die Spieler des FC St. Pauli haben den Sommer über so hart trainiert wie nie zuvor. Wer erfolgreich sein will, muss durch die Hölle gehen. Wie sieht dein Höllen-Training aus? Rüste dich jetzt für diese Saison und sicher dir alle 3 FCSP Trikots - poste dazu bis zum Anpfiff gegen den VfB Stuttgart am Montag Abend dein #HELLfie in die Kommentare: ein Bild von dir bei deiner härtesten Trainingseinheit. 🔥 #Welcomefcsp #IWILL

Posted by Under Armour on Friday, August 5, 2016
Who's sponsoring Michael Phelps, besides Under Armour?
After a years-long collaboration with Speedo, Michael Phelps switched his outfitter for swimming equipment in 2015, and struck up a cooperation with the company Aqua Sphere. Together, the two sides founded the swimming fashion line "MP." Since then, Phelps has thus become a competitor for his former sponsor.
Aside from that, his major sponsors include AT&T, Subway, Omega, Visa, and PowerBar.
In total, US media estimate Phelps' annual earnings through partners and sponsors to be twelve million dollars.