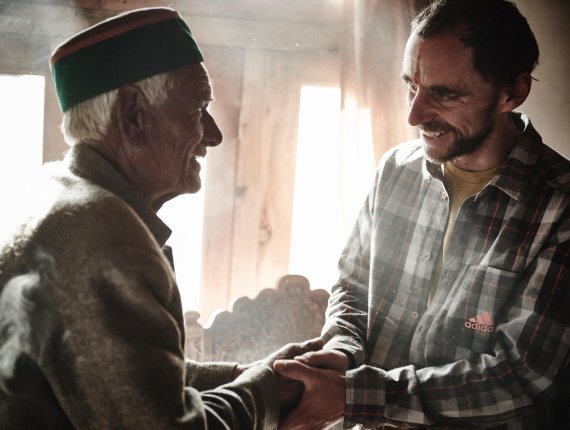 Bernd Zangerl, from the Austrian village Flirsch am Arlberg, is known as the "Professor" of bouldering and refers to himself as a "natural born freeclimber" – and now, the 37-year-old has brought out a spectacular new film. 

"Shangri La" follows Zangerl to a village in northern India, where – against the backdrop of giant Himalayan mountains – he found his paradise climbing a six-meter-tall rock.
Bernd Zangerl in Interview
ISPO.com: Mr Zangerl, the film title refers to James Hilton's famous novel, "Lost Horizon", which describes a fictional place in the Himalayas. You are also keeping secret the name of the village in which you found your fulfillment as a climber.
Bernd Zangerl: We found something close to Hilton's description. Many explorers have searched for this place, even Reinhold Messner tried to find Shangri-La in the same place where we were. But it's not about finding the real place, but about reaching a certain level of consciousness.
Himalayan expeditions usually involve climbing the mountain range's huge peaks. Yet the peaks you climbed were just six and twelve meters tall...
I come from the mountains, I love looking at them and by the time I was seven years old I had already climbed the Eisenspitze, a mountain just under 2900 meters high. And I knew that in the Himalayas, where there is so much granite, there would be something to climb, that it would be possible to go bouldering there. Everyone goes there just on mountain expeditions, not to actually go climbing. But with rock faces thousands of meters high, there must also be lumps of rock on the ground – it was these that I looked for and I took tips from mountaineers on where I could find them.
I saw some black-and-white photos of them in a book from the 60s and hoping for the best I set off looking for them, actually finding them in real life: They were in the Kinnaur administrative district on the Tibetan border, in a high valley at 4000 meters, two days journey from Delhi. Since 2010 I've been there five times, usually for two or three months each time.
Read here: How the Austrian Heinz Mariacher invented the modern climbing shoe
"Bouldering is Godless"
So climbing tourists are the exception there.
Absolutely. I received permission from the village elder to film there, we were after all on holy ground. Weirdly, the place where I wanted to climb is called Zangor – and my name is Zangerl. It was probably because of this that I was allowed to climb there.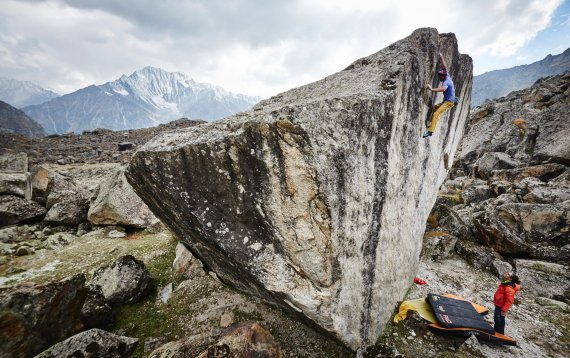 The villagers probably didn't understand what you were doing there, did they?
No. At the beginning they sat there the whole day watching us as we cleaned the rocks with brushes and prepared ourselves. They thought it was my job: Cleaning rocks and then climbing them.
And in a way they're right in thinking that.
They thought I was looking for gold or dust or knew something that they didn't. It will be funny when I show them the film next year in the temple.
Read here: "The trend is clear: Climbing is becoming a fitness sport"
You came up with some funny names for the routes which you were able to name as the first person to complete them, for example, "Godless heavy blanket." How did you come up with that?
It's a reference to the yak's wool blankets which we slept under in the village. They are so heavy that they're quite hard to get off when you want to get out of bed. And I don't need a god, and anyway there are just so many to choose from, especially in India. The name fits the boulders, because it was one of the most difficult routes I have ever climbed. It's just three movements, but three which take out of you everything they can – it's something beyond would a god would give you to do. 
"A Rock the Size of a Table Smashed Next to Me"
You come from a mountain climbing background and had a formative experience while climbing the Marmolata.
A rock the size of a table smashed on to the ground right next to me. I saw it as it came but was not able to avoid it. After that I switched to sports climbing, taking part in competitions, and also did some ice climbing. In bouldering I found what inspired me to climbing in the first place, what I was really looking for.
You're not interested in scaling great heights then?
No. Maybe I'll go back to mountain climbing when I'm a bit older, when I've done everything there is to do in bouldering. Then I can use what bouldering has taught me and apply it to mountain climbing.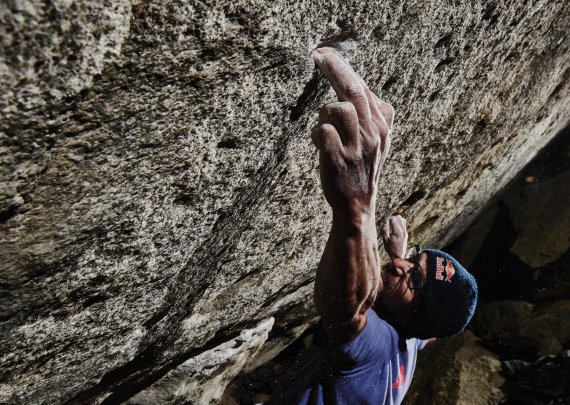 At the age of 37, you're already something of a veteran in the scene.
My best climbing years are behind me, there are routes I have climbed which I took five or six years trying to complete. But I am the exception. Most reach their peak a few years earlier than I did. But I still think I have a bit left in me yet! On this subject, you've now spent more than half a year in rehab. The first pause in my life after 17 years of non-stop climbing. 
What happened?
While bouldering in Switzerland, I fell on my back, injuring my neck. It was only three meters, but that's more than enough. I damaged my fifth and sixth vertebrae, a serious injury. The nerves used for climbing muscles come out from here. I could have been left paralyzed.
And of all times, it happened now, right when you were at your peak.
Exactly, I went from a high point to the deepest of lows – that's life. But I am a very patient person. Bouldering teaches you patience.
What does a boulderer who can't go bouldering do?
I went into the mountains a lot, cycling, mountain running, just to keep myself from going mad. Of course, I hope everything will get back to normal, but in the last half of the year, not much has changed. There are only two ways of doing therapy: You can train at full throttle, but you get so little impulse from your muscles because of the damaged nerves that it doesn't achieve much. The other method is going to a place which is really good for you, slowing down and letting your system recover. For me that place was Shangri-La.
Read here: Climbing with Vertics sleeves - compression for your forearms