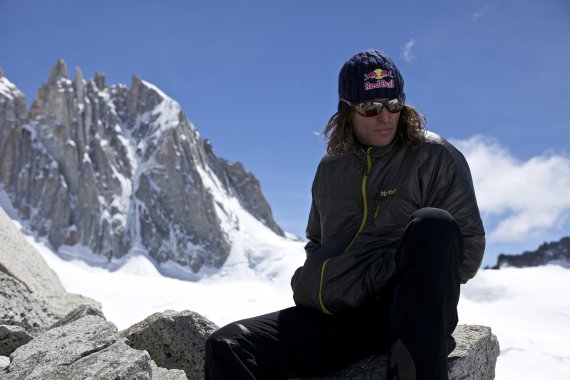 What's the most important thing the entrepreneur Stefan Glowacz has learned from the climber Stefan Glowacz?
STEFAN GLOWACZ: Above all: curiosity! Always be open to new things. And never despair when faced with problems; instead, seek the challenge that lies within it. I like to think of it like this: There's this big mountain and I want to reach the top. What do I need to be able to do this? What do I need to practice? How can I safely reach my goal in the end? To do this, it's important to remain flexible and be able to react to uncertainties.

Like sudden changes in weather when you're up a mountain or a change in the economic climate that affects your business?
Yes. I can plan a lot in advance. But there are residual risks I cannot control. However, I can make myself aware that these risks will exist. Then I won't be surprised. This is true for mountaineering and climbing, just as it is for business. There are a few lessons to be learned.
A lot of recreational climbers also have to confront their fears. How to you deal with fear as an entrepreneur and as a mountaineer?
And I've woken up nights in a cold sweat because I had a big decision to make that involved a great deal of risk – decisions that could have ended badly. Both on the mountain and in business, situations we are unfamiliar with and cannot assess arise and cause fear.
Could you give us an example?
Okay, take a dangerous icefall, for example. We now have three options: We have to get through it. Because there's no alternative. Or option B: Is there an alternative course of action I can take to avoid risks? A way we presume to be safer? Or C: Quit. In that case, the risk has nothing to do with what we can achieve. We go back to the starting blocks to reevaluate the issue. We take this approach on every difficult expedition, and it is one entrepreneurs would do well to follow sometimes. Analyze, weigh your options, calculate, scrutinize, make a decision.

"No one can run away on the Patagonian ice"
Do you find it easier to make decisions when you're far away from civilization, exposed and out on your own?
Yes, absolutely. The situation is much clearer. And conflicts within your team quickly become more obvious. And that's an advantage. No one can run away when you're out on the Patagonian ice sheet. But we do have these escape routes in our everyday lives. Which leads to conflicts arising in the first place when the problem could have simply been solved at the start by having a conversation.
Do you seek out the clarity of extremes?
Every extreme situation brings you closer to yourself, shapes you and changes you. You come back a different person. And that's why I prefer difficult activities – ones where your decisions could have serious and dramatic consequences. That challenges me. Including at my company, Red Chili.
What does this kind of serious decision look like there?
Let's say we want to change our advertising budget or our redesign our marketing philosophy: that has dramatic effects on our public image. And, from a business perspective, that's the point where things become extremely exciting and challenging. I proceed with the athletic ambition of a mountaineer or climber.
Explain Red Chili's philosophy as briefly as possible.
Climbers for climbers – simple. Climbers are the best people to ask what climbers need. Climbers occupy every position of responsibility at our company, from development and production, right through to multimedia. Everyone in the company, even those working in the office, knows what we're talking about. We are small and powerful – and want to stay that way. By maintaining the essence of climbing.
"The target group for business has fundamentally changed"
Climbing is trendy. Climbing halls are overflowing, for example those here in your area near Munich To what extent has the target group of climbers changed over the past few years?
It has fundamentally changed. Munich is an epicenter of climbing. Trends are set here and then spread throughout all of Europe. And the trend is clear: Climbing is becoming a fitness sport. Just like we're seeing in Munich, this is primarily because bouldering is becoming more and more popular.
What do you mean?
There are a lot of reasons: You can go bouldering alone. You don't need a partner to secure your climb because you climb at jump height with mats below you. You don't have to find anyone else with time and a similar level of athleticism. And you don't need any previous experience. Everyone – no matter how athletic they are, if they are at all – can go to the bouldering hall and succeed. Everyone feels the joy of exercise. There are no requirements in terms of technique. But there's another, more important aspect.
Which would be?
The social connections. You go to the climbing hall and you're immediately surrounded by a community. You find connections there immediately. Everyone helps one another and gives each other tips. If you want to, you'll make friends immediately. And that's the beauty of it in our digital age, when so much happens anonymously: direct contact. So yes, a bouldering hall is a social network, and it's very sporty, but without putting on any airs. I am totally fascinated by this because it also shows how mountain climbing and climbing are being rediscovered to a certain extent.
What specifically will this increase in bouldering's popularity mean for companies in the industry in future?
Climbing will be catapulted into an entire other dimension. For example, bouldering halls make for functional training areas. The restaurant industry gaining in importance. And someone in Germany will probably combine climbing with yoga.
Where is this happening already?
Ten years ago in the US I visited a climbing hall with an outdoor bouldering area that was designed like a Zen garden. Gravel paths, ferns, bamboo shoots. That was magnificent. We're still a long way from that – but there's so much imagination there. But I'm certain of one thing: Climbing will develop in a completely new direction in the coming years; it will break with tradition.
That's not something every climber or mountaineer will like.
But that's the beauty: People will come to the bouldering hall and get a fantastic full-body workout. And then maybe they'll go to the climbing hall because they've developed an interest in climbing – and maybe on to rock from there.
But this will require them to have the right equipment and financial options to afford this.
It's not money that's the deciding factor here – it's experience. Going from a bouldering wall to a rock face is an enormous difference. We used to start directly on rock. But the gap is much, much wider nowadays. Independent climbing, maybe even in the mountains, requires you to work step by step.
"We're seeing another collapse of the general outdoor boom"
Will mountaineering companies have to address the fitness climber masses in future in order to remain successful in the marketplace?
From what I've seen, a lot of outdoor companies that were still successful two or three years ago are now having to consolidate. Because not everyone is buying a new Gore-Tex jacket that costs 900 euros every year. We're seeing another collapse of the general outdoor boom after a few years of growth. The larger the company, the more difficult it now is to focus on smaller market segments like bouldering.
If large companies now intend to launch into bouldering, how will you counter this with Red Chili?
With our authenticity because we are deeply rooted in climbing sports. I go up to people in the hall myself who are wearing our shoes and I ask them how they like them and how they are doing with them? I climb side by side with my customers. And when someone writes us an email, I respond myself.
You can find out more about Stefan Glowacz on his Facebook page.