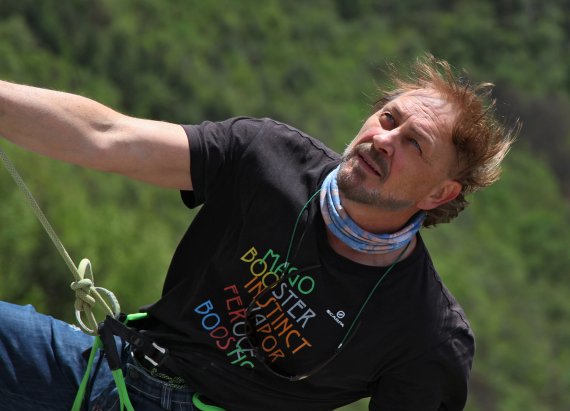 Today, when someone starts to reach for the colorful handles in a crowded climbing hall, he or she has most likely never heard the name Heinz Mariacher. And that's almost a bit of a shame. Because actually every climber should be thanking Heinz Mariacher. After all, in the early 80s, the Tyrolean invented the modern climbing shoe.
The first climbing shoes with pre-tensioned rubber rands 
Mariacher was the first to combine a soft shoe with a pre-tensioned rubber rand and thus influenced generations of models that followed. Yet in 2016, now aged 60 and working for the Italian traditional manufacturer Scarpa, he tinkers on with new models. The search for the perfect cut, the perfect material, the perfect feeling when you step on the rock, drives him to continue. Rock, this is very important, because "only there can the shoe really show what it can do."
In many places they call Mariacher the "climbing shoe guru", sometimes the word legend is even used. "I was just in the right place at the right time", says Mariacher laconically. Inhospitable mountains and cliffs that are hundreds of meters high in particular, teach humility and pragmatism. "Before, shoes for climbing were extremely stiff, like a board," says Mariacher. "They were worn four sizes too small." Up until his shoe, which went down in history as the "Mariacher" model: With a rubber sole, which also makes frictional steps possible, and the feeling of a second skin. A world first – that an entire sport had been waiting for.
Mariacher invented classics like the La Sportiva Mythos
"I am always thinking of new things that I wouldn't have thought of ten or twenty years ago," says Mariacher. For La Sportiva, his previous employer and also a classic among the Italian manufacturers, he invented, among other things, the Mythos. "Actually, as a performance shoe," says Mariacher. Alexander Huber, for example, wore it during his free solo ascent of the Cima Grande. The Evergreen is a comfortable lace-up shoe, but has also become a shoe used in the moderate recreational field and for alpine enjoyment routes. "There are still large volumes sold today," says Mariacher.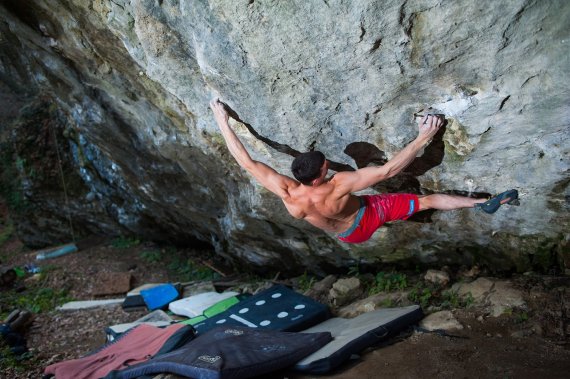 Miura and Testarossa with La Sportiva, later the Booster S with Scarpa – countless climbers-feet around the world have depended and still depend on Heinz Mariacher's work. "One of my personal favorite shoes is the Mantra," says Mariacher, which he designed at La Sportiva. A very soft slipper, "such a soft shoe was then a novelty," says Mariacher. He has always liked wearing it, even whilst alpine climbing. "I wear my approach shoes up to the fifth or sixth difficulty degree," says Mariacher.
This gives recreational climbers, who often climb at this degree difficulty in the hall, a first sense of what the climber Heinz Mariacher has achieved in his athletic career. Solo ascents of, for example, the Cima Grande, Comici and Nordwand. In 1986 he climbed what was probably the first route in Italy with a difficulty degree of 10: So steep, so exhausting, an almost absurd level of difficulty for any amateur climber. Mariacher was also instrumental in the development of the climbing areas in the northern Lake Garda area and the Sarca Valley, now a (rather overcrowded) cult place of sport.
With Scarpa, Mariacher developed the Drago model
Mariacher's newest model is called Drago; once again it's a very soft shoe with a pronounced asymmetry and pretension. Amazingly supple, but not a novice model. Or better: A challenging climbing shoe, which requires a conscious tread and strong foot muscles, but in this way it helps climbers who were previously used to a relatively fixed shoe, to achieve even better footwork. "I prefer the Drago even in the mountains," says Mariacher. Whereby this (see difficulty degree), should not be a criterion for most buyers.
Mariacher is satisfied with the Drago; he uses it himself happily. And yet, he once again found things that he wanted to improve. Had to. Especially with a lacing system rather than the previous Velcro, by means of which the shoe fits even better to the foot. Scarpa will present this model, Chimera, in July.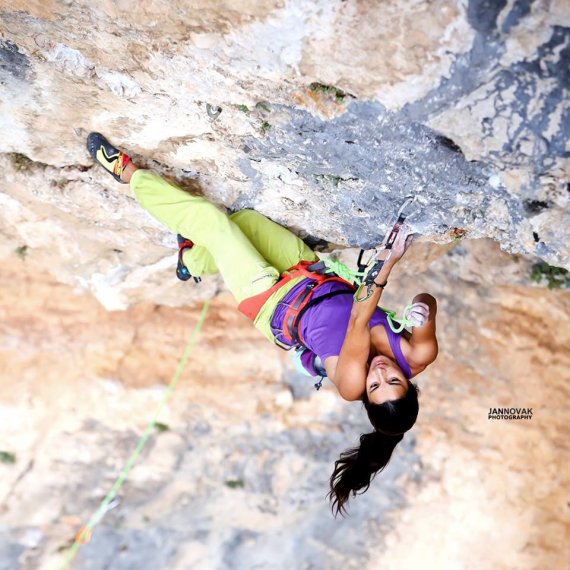 The trend is turning towards soft climbing shoes
We can assume that Heinz Mariacher already has the ideas for the next shoe running through his head. "As long as I can test the shoes myself and have ideas, I will keep going," says Mariacher, born in 1955 in Wörgl. So we can also assume that he will continue to characterize climbing for another decade. The direction of the development is clear: "The trend is turning towards soft shoes."
He prefers to keep secret his favorite areas where he tests his new creations deliberately. "For me, climbing is not a social sport," says Mariacher, "nature and tranquility belong to it."