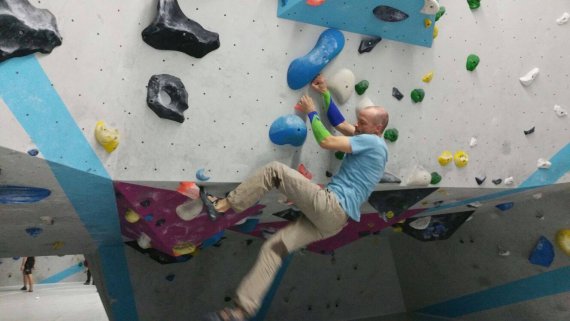 ISPO.com: Mr. Hummel, let us guess: You saw compression stockings on runners and thought to yourself: What's good for the legs can't be bad for the arms, either. Right?
Steffen Hummel: Something like that. I'm a runner myself, and had started climbing. Yeah, the thought compressing the calves wasn't far off from compressing the lower arms.
When was that?
Early 2013. First I experimented with DVT stockings from the hospital, with different lengths and varying pressure. Admittedly, with a sweater over my arms. Because, in all honesty: It did look a bit stupid. Nevertheless, I quickly sensed that it kind of hurt.
Difficult: finding a manufacturer for Vertics
But you wouldn't have gotten very far with DVT stockings, right?
Correct. The most difficult part then was finding a manufacturer who wanted to develop the prototype with me and later produce the product. Through a happy accident I landed on a company from the Swabian Alps that produces sports bandages and compressors at the highest professional level, but nevertheless didn't have its own brand and thus wasn't that well known.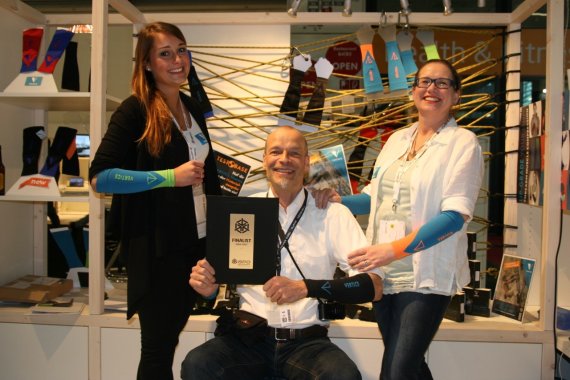 Did you always try out the test copy yourself?
Of course! But I was quickly able to build up a network of fifth to eleventh grade climbers, so the whole spectrum. I joined climbing halls and gave out Vertics for that purpose. I even still do so today.
Germans demand evidence of Vertics' effects
How was the resonance at the tests? Were the athletes skeptical?
There were a few who said, 'This is just charlatanry.' But all in all the initial feedback was very positive; the vast majority were very curious. But it also depends on the country and mentality: Italian climbers, for example, unequivocally want to test everything. In Germany, people more often say, 'Have there been studies? Is there proof that it works?'
And? Is there?
Yes! We worked together with the Swiss national bouldering team as part of a Master's thesis at the University of Basel. The results of the study prove: During use, Vertics wearers had non-significant but quantifiably low lactate values. And in high-performance sports, the slightest improvements can make all the difference. However, test subjects especially describe a markedly lower feeling of strain in their lower arms when they wore the Vertics.
What else has been documented?
I myself asked about 100 more climbers if and how the product had an effect on regeneration. The result was that participants reported having been back and ready for action more quickly, even after serious training sessions.
So you yourself still wear the Vertics?
Every time I go climbing. I put them on at home a half hour before sports, then they help with warming up my muscles. And after the climb, I likewise only take them at home to support regeneration.
How is it going for you business-wise: Are Vertics revenues enough or do you have other projects?
I'm actually an IT consultant. Vertics is a second string in my bow, and continues to develop better and better. I would describe myself as thoroughly full of ideas – a couple of things have crossed my mind before, but Vertics is the first thing I've followed through on. It's nice to see how things progress step by step. More and more retailers are taking up my product, and more and more halls are offering them for testing. I've since gotten a wire to the national managers and teams in various countries.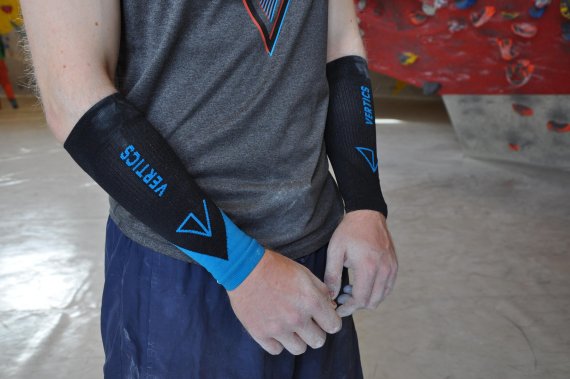 Interest from other sports
Who are the most well-known athletes who use your sleeves?
Among them are world-class Swiss climber Petra Klingler and bouldering specialist Dmitri Sarafutdinov from Russia.
Climbing isn't the only sport where lower arm and grip strength play a big role. Are other athletes interested in your sleeves?
Motocross is predestined for my product. There the strains are similar to those in climbing, and with the driver's grip, the lower arm pump is very high. The first feedback I got from the sport was already very promising. I'm also working together with some professional rowers. But in principle Vertics can help in any sport where you have to grip things, even in tennis or squash.
Facts on VERTICS
Name: VERTICS, Steffen Hummel
Company headquarters: Wiesbaden, Germany
Number of employees: 2
Website: www.vertics.eu