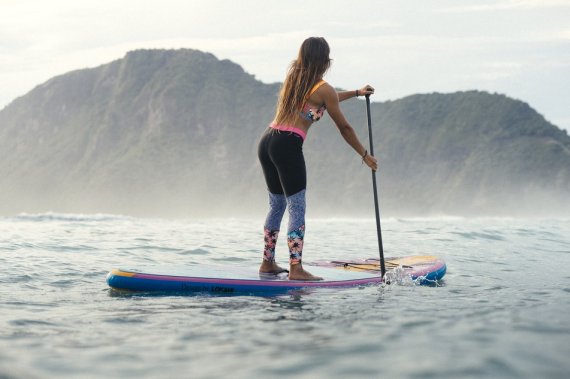 Stand up paddling is gaining more and more popularity, there is hardly a lake or river that is immune to the passionate standing paddlers. ISPO.com answers the most important questions about SUP.
SUP is easy: Stand up paddling is offered almost everywhere where there is water. The rental equipment costs only a few Euros and after a short period of getting used to it, the sporting basics are quickly clear. So stand up paddling is like a walk, at the same time it is a micro-adventure that fits to an outdoor day.
SUP is good for fitness and health: Especially for strengthening the shoulder, back and trunk muscles, stand up paddling is the ideal workout and can easily keep up with the equipment exercises in the fitness centre. The deep muscles are also addressed, as it is constantly necessary to maintain balance and compensate for water movements.
SUP is also a sport for the eye: Stand up paddling has something majestic about it. From the board, the view glides over a landscape that is more than just a backdrop. Stand up paddlers can justifiably claim the "most beautiful city tours in the world" for themselves.
SUP is family fun: One of the most important arguments for stand up paddling: It is a family sport. Since fun and sport are perfectly combined, the sport is interesting for children and can be mastered by all means. The slowest one sets the pace, and river tours of ten, 20 and more kilometres are possible with the whole family.
If you want to get a SUP, you first have to ask yourself whether you want an inflatable or a hardboard? And should it be a touring or an allround board? These two questions will be answered in the first part of our SUP guide.
Recreational paddlers mainly choose inflatable boards, because they are easier to transport and are more stable in the water compared to hardboards. Especially inexperienced paddlers can achieve success faster. Inflatable boards are the indication of easy paddling. They convince by their light weight and their robustness against stone and rock. In addition, the risk of injury in case of a fall is usually lower.
A hardboard is particularly suitable for you if you have a direct storage place at the lake, river or sea and you don't have to transport the board. Good riding feeling and stability in the water comes with a SUP hardboard. Solid SUP boards often consist of wood or high-tech materials such as carbon, polyester, epoxy or polyethylene. Since inflatable SUP boards are recommended for beginners, many people shy away from buying a hardboard, as it is often notorious as professional equipment.
Nevertheless, beginners can also have a lot of fun with a hardboard, which the boards are known for extremely good turning characteristics and grip in the turn on the wave (for those who want to let off steam in SUP surfing), promise a direct riding experience and minor damages can be repaired more easily.
You can not only decide between Inflatable Board and Hardboard. Also the type of water and the planned activity with the board determines which equipment fits your SUP requirements. ISPO.com presents the most important board classes.
Race boards are not for beginners. Why? Because their construction - a high and steep rail favours the drive. They gain speed quite quickly and are therefore preferred by SUP fans who are ambitious and like to participate in races. Race boards are often constructed in sandwich construction, using either carbon or wood. Plus: race boards are often equipped with a rocker stiffening system (similar to the construction of skis or snowboards), which increases their stiffness and prevents the board from bending. This system consists of two battens that are inserted into the provided pockets on the side of the SUP.
If you are inexperienced, you can easily lose your balance on the long boards, fast turning is almost impossible. The hardboards are mostly made of carbon to save additional weight.
Key data:
Board width: between 21.5 and 26 inch
Board length: 12.6 or 14.0 feet
Price: between 800 and 1.400 Euro
Obviously, if you go on longer SUP tours, you need a stable, long board. The longer a board is, the easier it is to move forward. To make it easier to transport your luggage on the way, there are often extra elastic bands or luggage nets.
Key data:
Board width: between 29.5 and 32 inches
Board length: approx. 10 to 12 feet
Price: approx. 900 to 2.000 Euro
If you're heading downstream, you should definitely have your SUP board under control. In other words, whitewater SUP is generally not for beginners. Due to the conditions in often choppy waters, the boards have to be very stable, robust and equipped with special features: From the shape the boards resemble an all-rounder, in addition they are also equipped with an extra wide tail for stability in the surf stance. The rather small fins are mostly offset to the middle of the board. Wrap-around grips ensure that the board is easy to grab almost anywhere in a crash. In general, whitewater fans should never paddle alone, get informed and trained beforehand, only go to the start with complete safety equipment and approach difficulties slowly.
Key data:
Board width: between 33 and 36 inches
Board length: between 8.6 and 11.0 feet
Price: from about 900 Euro
SUP boards from this category usually have stable all-round shapes with additional features such as a full-length EVA pad or an extra holder for the paddle. The carrying handle is often found on the side of these boards, so that the "floating mat" can be used without restrictions. The SUP boards are a little wider and longer so that you don't start swaying when practising sun salutation and Co. A rubber net at the front end of the board is ideal to safely store small luggage like drinking bottles.
Key data:
Board width: between 29 and 35 inches
Board length: between 10.2 and 11.6 feet
Price: between 800 and 1.300 Euro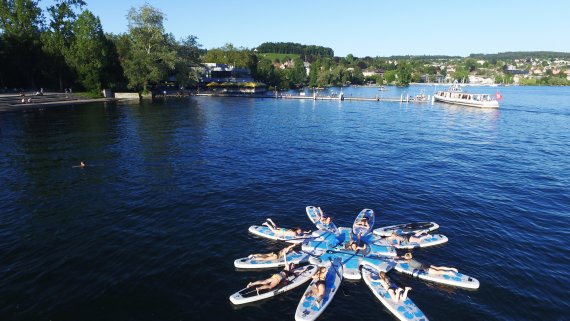 Anybody who is looking for action in the sea, a SUP board from the surf category is recommended. The longboards with a thick shape make surfing easier and provide best stability and faster buoyancy. On the other hand, you should preferably venture into the waves with a short board that is easy to turn. In general, hardboards are recommended for this category, but there are also inflatables that meet the requirements. Nevertheless, you have to make sure that the inflatables are as thin and stable as possible and are equipped with either fins or foil.
Still quite new are the Foilboards, where SUP surfboards are extended by a Hydrofoil, a so-called hydrofoil under water. When the board reaches a certain speed, it lifts off and the hull does not touch the water anymore.
Key data:
Board width: between 23 and 30 inch
Board length: between 6.9 and 9.0 feet
Price: between 800 and 1.500 Euro
SUP boards for kids are not only shorter and lighter, above all they are also narrower than the boards for adults. So the little ones can learn a clean basic stroke, turn the board playfully and also carry it themselves.
A continuous EVA pad supports the verve of the kids, who always move on the whole board and don't want to just stand in the middle like most adults.
Key data:
Board width between 25 and 28 inches
Board length between 8 and 10.6 feet
Price: 500 to 1.200 Euro