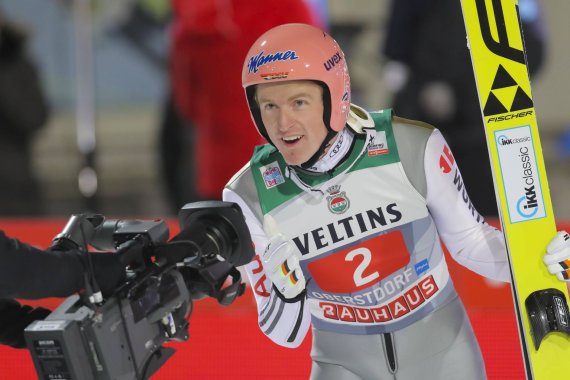 In addition to their winnings, they will take home a permanent reminder of their success in the form of the golden eagle trophy. Small gains for the large risks taken by ski jumping experts at the biggest annual winter sports event. 
"As a sportsman, you won't strike it rich with ski jumping. But it's an interesting sport that always draws an enormous audience at the Olympics or the tournament," says Austrian Thomas Morgenstern, winner of the Four Hills Tournament in 2011.
Last winter, the tournament achieved a cumulative reach of 141 million viewers internationally. A total of 34.07 million viewers followed the tournament live on German television broadcasters ARD and ZDR, with 5.57 tuning in to ORF in Austria. The absolute highlight was the beloved New Years jump, which had more than 6 million viewers glued to their television sets last year.
Audi: 12 million euros per year into sponsoring winter sports
The ski jumping grand slam enchants – and moves – millions around the new year. At last year's tournament, a total of 110,000 viewers earned the four tournament towns of Oberstdorf, Garmisch-Partenkirchen, Innsbruck and Bischofshofen millions. And the four local ski clubs in the four traditional towns profited – the event usually brings in enough to cover the costs for paying for young talents and full-time trainers for the entire year.
The Deutsche Skiverband (German Ski Association) (DSV) and the Österreichische Skiverband (Austrian Ski Association) (ÖSV) each make an estimated two million euros from Infront, a marketer whose contract has been extended to 2018. Infront, in turn, refinances itself through well-known sponsors.
This winter, Audi is a new presenting sponsor. A company that plunges an estimate 12 million euros per year into sponsoring winter sports. Added to this are the main sponsors of the Four Hills Tournament: Veltins, Bauhaus, Generali and Intersport.
"Attractive time frame around the new year"
Intersport's motto is, "Intersport equals Wintersport." "We are able to look back on a long tradition with the four hills – the Intersport brand has now been seen at a total of 25 Four Hills Tournaments," says Franz Julen, CEO of Intersport International Corporation (IIC), when their contract was extended.
"The Four Hills Tournament is a highlight of Nordic skiing and allows us to optimally address our target groups across multiple generations – in particular thanks to its attractive time frame around the new year."
This attractive timing also has the television stations airing the tournament saying, "Ka-ching!" The most expensive 20-second spots on ARD cost 15,200 euros. And the 2016 premium ski jumping package with two solo ad placements, nine split-screen placements and one classic advertising block has sold out for a total of 233,400 euros.
Around 55,000 euros in bonuses
Yet given all this money, showmanship and the risks taken by the athletes, the underpaid jumpers still receive relatively little. The highest a jumper could earn at this years Four Hills Tournament is around 55,000 euros in bonuses (60,000 Swiss francs).
In addition to the 18,500 euros in winnings for the overall winner, each day's winners can only win 9,200 (10,000 Swiss francs) euros for each day. However, since 1953, the entire history of the ski jumping grand slam has only seen one ski jumper win all four hills: Sven Hannawald.
The high flyer won a total of around 330,000 euros in prize money and bonuses from the Deutsche Skiverband for his historic four-time win 14 years ago; these winnings no longer exist in the same form today.
The viewing figures back then of up to 18 million RTL viewers in Germany are history – which is also due to a lack of German wins. And the one-million-Swiss-franc jackpot offered for a grand slam victory at the 60th anniversary tournament is not on the menu this year.
Severin Freund – top earner on the scene
"In those days, we earned more than today's jumpers do and were also able to market ourselves better thanks to the enormous television viewership. In any case, I'm not one for living the high life. I already have a certain amount of financial cushioning to draw on," says Hannawald.
Throughout all of last winter, including his overall world cup victory and two world champion titles, Severin Freund earned around 183,000 euros (198,900 Swiss francs), making him the top earner on the scene.
He also likely earned at least the same amount in bonuses and advertising for helmet and ski sponsors. But keep in mind: Freund is not your average skier – he is at the top of the skiing world. Especially in terms of earnings.