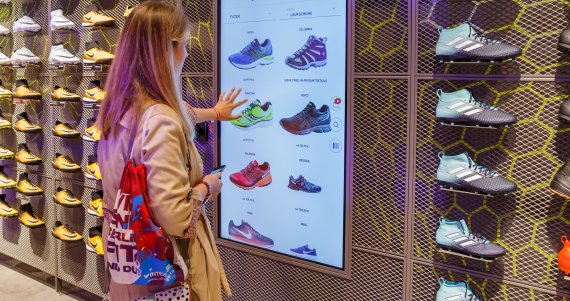 According to a survey, 63 percent of all SMEs do not yet have a suitable digital strategy. The right answer to the rapidly changing world of shopping, where you have to survive even against online giants like Amazon, is essential for the existence of sporting goods retailers. This is emphasized by Marcel Altenfelder, Managing Director of Intersport Wohlleben, in the ISPO.com survey: "For a mid-sized company like ours, manpower and necessary budgets are naturally the bottleneck of the digital transformation. We have created the conditions for a high implementation speed that's essential for survival by strongly expanding our 'digital department.'"
Of course, this requires money – major sports retailer associations such as Intersport or Sport 2000 have long since recognized this. "Digitalization affects the entire company, independent of structures and departments. This results in a multitude of projects and changes that require new ways of working and thinking. On the one hand we're challenged in terms of the resources for implementation, and on the other hand in terms of the associated change in corporate culture," says Andreas Rudolf, CEO of Sport 2000. So the staff has to be involved – otherwise digitalization won't be possible.
"Good change management is key, as the process of digitalization can only work if you take all (or almost all) employees with you on the journey," explains Marcel Altenfelder. In addition to "suitable personnel and high capital requirements," he sees the "aging merchandise management system as the greatest brake on growth." In retailers' minds, a rethinking in the sports industry is also necessary in order to be able to deal more flexibly with the ever-faster changing trends and the wishes of customers.
"The lack of standardized interfaces and the gathering of the necessary information to this end requires a great deal of effort – especially when overcoming the concerns and grandfathers that still exist on all side," is how Joachim Kiegele, owner and CEO of Intersport Kiegele in Geisenheim, explains the problems. The necessary changes for the new age of digitalization are costing the individual retailers energy and time. "Today, it's almost inconceivable to run a stationary trading company and dedicate yourself to digitalization at the same time," says Nicole Kälber, owner & CEO of Intersport Schrey in Pforzheim.
Nevertheless, she considers the company's investments in digitalization to be indispensable for every retailer. However, time and money are well invested if you take your staff with you on the way:  "Then the funds provided are also worthwhile because everyone believes in the project and supports it. Not everything is all that expensive! Even if you want to put that forward as a reason why you haven't come to grips with the project yet. However, it is difficult to separate what's necessary from what's superfluous in digitalization. Kälber: "Which agency has the overview? Where is the central theme? And once you've found it, only briefly is it valid in this rapidly changing world."