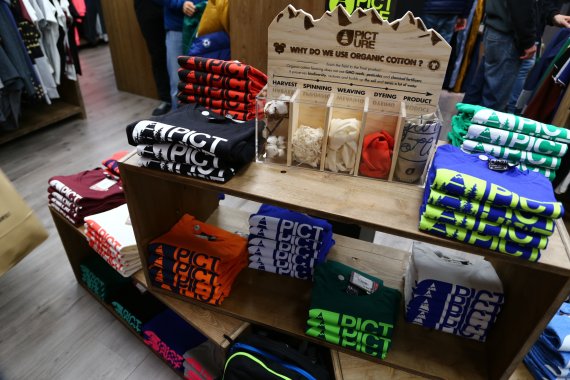 Outdoor brands with a focus on sustainability have to do more than other brands in their communication.
They not only have to show that they have the right fit, functionality and design, but also bring their environmentally friendly production methods and materials as well as their social standards closer to the customer.
ISPO.com talked to leading sustainable companies about their state of the art communication tools when it comes to corporate responsibility:
Marie Cadars, PR & Communications Coordinator at Picture Organic Clothing

Jorrit Jorritsma,

Founder of

Millican

backpacks

Henry Hoogenveen, European Brand Manager at Klean Kanteen

Helen Howard,

Marketing Responsible at

Páramo Clothing

Timo Perschke, Founder of Pyua Outerwear
Relatively new to the market British backpack specialist Millican for example, still counts on the early adopters of all ages, who they reach mainly online. "The right type of person, the advocates in this world, who will be the ones who spread the word beyond what we can do, they are the ones who will find us, in the way that suits them, invariably online", says Millican Founder Jorrit Jorritsma.
Meanwhile well and widely established Klean Kanteen, who is in market since 14 years, counts on the partnership with vendors, as well as the company website, social media and hangtags right on and inside their products.
Henry Hoogenveen, European Brand Manager at Klean Kanteen says: "It's not only on the retail store. There are a lot of consumers, which go online for example, to try to find out what kind of brand Klean Kanteen is, more and more nowadays".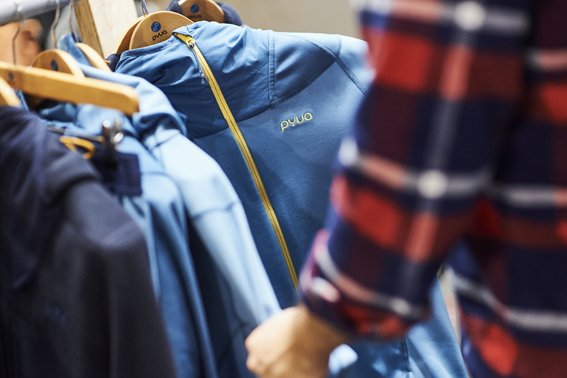 Finding a compromise between getting the customer's attention in the shop and not producing more trash with hangtags or special POP is a big challenge. "We have a special POP program, all made of wood. This POP can show how we start from a plastic bottle to the fabrics we use in our outerwear. It's the kind of POP that can explain who we are, why we are different and how our products are made", says Marie Cadars, PR & Communications Coordinator at Picture Organic Clothing.
"We try to do it with a minimum of hang tags for example. You don't want to put too many hangtags because, again, it ends up in the landfill", adds Henry Hoogenveen, European Brand Manager at Klean Kanteen.
.
"The younger generation gathers information elsewhere, they don't need a specialty retailer, to tell them about the products. They get their knowledge online and they might as well have a headstart compared to the shop staff they are talking to," says Timo Perschke, Founder at Pyua Outerwear.
"On our website we can have information about our products, obviously that's important. As a consumer you can then read a little bit more, if something is a particular area of interest, if you didn't know for example that we are fairly traded, you can ask more questions (…)", says Helen Howard, Marketing Responsible at Páramo Clothing. When it comes to how consumers end up on the websites, communication professionals agree on classic communication tools, such as print advertising, PR and foremost social media like Facebook and Instagram.
Most sustainable brands agree on the huge importance of the shop staff being on board with promoting their brand. Being pricier than the non-sustainable competitors, the consumer education in the shop needs to go way beyond the hangtag information to tip the balance in favor of a sustainable brand. The education process goes from training manuals, which just get shipped to the retailer in the hopes they educate their staff themselves and workshops with brand representatives to more emotional incentives that tell the brand's mission.
In general, Helen Howards, Marketing Responsible at Páramo Clothing says they choose their retailers very carefully, in the sense that if retailers, who have very good staff trainings and they engage with their customers very well, they will be very knowledgeable and so their customers know, that they can rely on those retailers to give their customers good advise and be listened to.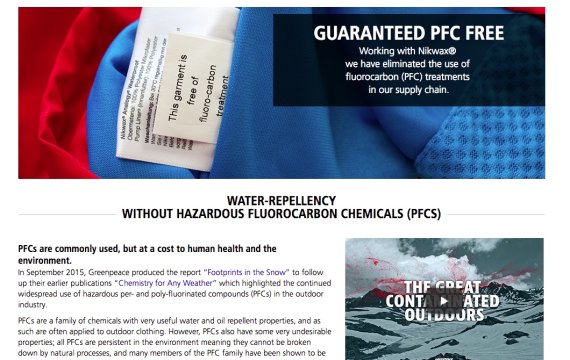 "A consumer will walk up to a wall of bags and they will simply make the first decision based on the visual appeal. If you've liked a bag from the distance, once you get closer, you will feel the fabrics and you need to check out the details of the product itself from a functional point of view. Once all of those boxes are tagged and you are still interested in the product, I think that's where the messaging comes in" says Jorrit Jorritsma, Founder of Millican backpacks.
"No one hits a store to buy a sustainable skiing jacket. Retailers don't need to sell sustainable jackets in the first place, because the consumer isn't necessarily looking for those types of jackets. The consumer wants a jacket, which makes him look better than before," says Timo Perschke, Founder at Pyua Outerwear.
Now more than ever before, outdoor enthusiasts are proven to prefer sustainable products, if they are equal or better in look and functionality, even though slightly more expensive. Timo Perschke claims that so called "Dieselgate" for instance, helped Pyua significantly, because people are even more aware that climate change is real and environmental protection is in their minds.
Therefore it only depends to choose the right channel(s) to reach the target group, in order to communicate effectively and grow sales.