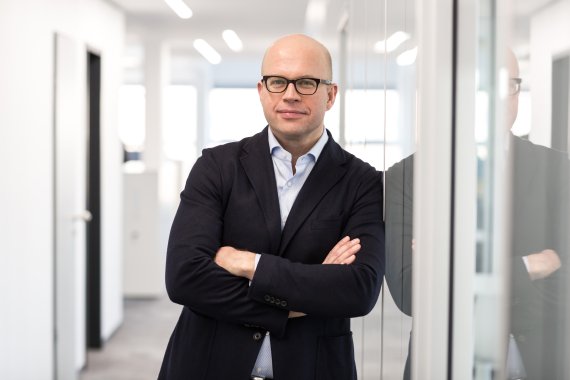 ISPO.com: Mr. Unbehaun, you took over the position of CEO in January, what are your plans? 
Carsten Unbehaun: It is still a bit early to go into detail. Basically, I can speak of two goals: we want a reasonable, long-term growth. In addition, the goal is to make Haglöfs a global brand. We are already very strong in Scandinavia; our next focus will be Germany, Austria and Switzerland.
How do you want to achieve that? 
In essence, it will depend on three things. First, we will focus more on the product range and on the categories. That means we cannot do everything for everyone and we will focus more. Second, we need more continuity. And third, we need more differentiation. We have to ask ourselves more strongly, what does the brand stand for? For example, we have a 104-year-old Swedish heritage that needs to be communicated stronger. We need a clear design language that remains recognizable even without a logo. Likewise, our commitment to sustainability needs to be communicated more because, from our point of view, we are one of the leading brands here.
Urban Outdoor is a current trend - are you going with?
Urban Outdoor is probably the biggest piece of the cake in the overall market at the moment. Of course, we also play a role here. The fact is, however, that we will not lose our roots and will therefore never become a fashion brand. We are an authentic performance brand. We are building on this basis and will provide a surprise in 2019...
Digitization is a challenge for everyone. Where do you see a need for action?
In many areas. For example, in the digital connection with our retail partners via EDI or other tools. We are currently engaged in intensive discussions on this. However, digital communication is also extremely important and the question of how we develop communication with the end consumer.
How do you get feedback on your products, how do you include it?
We receive feedback through our own stores, through our own website and, of course, we also have close contact with our retail partners and through annual surveys. As a Scandinavian brand, we have been concentrating too much on Scandinavia in recent years, and my task will now also be to take greater account of other regions such as DACH.
What is your sales strategy, online and with your brick-and-mortar-stores?
The specialized retailers and the brick-and-mortar-stores in general play a very important role for us because we have products that require explanation. We operate our own stores in Scandinavia and Japan. We have also just opened a pilot store in London, where all brands of the Asics Group are presented together. In the area of online retail, we operate our own e-commerce shops in five European markets, namely in Germany, the UK, Sweden, Denmark and Finland. Further markets are to follow this year. Above all, we want to learn.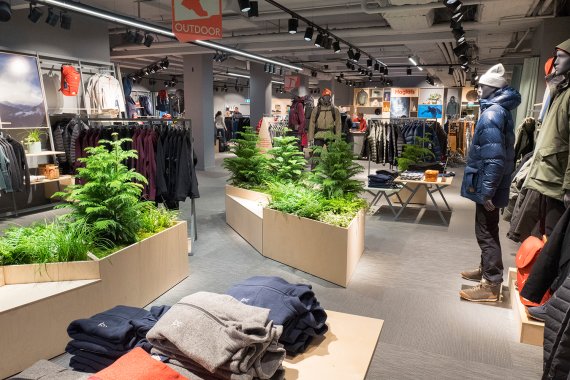 How close is the cooperation with Asics?
Basically, the aim is to exploit synergies, especially in systems and processes. So far, this has only been partially done and is to be improved. Asics, for example, is already a lot further in the field of digitization and Haglöfs can benefit from it, as well as from the Asics' know-how in the field of footwear. Likewise, Asics can also learn from Haglöfs. However, it is important that both brands continue to be managed separately.
What about sustainability? Haglöfs sees itself as a forerunner, but you hear very little about Asics so far...
In the area of sustainability, Asics can certainly learn from Haglöfs, because a lot of preliminary work has been done. I was surprised how far Haglöfs is already! We have the most Bluesign certified products in the outdoor market - the proportion of Bluesign products in the collection has risen from 40 to 80 percent in the last three years, and we were the first Scandinavian member of the Fair Wear Foundation. We offer repair service in our own stores and also sell second-hand goods - not huge, but the offer is appreciated by the customer. The new Autumn-Winter 2018/19 collection is the most sustainable we've ever had with recycled materials in all categories, and 78 percent of the materials are PFC-free. Our Eco Proof Jacket with our own membrane is 100% PFC-free and has just won the ISPO Award.  All this has not been communicated enough in the past, it is our new task for the future.
Why has Haglöfs not communicated this yet? Doesn't the consumer care?
Yes, he cares, but it is not yet a decisive buying argument. In our view, this will change in the future.
Does this also apply to German consumers, too?
The importance of sustainability for the German consumer is not as important as we would like it to be. The biggest drivers are design, brand and price.
What is your vision for sustainability?
To leave a positive footprint! So far, there is no product that does not have a negative impact on the environment. The goal must be to give something back with a product.
In which areas would you like to grow with Haglöfs over the next few years?
I see Haglöfs as a brand with great potential. We are already strong in Scandinavia, where we recorded tremendous growth last year. Now we are focusing on the DACH region and the USA and Asia are certainly also very interesting in the future. I still see a lot of growth potential in all three areas of the brand, clothing, footwear and backpacks.