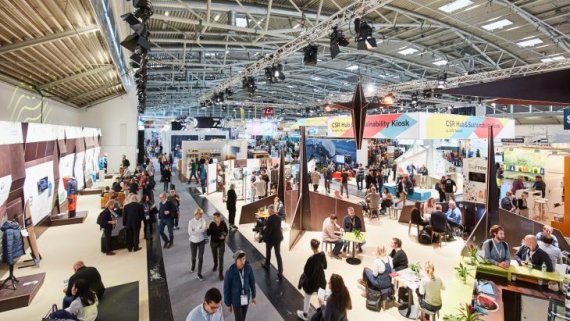 It's not just Messe München looking back on a successful trade fair. The fair was also worthwhile for its exhibitors in many respects. The statements show:
Martin Nordin, CEO Fenix Outdoor International AG. Fenix is a group of companies that includes, among others, the brands Fjällräven, Hanwag, Tierra, and Primus:
"Of course, trade fairs today serve a different purpose than they used to, when you could derive the financial value of a fair directly from the orders. Today it's about seeing and discussing our customers."
Jochen Lagemann, Managing Director Europe and Asia at Primaloft. The American company manufacturers insulation and insulating fabric for, among others, the clothing industry:
"We've been able to experience a high-traffic trade fair with good meetings this year, as well. With highly positive feedback from the retail and brand side on our focus topic Primaloft Black Insulation ThermoPlume, we as an ingredient brand also conducted excellent meetings with several partner brands from the fashion and lifestyle industries. This year's good winter in terms of sales figures compared to last year definitely played into that. In general ISPO Munich is an important industry event for us and, as a communication platform, an efficient tool in terms of sales.
The fair simply gives retail a complete overview of the market, an ever more important indicator for the buyer decision making process. With the subjects of digitization and automation in the industry, as well as great lectures and symposia, the trade fair will continue to give attractive reasons to visit in the future."
Tim Boyle, president and CEO of Columbia Sportswear. The brand sells outdoor apparel:
"We need a trade fair like ISPO Munich to continue growing in Europe. This is the first year we weren't at the Outdoor Retailer Show in the US. Why: The US is our biggest sales market by far – to keep growing there, it makes more sense to invest more in end consumer marketing. It's different here."
Stefan Mohr is the managing director of ABS Protection GmbH. ABS is specialized in backpacks with avalanche airbags.
"We're chalking the trade fair up as a very successful one. For us, it's a crucial platform for optimally representing the ABS brand with all of its new elements. We had an expert audience and a high number of visitors at our booth. We were able to greet all of our major retailers at our booth and have already gotten several commitments. We're especially happy about the feedback on our new product: The s.LIGHT is getting enthusiastic reception from the retail trade. We're of the opinion that ISPO has managed to become an important medium that we'll continue to use beyond the season by covering all channels."
Roland Auschel, executive board member at sporting goods manufacturer Adidas, responsible for the Global Sales division.
"ISPO has created a platform to come together and further develop the opportunities of the digital transformation for retailers and brands. We're back as market leaders to openly and transparently demonstrate our engagement with retailers who see this as a clear opportunity."
Thomas Delago, CEO of Nitro Snowboards:
"The new concept with the broad center aisle has created an open atmosphere. As a result we've also reached retailers who aren't as strongly anchored in the snowboard sector. Products aren't just presented here, they're staged and trends are displayed. The goal needs to be motivating and inspiring retailers more. The concept is being well received and is headed in the right direction. We're glad to be further developing together with ISPO Munich."
Hans Taubenberger, CEO at Toni Sailer. The brand offers premium skiing fashion:
"We had a fantastic season and a great ISPO Munich. Last year people said skiing was dead – but the exact opposite is actually the case! The early snow has inspired everybody. It's fun being here. ISPO is extremely important, especially for our international customers. We were able to get nearly every good international customer through the trade fair."
Jörge Bartling, managing director of McNett Europe. The company is part of Gear Aid, selling products for outdoor trips, fishing, hunting, and diving:
"We were represented at ISPO Munich for the second time this year, and once again we had four very well-attended days with positive, interesting business meetings. For us, the trade fair is one of the most important meeting places for maintaining existing customer relationships and making new deals. Especially the spontaneous appointments, which sometimes just happen in the corridor, are often among the best. The ISPO platform helps us – as a smaller brand – open doors in the highly professional sports business." 
Jorrit Jorritsma, founder of Millican. The English brand sells eco-friendly, high-quality backpacks.
"This was our fourth ISPO Munich, and probably the best to date. Why? In the CSR hub, we stand nearby Brands for Good – a crazy good initiative. The major CSR hub shows that the topics of sustainability and social responsibility are becoming more and more important in the market. So ISPO has set exactly the right tone here. The result: Our previous customers came anyway, and we were also able to make several new, high-quality contacts."