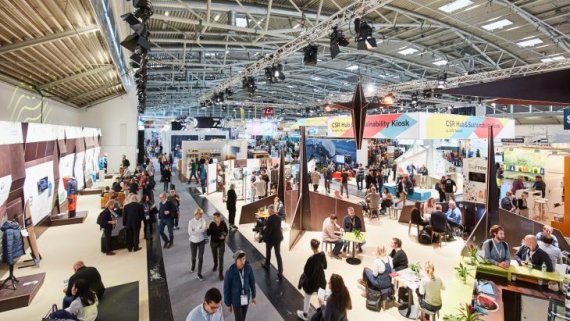 How? It's over already? For many years now, we have been experiencing with great regularity that four days can fly by: during the ISPO Munich. During this time, the clocks just seem to be a bit faster. Apparently the zeitgeist, that old overachiever, has trained so damn hard you can hardly keep up with it....
This time, more than 84,000 trade visitors from 120 countries were curious about the products and innovations of the 2801 exhibitors (two percent more than last year). And what did they all take home with them, aside from a pile of fresh business cards? Well, it's not a completely new insight, but one that is becoming increasingly urgent: The future is digital. Hardly anyone will disagree with that, but who knows what it will look like, this digital media where the revenues blossom like this?
In any case, the future decidedly took place at ISPO Munich in Hall A4, booth 202: on the roughly one thousand square meters of the ISPO Digitize Area. Here, together with partners adidas, Lectra, Foursource, and Sportmas, the trade fair transformed itself into a laboratory for the future, the change became tangible, and digital decision-makers and corporate executives were delighted with exciting concepts for their sports business.
Klaus Dittrich, Chairman of the Board of Messe München, said: "With ISPO Digitize, we have set the right signals for the sporting goods industry and specialty sports retail. The positive opportunities offered by digitization must be utilized in order to attract more people to sports."
ISPO Exhibition Group Director Tobias Gröber added: "The ISPO Digitize Area is a kind of kick-off for our ISPO Digitize Summit at the end of June. The goal of ISPO is to support industry and retail in the digital transformation. ISPO is meant to serve as a platform to bring the various digital experts, sports companies, and consultants together. In contrast to large corporate groups, small and medium-sized enterprises in particular cannot afford to invest in a complex research and development unit or independent, comprehensive market research. That is why ISPO wants to help companies to support the digital transformation in a target-group- and budget-specific manner."
Not only Roland Auschel, executive board member at adidas and responsible for the Global Sales division, obviously liked the initiative: "ISPO has created a platform to come together and further develop the opportunities of the digital transformation for retailers and brands. We're back as market leaders to openly and transparently demonstrate our engagement with retailers who see this as a clear opportunity."
Adidas was represented at ISPO Munich again for the first time after a twelve-year break, and was obviously satisfied: "If we look around the world, it can only be ISPO that has global significance," said Auschel. "We believe that ISPO can be much more than just a place where physical products are presented. We believe that it can and must further evolve into a forum where the industry can meet and exchange ideas." Adidas announced the participation of CEO Kasper Rorsted for the summer ISPO Digitize event.
The winter athletes also couldn't complain of a lack of visitors this year – no wonder, in light of the truly snow-heavy winter. If you happen to get lost on the second floor of ISPO Munich, on clear days you can enjoy a view of the chain of the Alps, and this winter it's also dusted with pure white snow.
Dittrich, the head of the trade fair, announced his intention to intensify cooperation with ski manufacturers. "With the ISPO Munich Sports Week, the good mood was also carried into downtown Munich, where the end consumer was addressed directly. This concept is also set to be further expanded."
The example of Mats Hummels shows that ISPO Munich is also very attractive for non-trade visitors. The soccer world champion and FC Bayern star marched through the halls on day three, making a stop in Hall B4 at the booth of Norwegian underwear manufacturer Kari Traa and asking an employee, "We can't buy anything from you, right?" Hummels' companion reacted a bit angrily to the response in the negative: "Man, I even brought extra cash!" The employee, who hadn't recognized the star kicker, kept cool and recommended a visit to the C halls: "Maybe you could buy yourself a soccer ball there."
Even Ingemar Stenmark, the world's best skier in the 70s and 80s, was able to walk through ISPO Munich largely unrecognized. Things were a bit different with Bode Miller, Henry Maske, Franziska van Almsick, Manuel Neuer, Lena Gercke, and Markus Wasmeier, and things really took off with the freshly baked Streif legend Thomas Dreßen.
Just like at the ISPO VIP dinner on the evening of the third day. This year, the ISPO Trophy went to Gertrude "Gert" Boyle, the charismatic president of Columbia Sportswear. The 93-year-old was represented at the festively decorated ICM by her son, Columbia CEO Tim Boyle. There was a standing ovation in the hall for Gert Boyle onscreen and for her son on stage. "I present the award for a tough mother to a tough son," said the trade fair CEO Dittrich.
Boyle Junior greeted his mother across the pond as she followed the livestream of the award at the Columbia headquarters in Portland: "Mom, I hope I don't screw it up," he joked towards the USA, then added in the direction of Munich: "If I do, she's going to kick my butt." Well, safe travels home, Mr. Boyle. And see you next year!