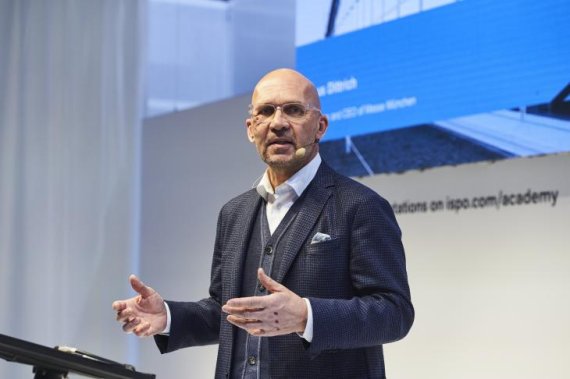 In an interview with ISPO. com, Klaus Dittrich, Chairman of the Board of Management of Messe München, draws his personal balance sheet and interprets the figures and facts of the official final report.
ISPO.com: Mr. Dittrich, what is the CEO of Messe München's assessment of ISPO Munich 2018?
Klaus Dittrich: Firstly, I can say that in Europe we had a fantastic winter this year, which got the industry into a positive mood already a long time before ISPO Munich. Even the sales figures for the industry are accordingly positive. For these reasons, many exhibitors were in a very good mood as they came to ISPO Munich itself. With 2801 exhibitors we achieved excellent results: more space and more exhibitors than last year. We are particularly pleased with this growth – because it shows that ISPO Munich has further great potential.
They reacted to the large changes in the sports business – and set new areas of focus.
I believe that we were absolutely right in the choice of topics – in that we placed digitization in the center of ISPO Munich. Anyone who walked through the 16 halls experienced it for themselves: There are so many digital products, digital trends – from virtual reality and augmented reality, to all kinds of wearables, to presentation at the point of sale. With ISPO Digitize we have planted an exciting hotspot for this in the center of the trade fair and we are pleased that the visitors there are standing in line to see what is happening there. This shows us: Our path is absolutely the right one.
What feedback did you receive about this new path?
There were really consistently positive responses, without exception. Let's start with our partner adidas – who has come back to ISPO Munich after 12 years and is now here also with its own area, in which it is not displaying any products but its digital solutions. Adidas says that for them ISPO is again an exciting, attractive platform and that they would like to take part again in the summer at the first ISPO Digitize on June 28 and 29.
And of course this has attracted their competitors' attention – which is to say, the real giants of the sports industry – of which, one or the other was always missing at the trade fair and who were now here, looked at our approach to digitization and are now also considering whether they would like to use our platform as well. This is because it is future-oriented because with us they can generate a reach that they often would not achieve in the B2B sector alone, even though these are global corporations. This makes us very confident that we have chosen a correct path here.
The Adidas Symposium in the ISPO Digitize Area gave the industry a first impetus. You had exciting speakers as your guests – what is your personal conclusion about the start of ISPO Digitize?
I was very pleased with the resonance. It was full, all seats were taken and many listeners were even standing outside. The acknowledgement: No one will be able to avoid digitization. It is growing, this is happening quite late but it is growing.
The fact that adidas is now going again to a trade fair that is made for specialist retailer visitors also shows that among all of the digital strategy, there is still an emphasis on cooperation with retailers. And I hope that specialist retail takes up this offer and also the information opportunities of ISPO in order to really benefit together from the many positive aspects of digitization and to move the industry further forwards.
At the event, Adidas Sales Director Roland Auschel said about ISPO.com: Every branch, every industry needs a place, a center of debate. And in the sporting goods industry, considered worldwide, that can only be ISPO. You will be pleased with this message.
Yes, very much so. ISPO is actually already more than the Davos of the sporting goods industry – because people do not just sit together and listen to some speakers, but because they also present and show their brands here. That is a very large added value, because people see many innovations and because not only the big players are there, but also many small ones. Here, we are celebrating the 30th Edition of ISPO Brandnew and are delighted about the many small, fascinating startups that have accomplished a successful entry into the market through ISPO. This also contributes to the appeal of our platform, which, for a long time, has not been primarily an ordering platform.
ISPO is a communications platform, a network and a platform where you can present yourself and your brand. There are about 2,000 journalists here reporting on us; sporting greats such as Felix Neureuther, Javier Martinez form FC Bayern and Manuel Neuer, who has nine million followers and has also recently reported on ISPO Munich in his networks; we have an enormous reach with ISPO.com – that is already a tremendous communications machine.
ISPO Digitize will be a separate event in the summer – what can participants there expect?
I am sure that the market will receive our new concept well. We were very pleased that Adidas confirmed that the CEO Kasper Rorsted will also be there. And we wish to stream in speakers not only from the sports industry, but also from other areas, which are digitally on the move – whether that be from the insurance industry, which is currently going through an extreme process of digitization, or a car manufacturer, who takes advantage of the digital world. But in the end it must have added value for the participants and for specialist sports retailers. I think this will be the first premium for a platform that will continue to gain significance and grow significantly.
Is the outdoor sector continuing to develop in a positive way?
Outdoor was well received at ISPO Munich and has grown steadily in the last few years. We - and this is no secret - we have applied to give the outdoor trade fair in Munich a new home from summer 2019.
I believe that we - and the industry itself also sees it this way - must work on a new understanding of Outdoor. The fluent transitions to the topic of watersports, to running, to the topic of fitness and to the fashion-oriented sector ­– that is the environment that has made outdoor huge at ISPO.
Now consumers can also benefit from ISPO Munich – even directly: With ISPO Munich Sports Week they have brought the trade fair into town to the consumers.
That is also a new start, yes. We had a great start with the ISPO Munich Night Run, where there were more than 500 participants at the start – a wonderful atmosphere. I am sure that many more people will run with us next year.
And it was especially successful in getting specialist retailers from the town persuaded to offer very varied activities in order to motivate people, and even to try out other kinds of sports themselves such as biathlon or headis - or to start taking part in sport in the first place. This is a wonderful side effect of an international trade fair, which can make participation in this trade fair even more profitable, also for the manufacturers.
And how do retailers profit from this?
We have already always noticed that there are many consumers who are really excited to see which innovations will be shown at ISPO Munich. And this desirability, of course, also increases the willingness to buy. And if retail now gets the opportunity to benefit from the shop window of the ISPO brand and give the customers a small insight into the innovations that will come onto the market in the next season – then that is exactly what appeals to the consumers.