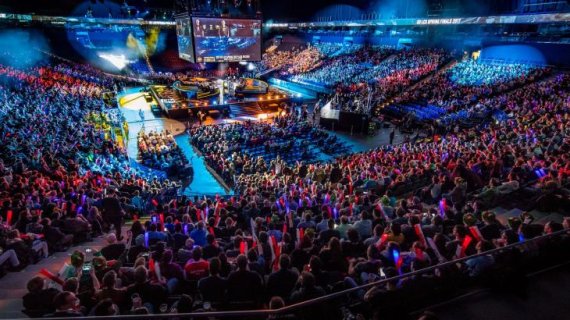 Christoph Rapp, International Sales & Retail Manager of Messe München, deals with the issues of the sporting goods industry every day. He's up to date on the latest trends, and prepares the topics relevant for the industry for the ISPO Academy. At the opening of the ISPO Academy Connect series, it was about "The Future of the Sporting Goods Industry – Opportunities – Change and Trends", while the second event discussed start-ups and the question of what entrepreneurs really need. And now, at the third event in the Weststudio in Munich's Westend, it's about eSports.  "At first glance, our topic may not seem very obvious for some, but may be very much so for others," said Rapp. Behind this is still the highly discussed question: Are eSports actually sports, or not?
"It's competitive entertainment," says André Fläckel, Director of eSports at Lagadère – to then make clear: "eSports are on the path to becoming among the most important sports worldwide." And thus, every player in the sports business will (sooner rather than later) have to ask themselves if and how they'll get involved. Fläckel names the most important reason: "The target group is young," ages 16 to 25, "well-educated on average, and are becoming more and more difficult to reach via classic channels."
The scattering loss for this target group is tremendous – by contrast, in eSports you have optimal opportunities to reach a target group facing "lots of first-time experiences," as Cédric Schulte-Langforth, Manager of New Business at Lagadère Plus, explains. Buying their first car, for instance, getting insurance, and where possible, committing themselves long-term to a brand: "This target group is uniquely attractive," says Schulte-Langforth.
Lagadère presents facts and figures that illustrate the growing market of eSports:
1.5 billion people amuse themselves with video games. "That still doesn't have anything to do with professional sports," says André Fläckel, but it does show the potential.


 

365 million people consume and watch eSports events. And this trend is continuing to increase. "It's a very young market that's constantly on the move," says Fläckel, who makes this analysis: "No sport is evolving faster than eSports."


 

12,000 people came to Royal Arena in Copenhagen for the live event of the Blast Pro Series in late November. The event was broadcast in 89 countries, with several millions watching worldwide.


 

43 million people were already watching the League of Legends finals in 2016. In 2017, it was 75 million. The prize money totaled 24 million dollars – for comparison, in the Euro League, the UEFA pays out 8.1 million.


 

700 million dollars have been spent on eSports in the past year.


 

eSports will be an officially recognized competition at the 2020 Asia Games, and so for the first time have gold medals from an international sports association.


 

The team SK Gaming, number one in the game Counter Strike, reaches an audience of 5.3 million people on social media – only a few clubs in the soccer Bundesliga manage that.


 

76 percent of eSports fans are between 10 and 35 years of age, with another 22 percent between 36 and 50, and only 3 percent 51 and older.

66 percent of those interested in eSports are men, 34 percent women.


 

48 percent have an above-average household income
Lagadère Sports consults with companies on strategic issues, and is one of the most important marketers in eSports. To check whether a sponsorship engagement makes sense for a company, it's first important to know the market players in eSports.
Publishers are the companies that manufacture eSports games. EA Sports, for example, or Valve, a 7 billion-dollar company.
Media: eSports primarily runs on streaming platforms. Twitch.tv is the number-one eSports platform, far ahead of YouTube Gaming. In the linear sector, there are TV broadcasters like ESPN and (in the German market) Sport 1. Facebook, Amazon, and even the Walt Disney Company are getting involved.
Even sports teams from established clubs are now edging into the eSports market: FC Schalke 04, Paris St. Germain, Manchester City, FC Valencia, but also the Philadelphia 76ers.
Sponsorship: In the beginning, the brands primarily came from the endemic sector, the computer industry and its suppliers, like Logitec and Acer. Recently, more and more globally active consumer goods brands are getting involved. Examples: BMW, Mercedes, Red Bull, Vodafone, Visa, Gerolsteiner, Jack & Jones.
"The movement in sponsorship is being perceived more heavily than in most other sports," says Schulte-Langforth, which is a big opportunity for newly arriving brands. Nevertheless, you'd always have to be aware that the target group responds very sensitively: "When a big company gets in on eSports, it sparks enthusiasm in the fans – but they can also be critical, and will observe how the sponsor acts very closely."
Using three best-case examples, Schulte-Langforth explains how brands are getting involved in eSports and what principles can be derived for companies getting in on the action.
Create added value for the fans. Take the example of Gerolsteiner. The beverage manufacturer sponsors the German team Unicorns of Love. Videos on social media platforms show that, for one, eSports pros don't fit the outdated cliché of soda-drinking, pizza-eating basement dwellers. Instead, they're fit, endurance athletes. Gerolsteiner posts videos with insights from the team, goes with them to the gym, and follows them during everyday training and at competitions. This way, the sleeve sponsor presents itself as a young, lifestyle-conscious brand – not with blatant advertising, but rather with real information and entertainment for fans.
 
eSports need to stay authentic. Example BMW. The automotive manufacturer sponsored the

European League of Legends Championship Series (EU LCS) summer finals in

Paris –

and scored a special kind of coup: When the Unicorns of Love failed to qualify, BMW still brought their top star and team manager Romain

Bigeard

, an eSports icon, into the #LaneToParis, the hashtag on social media – with a graffiti model of the M3. BMW even did away with its established CI design, incorporating its logo into the marketing spaces in the eSports style.
 
Take what you do best – and share it with the scene. Example Jack & Jones. The clothing manufacturer outfits the CS:GO team Astralis with a collection of their very own: hoodies, shorts, pants, highly stylish and practically made for its eSports target group. The Astralis pros make themselves available as campaign models, and the collection can now be purchased online and in flag stores.
What are the challenges for the eSports market? André Fläckel names four points:
Even more classic brands are getting involved – in recruiting and employment, with content creation, activating influencers and ambassadors, and with the transfer of knowledge and image.

To do so, they need an understanding of the target group.

Brands need to adapt to the market – for example, in their appeal to the target group.

eSports still needs more professional structures in its clubs and organizations – and  clear predictability of functions and events.

 

Players in eSports need to see to better transparency in KPIs and to standards that major companies can use to orient themselves.
"eSports already has a relevance today comparable with volleyball and table tennis. In 2020, it will be more important than ice hockey and basketball."
André Fläckel, Director of eSports at Lagadère Sports, at the ISPO Academy Connect