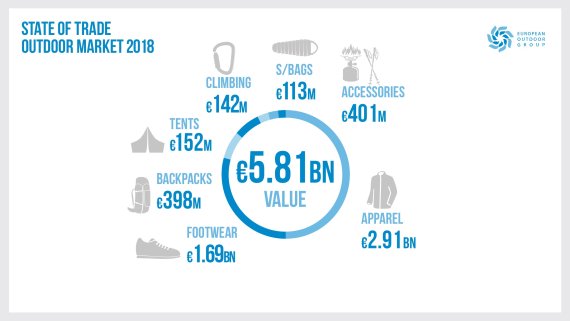 Even for the current year 2019, cautious optimism is again the order at best. In an EOG survey, 21.7 percent of the retailers and brands surveyed stated that their businesses had performed better than expected. On the other hand, 34.8 percent said the opposite - so far sales have been worse than forecast.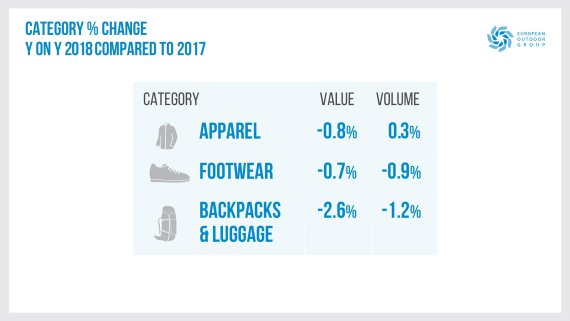 However, in the midst of stagnation in the outdoor industry, there is also a growth engine: Climbing is booming. Sales in this sub-sector rose by 5.7 percent year-on-year to 142 million euros. By comparison, the clothing (-0.8 percent to 2.91 billion euros) and footwear (-0.7 percent to 1.69 billion euros) segments with the highest sales decreased significantly. The biggest loser in 2018 was the sleeping bag segment, where sales fell by 4.7 percent to 117 million euros.
"This area is clearly struggling with the cheap offers from discounters and supermarkets that we don't cover," said Pauline Shepherd, EOG Research Director, at the presentation of the annual State of Trade report.
When it comes to climbing, on the other hand, all parameters - such as the growth in search queries on the Internet - continue to point steeply upwards. "Indoor climbing and bouldering are clearly in vogue, also as urban fitness offers. Climbing shoes are particularly in demand. The Olympic premiere in 2020 will certainly provide additional momentum for climbing," says Shepherd.
The increasingly extreme weather phenomena had a major influence on the outdoor market in 2018. Because of the heat wave during summer - the repetition of which is just beginning to show this year - sandals were more in demand than usual. Swimwear or lighter clothing or shoe offers were also more in demand. The losers, on the other hand, were higher-priced products such as weather protection jackets and hiking boots. Supposedly, this is an important reason for the stagnating sales figures.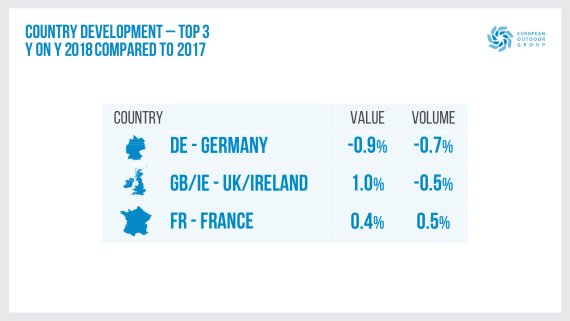 Looking at the largest markets in the outdoor industry, Germany is the worst performer with a 0.9 percent drop in sales. Great Britain and Ireland (+1.0 per cent) and France (+0.4 per cent), on the other hand, grew. The German-speaking countries - i.e. Germany, Austria and Switzerland - nevertheless remained by far the most important region in the outdoor industry with 2.14 billion euros and a 37 percent share of the total European market in 2018.
This year and in the future, many challenges await the outdoor industry. In an EOG survey of retailers and brands, topics such as sustainability ("How much does the clothing industry contribute to the microplastic problem?"), economic problems such as Brexit and a lack of innovation in the industry are mentioned. That is why great hopes rest on the OutDoor by ISPO which was intended to give new impetus to the outdoor industry.