Fat meat and sausages sausage - office canteens are well aware of their customers' vices. And so, in many places, the food on offer is more of a temptation than a contribution to healthy nutrition. Yet this is precisely what would be so important at work, because there is usually no time for long walks after a sumptuous meal. Apart from that, canteen food does not always have the best reputation in terms of quality and taste, even if we are doing many providers an injustice here.
If there is a kitchen with a stove or at least a microwave at work , it is worth creating a Meal Prep weekly plan at home . Sooner or later the stomach growls and now only a quick snack at the desk to insert, is ultimately not recommended. With little effort, a healthy meal can be cooked at home from wholesome ingredients, which later ensures an enjoyable lunch break - and afterwards ensures more energy and work speed.
Below you'll find a Meal Prep weekly plan with five healthy recipes for fuss-free, homemade meals - easy to freeze in portions and reheat later.
Ingredients for four servings:
4 chicken breasts
1 kg carrots
vegetable stock
approx. 250 g rice
salt
spices, e.g. curry powder
neutral oil
Preparation:
Wash the chicken breasts and pat dry, then salt and season with a little curry, paprika or coriander powder if desired. Fry them vigorously in a pan over a high heat in a little sunflower or rapeseed oil. Once the breasts are browned on all sides, reduce the heat and cook gently for a further 12 to 15 minutes. This will prevent the meat from drying out.
Wash the carrots, cut them into pieces and cook them in a little vegetable stock for about ten minutes. They should still be firm to the bite.
Rinse the rice thoroughly, put it in a pot and cover it with water. The water should be about two fingers' width above the rice. Season lightly with salt, bring to the boil and simmer over a low heat with the lid on for about 20 minutes. (Please follow the instructions on the packaging as the cooking time can vary depending on the variety). The rice will absorb all the liquid.
The rice and carrots can be mixed later for easier reheating.
Ingredients for four servings :
600-800 g fish fillet, for example from codfish
1 celery bulb
6-8 medium potatoes
milk
butter
lemon
salt, pepper, nutmeg, cayenne pepper
some flour
neutral oil
Preparation:
Peel potatoes and celery and cut into smaller pieces. Put them into water and boil them for about 30 minutes until they are soft. After the cooking time, mash with milk and some cooking water. Add butter according to taste and season with salt, pepper, nutmeg and cayenne pepper.
Wash the fish fillets, dab dry and season with salt, pepper and lemon. Turn in flour on both sides and fry carefully in an oiled pan until golden brown.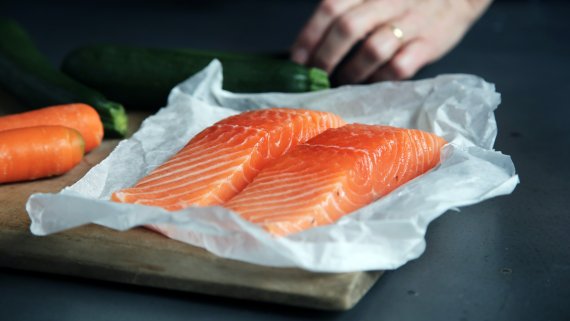 Ingredients for four servings:
400-500g farfalle (butterfly pasta).
approx. 100 g fresh basil
1 clove of garlic
40g parmesan (grated)
30 g pine nuts
100 g olive oil
approx. 1 tsp salt
dried tomatoes to taste
Preparation:
For the pesto, peel and coarsely chop the garlic, then crush it in a mortar with the salt. Wash the basil, pluck the leaves from the stems and puree in a blender or grind in a mortar with the dry roasted pine nuts, the grated cheese and the oil. Finally, stir in the garlic mixture. The finished pesto can be stored covered with oil in a jar in the refrigerator, even for several days.
Cook the pasta according to package directions until al dente and mix in batches with the pesto. Add pieces of dried tomatoes if desired.
Ingredients for four servings :
200 ml milk
300 ml vegetable stock
100 g polenta corn semolina
40 g butter
30 g parmesan
1 bunch of parsley
100 g sunflower seeds
salt, pepper
neutral oil
Preparation:
Bring the milk to the boil with the vegetable stock, then pour in the polenta semolina, stirring constantly, and leave to swell over a low heat for about 20 minutes. Stir from time to time.
In between, roast the sunflower seeds without fat in a pan, grate the cheese and finely chop the parsley. After the soaking time, remove the polenta from the stove, stir in the butter and cheese and season with salt and pepper if necessary. Finally fold in the roasted sunflower seeds and the parsley.
If you like the polenta firmer, you can reduce the vegetable stock and let the semolina dry in a casserole dish after swelling. Afterwards, the polenta is easy to cut and can then be fried in a little oil.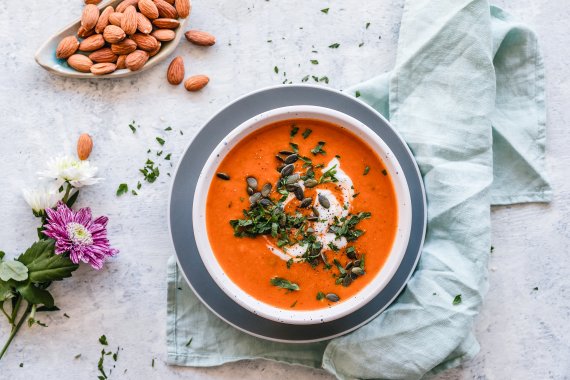 Ingredients for four servings:
1 onion
neutral oil
200 g red lentils
1 tsp curry powder
600 ml vegetable stock
½ l orange juice
Pomegranate seeds and soy cream to taste
Preparation:
Finely dice the onion and sauté it with the curry powder in a little oil. After a few minutes, add the lentils and lightly roast them as well. Pour in the stock and orange juice, bring everything to the boil and cook for about 15 minutes in a covered pan. When the lentils break down slightly, puree everything, season with salt and pepper.
Just before eating, garnish the soup with pomegranate seeds and add a thread of light or sweet soy cream.
How much money you spend on your food depends on your menu. If you cook a lot with chicken or fish, you have to dig a little deeper into your pockets than someone who cooks 125 grams of rice with two eggs.
Meal Prep doesn't limit itself to any dietary rules, so there's a lot of freedom in terms of food choice.
Eating regularly helps to prevent concentration problems and a drop in performance. Those who only reach for chocolate bars, jelly beans or crisps in view of the overcrowded desk will get the bill at the latest when their trousers pinch. The small sins accumulate on the hips and the health suffers, therefore it is advisable to choose rather fruit and vegetable or yogurt also in between.
Those who nibble fast food with their eyes on the screen quickly lose track of what they have eaten. It is not uncommon for sweet or spicy snacks to make you feel tired rather than fit. Consciously taking time out with what you have prepared yourself pays off and is the healthier alternative. Especially those who eat a diet rich in protein get full faster and reduce fats. So a Meal Prep weekly plan is healthy, saves time and makes you productive.
Below we answer the most frequently asked questions about Meal Prep.
When choosing the right food, you should not overthink. Prepared dishes can be frozen and eaten later. Popular are vegetables, pasta, rice and meat.
Meal Prep allows for easy portioning of meals and saves calories. Those who do Meal Prep, usually also pay attention to their diet as a whole and rather reach for healthy foods.
Ideally, you pack your pre-cooked meals in a lunchbox and put them straight in the fridge. Those who pre-cook for a week should consider their menu more carefully. Foods such as eggs should not be frozen.
The main advantage of Meal Prep is that it saves time, because you usually cook for a week in advance. If you pay attention to the content of your food, you'll also eat healthier and save money.