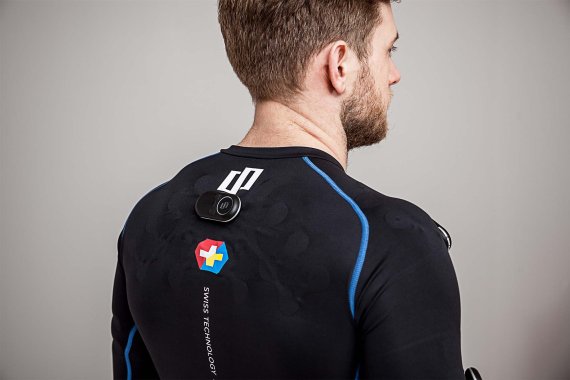 This joint venture innovation sees the extensive Swiss EMS technology of Valmed and world leading smart fabric with FENC's dry carbon-based electrode being seamlessly integrated with Swedish design in compression tech wear. with the launch of the diPulse brand.  This is a marriage of high performance textile through to apparel design combined with lightweight precision EMS technology.
'We had this idea that we had to have a rethink of what wearables actually mean," said Richard Statham, CEO of diPulse. "Now you are taking it to a completely different level where it is doing something for you. Like you wear compression in training, it is to prevent build up of  lactate acid, to prevent any build up of metabolites, the next step up is EMS, but the problem has been in the past you haven't been able to integrate it into a full garment," he said.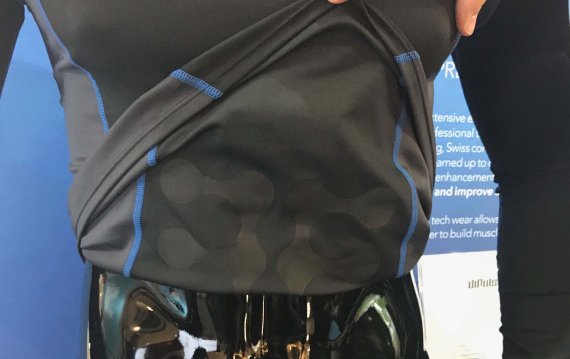 This problem has been overcome by FENC's textile and dry electronic development. "This is the core technology  with the carbon nanotube from earlier developments,  previously what we did was motion tracking, heart rate monitors, but the same technology has a tertiary purpose in that we can use it as a dry electric for EMS. This is the first fully integrated EMS suit, that body maps specifically where each of the dry electrodes are positioned,  giving proper stimulation on the body," explained Jeffrey Hsu, manager of the R&D Centre at FENC.
Battery packs don't wash, this washes and is durable with test guaranteeing 100 washes before a change in performance, and even then it is only slight at 0.01 difference.The expected life span of a diPulse garment could last over 500 plus washes.
A proactive approach to preventing injury and attaining the best performance you can achieve is the goal of diPulse. Muscle and neurological stimulation is by no means a new form of application or product offer, rather it has been heavily involved in a multitude of treatments and alignments largely connected when an injury has occurred.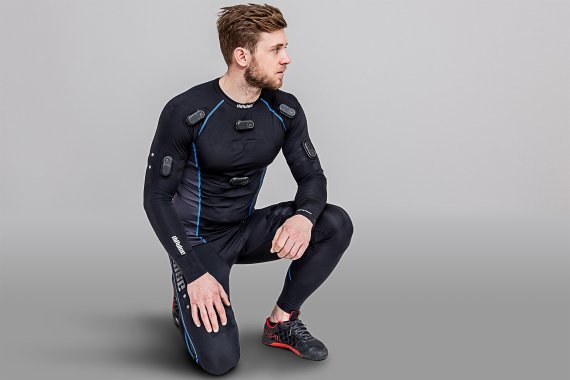 "A large part of EMS is for training, but they are stick on, you can't train in high intensity cardio because it is naturally going to fall off," said Richard, a cross-training competitor, who has worked with Valmed for the last 20 years.  "I wanted something that I could warm up in and cool down, I wanted something that could prevent an injury. By wearing diPulse, I can select, all through the app, a specific muscle, I can determine a specific program."
While EMS technology isn't new, it is widely promoted in the market  predominantly targeting pain relief or recovery, where only a small proportion are looking at active integrated health and well-being or sports. EMS is also usually quite bulky, where through the diPulse range offers a more streamlined design that doesn't interfere with the activity.
So what can you expect from wearing diPulse. "The full 360 workout and recovery. When you actually training generally, you are only using 20 -30 percent of your total  muscle groups, this allows you to use 100 per cent of your muscle groups. Now you don't have the plateaus you see, because you are working out 100 per cent of your muscles, you don't get injuries as the full force is evenly distributed across the entire muscle," said Jeffrey Hsu from FENC.
diPulse are clear that this isn't a product advancement on wearable technologies, it is a new sports innovation. As technology, social media and smart devices become more integrated, the line between singular product offers such as smart watches and sports devices continue to be a viable part of the market, diPulse is offering an integrated concept from the technology to the high performance compression fabrics.
What is also important to the diPulse product range is the app, an easy-to-use yet sophisticated application that ensures you get the best out of your performance. The EMS technology not only prepares the muscles for the training but also enables EMS engagement during training activities through to warm down.
The interface is Bluetooth and smart device controllable allowing the end user to choose any key muscle group, then individual programs, synchronization as the user so desires and apply it into any sport or application.
Additionally, value added training programs and workout programs are accessible through the app. All statistics and performance may then be shared through social media, driving training and performance management as well as health and well-being, though to proactive coaching.
"If you run you have it on your thighs and your calfs, if you are cycling you would have it on the core and your back, golf it would be on your shoulder, so it is the diversity of diPulse that is appealing as you pick it, you press on it and you can change the intensity. This is really leading towards a virtual trainer," said Richard.