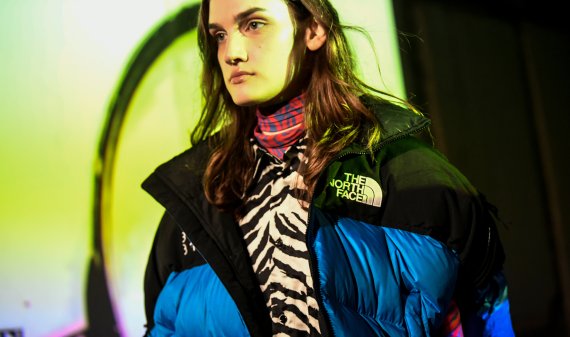 The global fashion market has been hit hard, with high street retailers holding on by their fingertips. Like every global crisis of the past, fashion does reemerge like a phoenix from the flames, however this time it is looking to added value in the form of fashion and functionality.
As consumers' lifestyles change, working from home (WFH) becomes the norm, not just in the current state of events but in the foreseeable future as companies realize that business can be run on a digital platform, with Zoom meetings and Skype calls. In this area comfort is key, this is next-gen athleisure for men and women, smart but pulling in the casual aspect of single and double knits. Protection also features with brands looking to viral blocking anti-microbial finishes and reflectivity safety. 
Versatile garments, that offer a protective element to consumers as lifestyles change, combined with the added value of switching from street to slopes with quality apparel. This is a trend that has been growing, as seen at the Urban Lab at ISPO Munich, but now it is expected to accelerate.
When we were all in lockdown, the reduced levels of pollution in cities was evident, with many looking to continue this cleaner air, reduced pollution for the future. There will be a noticeable change in urban mobility as walking, cycling, scootering will all become part of the 'new normal.  
The Urban Lab at ISPO Munich is a case in point as traditional sports and outdoor brands highlight the flexibility of high-level performance and design but with a strong fashion feel, versatility, and multi-function.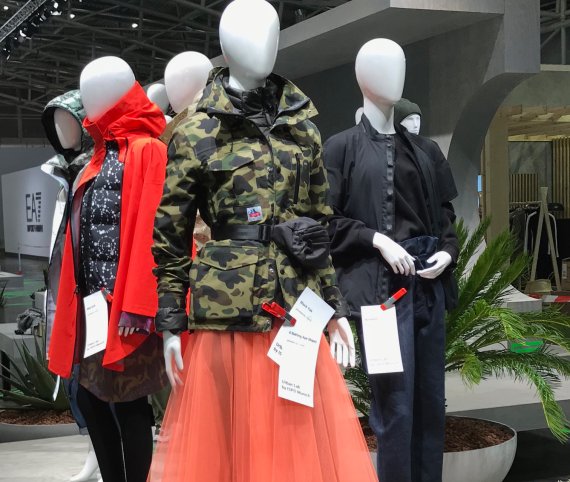 Whilst fashion designers dabble in the performance textile sector, for sport and outdoor brands the potential of offering capsule collections with a stronger fashion emphasis is key.
Collaboration also features, with designers teaming up with brands in morphing their signature style with the technicity of traditional performance. Not just in textiles and trims but in engineered garment design.
January's London Fashion Week, showcasing the collections for Fall/ Winter 2020, witnessed the new partnership of contemporary design label MM6 Maison Margiela with outerwear specialists The North Face. 
Incorporated into multiple silhouettes of the MM6 Autumn/Winter 2020 collection, by transforming The North Face signature Expedition System, the result was the technical precision and functionality of the original design meeting the conceptual signature of the MM6 Maison Margiela. 
Established in 1990, the Expedition System was a revolutionary system of detachable, layered pieces designed for extreme weather conditions. In this unique exercise, key garments from the series are re-imagined in circular patterns that mimic the 'circle' concept inherent to MM6.
Teaming the MM6 collection and the original Expedition System, garments are engineered with interlocking components that adapt and extend the protective, insulating properties of each design. 
The collaborative approach of opposing worlds of the garment sector, fashion vs. outdoors, teaming up in a synergetic style, is expected to continue, with performance textile suppliers on the ball with creative functional fabrics.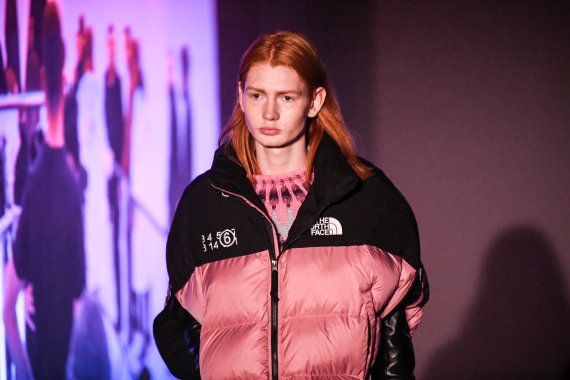 For the last two years, the Street Sports sector at ISPO Textrends has been indicative of how lifestyles are changing pre-COVID, as applications increased exponentially year on year. Companies looking to this sector understand that it isn't just performance that is required but also a strong sense of creativity to appeal to the consumer. Surface effects add a strong sense of creative style to functional foundations.
Grand Textile Co was awarded Best Product in the Street Sports sector at ISPO Textrends 2020 for a nylon/spandex dobby weave with a special spray dyeing technology that can create unique patterns, maintains a soft and saves 90 percent water.
Performance denim is on the increase, teamed with DWR and retroactive prints, and reflective finishes are used as a surface detail as well as a safety element, especially with the increase in cycling on the commute than taking the car. 
3D knitting adds surface detail from Marsan, selected for the TOP 10, whilst the New Wide Group opted for recycled polyester in a double jacquard construction. With the interest in versatility in terms of end-use of the garment, content is also key as consumers continue their eco ethos in buying a good product.
It isn't just apparel that appeals to the performance level, the Soft Equipment sector at ISPO Textrends has also seen growth over the last few years in terms of both performance and creativity. Backpacks in the city are as important as backpacks on the hike, as consumers look to the flexibility of this accessory in being prepared for all, plus the mobility of technology and urban transport. A strong creative element is also seen here, not just in lightweight high technicity yarns and spacer fabrics but also through surface effects, nylon trims, and intense hues.
No one knows as yet just where this crisis will lead us, but with many looking to the 'new normal' there is certainly a strong potion for the performance textile and the trim sector in cross-over apparel and accessories.