Florian Miguet, CEO of clim8 and Christian Langer, Member of the Advisory Board clim8, will explain why they are convinced that new, purpose-driven ingredient brands will revolutionize the market with smart technologies.
And why proprietary digital solutions from apparel brands might be too slow for the market. They show how apparel products can become more sustainable and at the same time more customer-experience oriented. And why connecting and staying in touch with your consumers as a brand will be the "new normal".
Florian, how was the ISPO Brandnew Award helping clim8 to establish & grow its business?
We were finalists in the Brandnew in 2017 and while we were very sports oriented - with a baselayer as our first product - the BrandNew offered us a wider visibility. In fact, we met the motorcycle brand Ixon at Brandnew 2017, (we are carrying the collaboration since then) which asked us to develop a heated glove. Today, this is one of our key product categories and has opened a new industry important for us. In particular, we also won the Innovation Awards in 2019 and 2021, which was a real springboard for our business! The Brandnew is a great opportunity for all companies that are getting into the sports & outdoor business and beyond.
Meet clim8 at ISPO Munich 2022. Meet the founders on 28-30 November on stand A1.500.
Christian, when thinking about the near-term future of the apparel industry, what do you see on the horizon?
The signals are clear; we are inevitably running into a transformation of the Sports & Lifestyle apparel industries. Demands from NGO 's, regulators, investors, retailers and consumers for greater transparency and more efficient solutions around brands' environmental and social impact are increasing – the pressure is on. The EU Strategy for Sustainable and Circular Textiles is just one indicator here.
In parallel, customer-experience-enhancing solutions that increase comfort, deepen customer loyalty or enable access to new customer segments and communities will gain momentum. Digital will dramatically change the markets like it has in many other industries already. Sports & Lifestyle brands will lean into technology to become more responsible, transparent and customer-experience-friendly. We 'll see the rise of "smart" ingredient brands that will turn the Sports & Lifestyle apparel market upside down.
Florian, would you say that the digital capabilities development in the Sport & Lifestyle sector is lacking behind other industries?
I would say yes. When it comes to managing and monitoring the product life cycle, it requires huge efforts to connect all the production stages, make them transparent and traceable and then to also understand what is happening to the product at the end of life. This is why I'm convinced that smart, digital ecosystem-based solutions will play a critical role moving forward. Connecting clothing represents a huge opportunity for brands to offer complementary digital services.
By succeeding in connecting all the production stages of a garment, from the harvesting of raw materials to end-of-life management, brands could offer their customers perfect traceability, with complete transparency. Solutions such as smart tags implemented in the product are under development and will meet all these needs.
Christian, what makes you so sure that there is a market for new customer-experiences in apparel?
Consumers have learned to expect curated, personalized service in other industries thanks to players like Amazon, Google, Netflix or Tesla. The Sports & Lifestyle apparel industries will have to play catch-up to be able – but are also in a unique position – to provide great experiences specific to individual consumer tastes and needs. To date, few brands have embraced experience-enhancing technologies with a truly competitive mindset. Yet the potential is enormous. Developing Sports & Lifestyle apparel with emerging and existing technologies in mind will enable growth with new consumer segments and enable deeper levels of customer loyalty and engagement with existing consumers. clim8 is for me a perfect and innovative example here: Providing a digital ecosystem and unique thermal solutions, that are enabling relevant customer-experiences and ensuring that brands are staying connected with their customers. This opens a completely new playing field of beneficial services even after the sale of the original product. Normally you'd lose contact with your customer as a brand, via clim8 you can stay in touch.
Florian, are you already seeing significant changes in the development policies of the apparel brands?
What we observe at clim8 is that brands are initially wary of integrating new technologies into their clothing, connected to an app. And this is normal. It's not their business, it's new and until they try it, they have no guarantee of success. Many have tried it with low-end technology and tarnished their brand image. It is also a project on which significant resources must be mobilized, from a human, organizational and economic point of view.
In addition to that, we see more and more concern regarding where the components are from, where they are assembled, looking for a localized production and distribution, respectful of human conditions. This represents a major change in production management, which is a step in the right direction.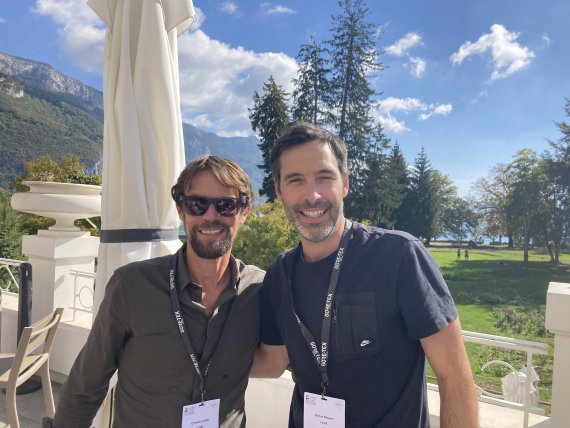 Christian, do you think that each Sports & Lifestyle brand will have their own proprietary solution or do you see new platform players entering the market?
Smart, digital ecosystem-based ingredient brands will emerge, ingredient brands that will enable Sports & Lifestyle brands to cater to their customers in new ways: to be more transparent, have less environmental impact, and offer new and better consumer experiences. And by doing so deliberately act purpose driven. I 'm convinced that these smart players will shape the digital enabled transformation of the industry.
They will bring scalable software and hardware solutions, talent with digital skills, talent that is scarce and eventually not available to smaller Sports & Lifestyle brands. So, there will be ingredient branded eco-system solutions like clim8 that will be leveraged across multiple Sports & Lifestyle players and brands. I do not believe in proprietary solutions from individual apparel brands. What role existing ingredient brands like GORE-TEX or Primaloft will play in this new world remains to be seen.
Florian, what do you tell brands to convince them to work with clim8 and not to rely on their own proprietary solution?
There's no doubt that, although complementary, making a garment and integrating intelligent thermal technology are two very distinct professions. clim8 relies on the hard work of many e-textile engineers, PhD in thermophysiology and developers. Hundreds of prototypes and tests have been carried out by a team of experts in their field to reach the level of expertise of clim8 but the most important is the real market test and we have tens of thousands daily users in the wintertime. We have a duty of quality, support and success, simply because providing cutting-edge thermal technology is the goal of clim8.
Christian, will this be a trend or will this last?
In my 25 years in the industry, I've seen many trends come and go. This one is here to stay. In the last 2 years the consumers have evolved so much. The pandemic and all the other crises have served as an accelerating burning glass. Consumers want brands that represent their values, that act sustainably and transparent – and that have a compelling purpose they can identify with. The definition of "quality" has shifted – from a pure product-focus to a multi-dimensional perspective regarding the brand behind the product: Does the brand live its purpose? Does it walk the talk? Social and ecological aspects are assessed on an equal footing with economic and performance aspects. We want brands to reflect our values, our mindset – and to be able to share these values by wearing and engaging with a specific brand. If I wear a Patagonia hoodie made out of recycled materials, I'm sending a certain message. The brand is helping me to project my values to my peers and the community. As a brand, I need to be therefore absolutely clear about the social impact I want to achieve with my business activities. And this is where digital technologies will play a major, game-changing role in the not so far away future.