When she was signed to skate pro at 10, she was already breaking an age record. And now it could continue at the Olympics: Sky Brown could become not only the youngest winner of this year's Tokyo Games, but also the youngest gold medalist ever. Of course, extreme sport in childhood years also calls out critics, especially after Sky's serious fall in May 2020.
She was lucky: She flew out of the halfpipe during training and suffered a fractured skull as well as fractures in her arm and wrist. Had the Games taken place a year ago, Sky would have only been able to watch skateboarding's debut as an Olympic sport from her hospital bed. A year after the accident, she says she's better than ever and Sky Brown is in the thick of the action at the Olympic skate competitions in her native Japan.
Naomi Osaka is the young star of tennis heaven. Although she lives mainly in the USA, Osaka competes for Japan and is also the face of the Olympic Games in Tokyo, her mother's hometown. In addition to her sporting successes, such as four Grand Slam titles, the multi-talented player is not only interested in fashion and has excellent business sense, she also speaks out against racism. She also caused a stir when she courageously made her depression public and withdrew from the 2021 French Open to take time for her health.
She performs elements that no one can imitate... – neither male nor female gymnastics colleagues. Several elements bear her name and the difficulty scale in gymnastics had to be extended by an extra letter for her. In Tokyo the 142 cm tall Simone Biles wants to become the greatest gymnastics professional of all times. For this she still needs 4 medals at international competitions. Because Biles dominates in all disciplines of artistic gymnastics and especially in the supreme discipline of the all-around, this goal is within reach, even if the Olympic Games will be her last international competition. But then the shock: The 24-year-old broke off the all-around final after just one discipline. The Olympian later admitted: "I have mental problems, I am more nervous than usual and I have less fun with gymnastics." The pressure was too great, the gymnast pulled the rip cord. Simone Biles fights with one thing above all at the Olympics - with herself. A bold statement by a strong woman.
Yusra Mardini fled the Syrian civil war across the Mediterranean Sea in 2015. Together with her sister, she saved the lives of 20 refugees by pulling the rubber dinghy together with other swimmers for hours to the safe mainland. Her story is an inspiration for many people and Yusra is the youngest ambassador of the UN refugee agency UNHCR. She now lives in Germany and trains in Berlin. Yusra already competed in Rio as a swimmer for the Olympic refugee team and she will also compete again in Tokyo.
Neither the difficult birth of her daughter Camryn, nor disputes about money with sponsor Nike or the Corona pandemic could keep Allyson Felix from competing in Tokyo. The 35-year-old could add to her 12 world championship titles and 9 Olympic medals in Japan. At the same time, the Games serve as a platform for her in her triple role as athlete, mother and entrepreneur. Not only does she want to prove that being a mother and a world-class athlete need not be a contradiction. Through the slogan "Know your place" of her own shoe brand Saysh, Allyson makes this additionally clear. Instead of wearing Nike shoes, she will be competing in Tokyo in her own brand of shoes and at the same time sending out a signal against discrimination against mothers in competitive sports.
For US basketball player Sue Bird, her participation in Tokyo is not her first, but already her fifth. If she manages to win another Olympic gold medal with her favoured US team, she will have achieved the heroic feat of a fifth medal in five different Olympics. Sue Bird is not only a role model on the court, however; she also plays a socially important role off it as an advocate for the Black Lives Matter movement and within the LGBTQ+ community. Her long-term relationship and engagement to Olympic soccer player Megan Rapinoe gives same-sex couples confidence to live their love openly.
Climbing is an Olympic event for the first time in Tokyo. In addition to euphoria and anticipation, the format has also been heavily criticized, as bouldering, speed climbing and lead climbing are three very different disciplines. No problem for top favorite Janja Garnbret, who has dominated the climbing scene for years and is considered the hottest ticket for the first women's climbing gold in Olympic history. Not only does the 22-year-old Slovenian have six world titles and overall World Cup wins in both lead climbing and bouldering, but she also tackles difficult climbing projects outside with seeming ease. Together with her boyfriend Domen Skofic, she climbed a 360-meter route up the highest chimney in Europe without falling. The multiple Slovenian Sportswoman of the Year can therefore also be expected to do a lot at the Olympic Games in Tokyo.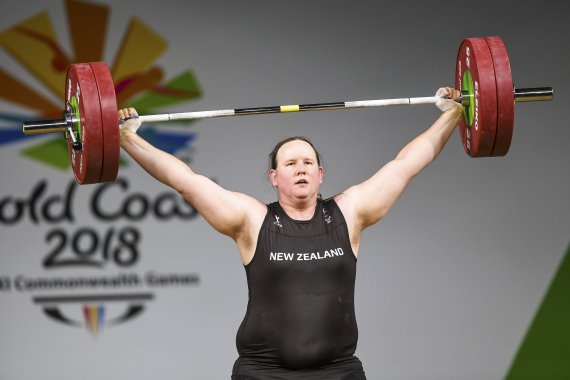 No matter how successful Laurel Hubbard is in Tokyo, she will go down in history. The 43-year-old New Zealander is the first trans athlete to compete in the Olympics. In fact, IOC rules have allowed trans athletes to compete in the Olympics since 2003. However, no transgender athletes have competed in either the Summer or Winter Games since then. For the women's starting field, trans people must fall below certain testosterone levels over a 12-month period, yet the rules are controversial and the International Olympic Committee has already announced improvements after criticism from competing athletes and federations. While the criticism is nothing new for Hubbard, she still hopes that now is the right time for her to step onto the international Olympic stage while being treated with respect.
Sarah Voss was fed up with voyeuristic stares and sexist camera work during her routine and opted for a full-body suit at the European Gymnastics Championships in Basel. Her choice became a political statement, caused applause and praise, and at the same time a lot of discussion. Above all, however, her appearance was thought-provoking and could lead to gymnasts in future wearing what they feel most comfortable in in order to achieve their best athletic performance. At the Olympics, the German gymnast's fashion statement will be visible to an even wider public and could thus make further waves.