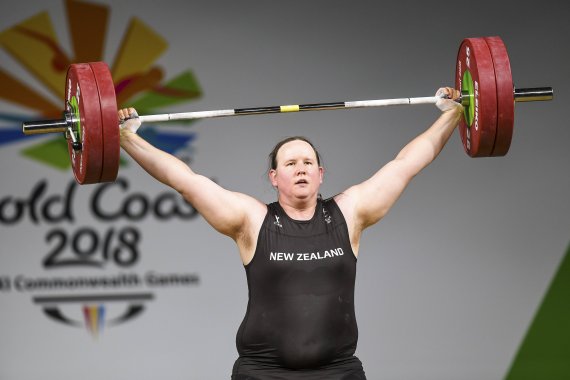 History will be made on 2 August 2021! On that Monday, the women's final over 87 kilograms in weightlifting will take place in Tokyo - with an absolute novelty in sports history. Laurel Hubbard will be the first openly transgender athlete to compete at the Olympic Games .
Officially, the starters will not be announced until July 5. But Laurel Hubbard has already overcome an important hurdle: On June 21, the National Olympic Committee of New Zealand (NZOC) nominated the weightlifter for the Tokyo Games and, according to reports in the "Guardian", the 43-year-old New Zealander is no longer to be taken out of the qualification with reference to circles in the weightlifting world federation IWF.
It will be the temporary highlight of Hubbard's career as a weightlifter, which was actually already over 20 years ago. At the turn of the millennium, Hubbard was still competing in the men's field, even setting New Zealand records there, but retired from the active scene in 2001 in her early 20s.
"I started weightlifting in the first place many years ago because it was archetypally male. And I thought to myself, if I do such a masculine sport, maybe I'll turn out that way. Unfortunately, that wasn't the case," the New Zealander said in a TV interview about her ambitions in the men's field at the time.
Hubbard went on to work for the New Zealand Weightlifting Federation and underwent gender reassignment surgery in 2012. Four years later, she competed in women's events for the first time. Then in 2017, her first major success came with a silver medal at the World Championships in the USA. In 2019, Hubbard secured gold at the Pacific Games in Samoa - a year after an elbow injury kept her out of action for a long time. At the beginning of 2020 then the temporary highlight with the victory at the IWF World Cup in Rome.
But Hubbard's success is not well received everywhere. Samoa's Prime Minister Tuilaepa Sailele Malielegaoi caustic after her 2019 success, "No matter how you look at it, it's a man. And it's shocking that it was approved in the first place."
And opposition is also mounting ahead of Hubbard's Olympic start. Belgian weightlifter Anna Van Bellinghen said in May of Hubbard's possible Olympic participation, "Everyone who does weightlifting at this level knows that it's true, that this particular situation is unfair to the sport and to the female athletes." To her, the Hubbard cause feels "like a bad joke."
For Hubbard, who has not given interviews in years, the criticism is nothing new. She said after her World Cup triumph: "I think even 10 years ago the world perhaps wasn't ready for an athlete like myself – and perhaps it is not ready now. But I got the sense at least that people were willing to consider me for these competitions and it seemed like the right time to put the boots on and hit the platform."
In fact, IOC regulations have made it possible for transgender athletes to participate in the Olympics since 2003. Despite this, no trans athletes have competed in the eight Summer and Winter Olympic Games since then. Since an IOC rule reform in 2015, transgender athletes are eligible to compete in the women's field if their testosterone levels are below 10 nanomoles per liter of blood for at least 12 months prior to competition. The rule is controversial. On the one hand, it allows trans athletes to compete in the Frauenfeld without undergoing gender reassignment surgery, but after hormone therapy.
Critics complain that the permitted hormone level is too high compared to the testosterone level of cis women. A study published in December 2020 on trans women in the US Air Force did conclude that they had a 30 percent strength advantage over cis women after the transformation. That advantage, however, would fade after two years of hormone therapy. The IOC, meanwhile, has announced possible adjustments for after the Tokyo Games.
In any case, the stage is set for Laurel Hubbard in Japan and the current number 16 in the IMF world rankings can already immortalise herself in the history books as a pioneer of the LGBTQ+ community.
But also apart from her historic Olympic participation she deserves what she asked for in one of her rare interviews in 2017: "I just wish that people, however they feel about people in my situation, treat people like me with respect. What more can you ask for."