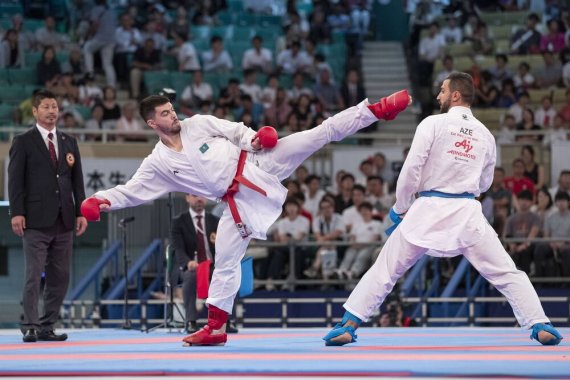 As early as the 1970s, sports functionary Jacques Delcourt in particular fought to make karate an Olympic sport. But in the end it took almost 50 years before the sport became the third Asian martial art to be implemented at the 2021 Olympics. In Japan, of all places, where the history of karate began over 700 years ago.
A total of eight gold medals will be competed for in the karate competitions at the 2021 Olympics. This makes karate the premiere sport in 2021 with the most competitions.
There are six different Kumite competitions - full contact fights. Men and women will then fight for medals in three weight classes each.
Men: up to 67 kg, up to 75 kg, from 75 kg

Women: up to 55 kg, up to 61 kg, from 61 kg
Kumite fights last up to three minutes. If an athlete gains an advantage of at least eight points, the fight is immediately ended. If none of the two fighters succeeds, the athlete who has gained more points in the duel wins. In case of a tie, the fighter who scored first without his opponent also scoring in the same action wins (Senshu rule).
Scoring can be done by three different actions:
Three points: Ippon - Kick against the head or neck of the opponent

Two points: Waza-ari - Kick against the opponent's stomach, side, back or torso

1 point: Yuko - strike with the closed hand against the head, neck or body of the opponent
The second discipline, in which there is a medal decision for men and women each, is Kata. Two athletes will alternately perform sequences of attacks or defensive moves (Katas) without direct opponents. A jury then evaluates the technical execution and strength and awards a score for each kata. The two highest and lowest scores are deleted, the three remaining scores are added together to give the final score.
Controversy is also caused by the fact that only four of the many worldwide karate styles are permitted in the Kata discipline.
The Olympic karate competitions will take place from 5 to 7 August 2021. They will be held in the Nippon Budokan martial arts hall in the Chiyoda district, which has a capacity of about 14,000 spectators.
A total of 80 athletes will take part in the Olympic karate competitions - 40 men and 40 women. Ten athletes participate in each medal decision.