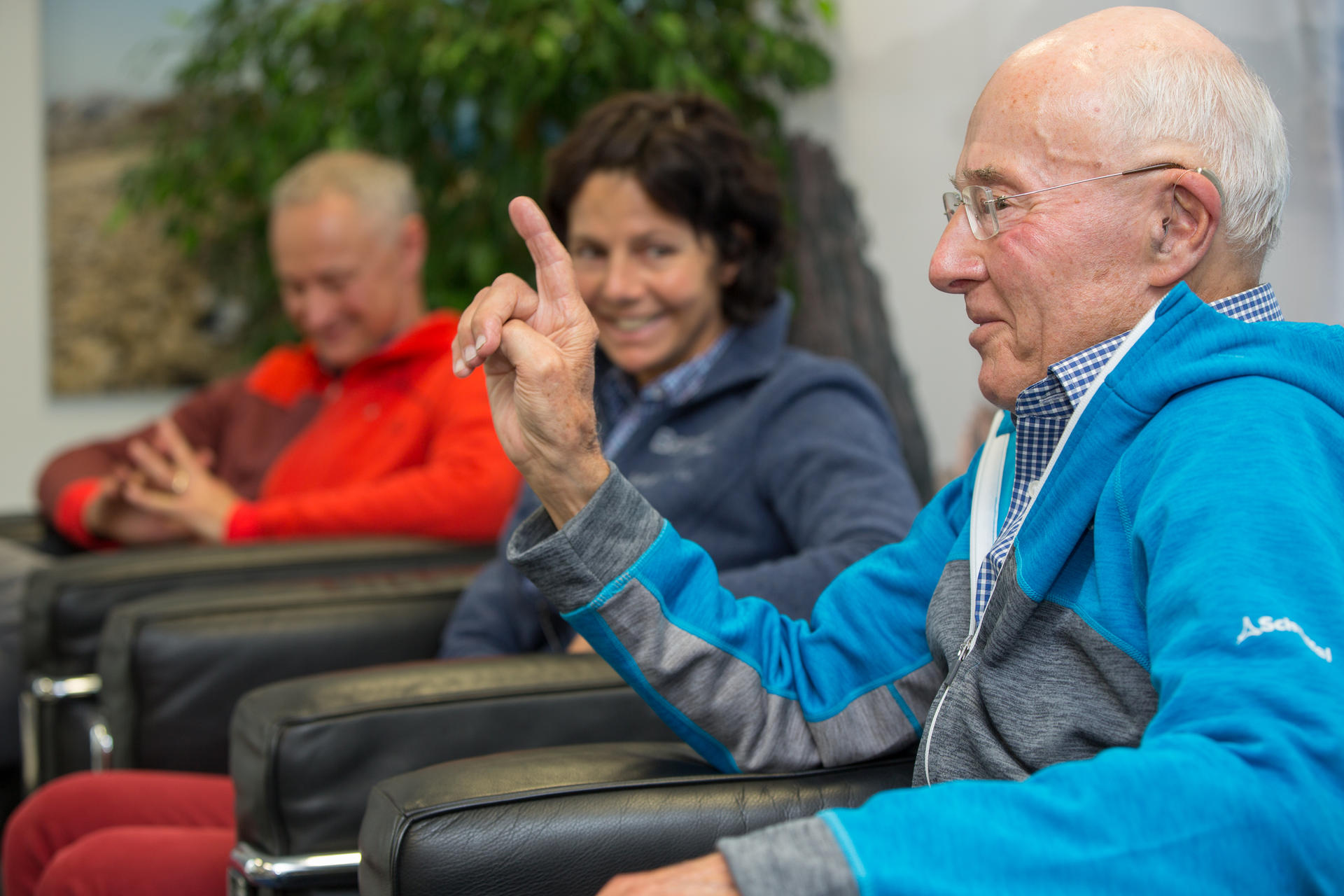 Founded in 1804 in Schwabmünchen, today managed in the 7th generation by Peter Schöffel, 200 employees, Germany's number 2 in outdoor and skiwear manufacturers, with a turnover of 100 million euros in 2016 - these are the key figures that Schöffel can show today. And in which the legendary Hubert Schöffel, who managed the family business for three decades, has the greatest share.
On August 8, 2018, he fell asleep peacefully with his family. 
ISPO.com documents in the following a discussion round, which Hubert Schöffel denied together with his son Peter in October 2017. The occasion was a proud anniversary in which the late senior boss played a major role: Schöffel can look back on 50 successful years in the outdoor world.
A decisive milestone: The changeover to mountain sport and hiking clothing, the introduction of the first outdoors collection. In autumn 1967, Hubert Schöffel made a far-reaching decision: he switched the business from streetwear to outdoor clothing. The other milestones: Market leader in colored trousers in 1971, and in anoraks in 1975. Then in the 80s, the partnership with Gore. "It was like the dam had burst," as Hubert Schöffel says.
At a celebration for "50 years of outdoors at Schöffel," the senior boss remembers the best anecdotes. ISPO.com has recorded them.
Born in 1930, Hubert Schöffel's love of mountain sports was instilled in him at an early age. "I was lucky to have a father who belonged to the founding members of the Deutscher Alpenverein (German Alpine Club). I completed the Heilbronner Weg trail for the first time at the age of 13 and was regularly in the Allgäu Alps in the years following. My connection to the mountains was instilled in me.
Later on, when I was in my parents' retail shop, I could drive into the mountains every weekend in the summer, from Friday morning to Monday evening. Ötztal, Stubaital, Zillertal – hiking from cabin to cabin with a heavy backpack."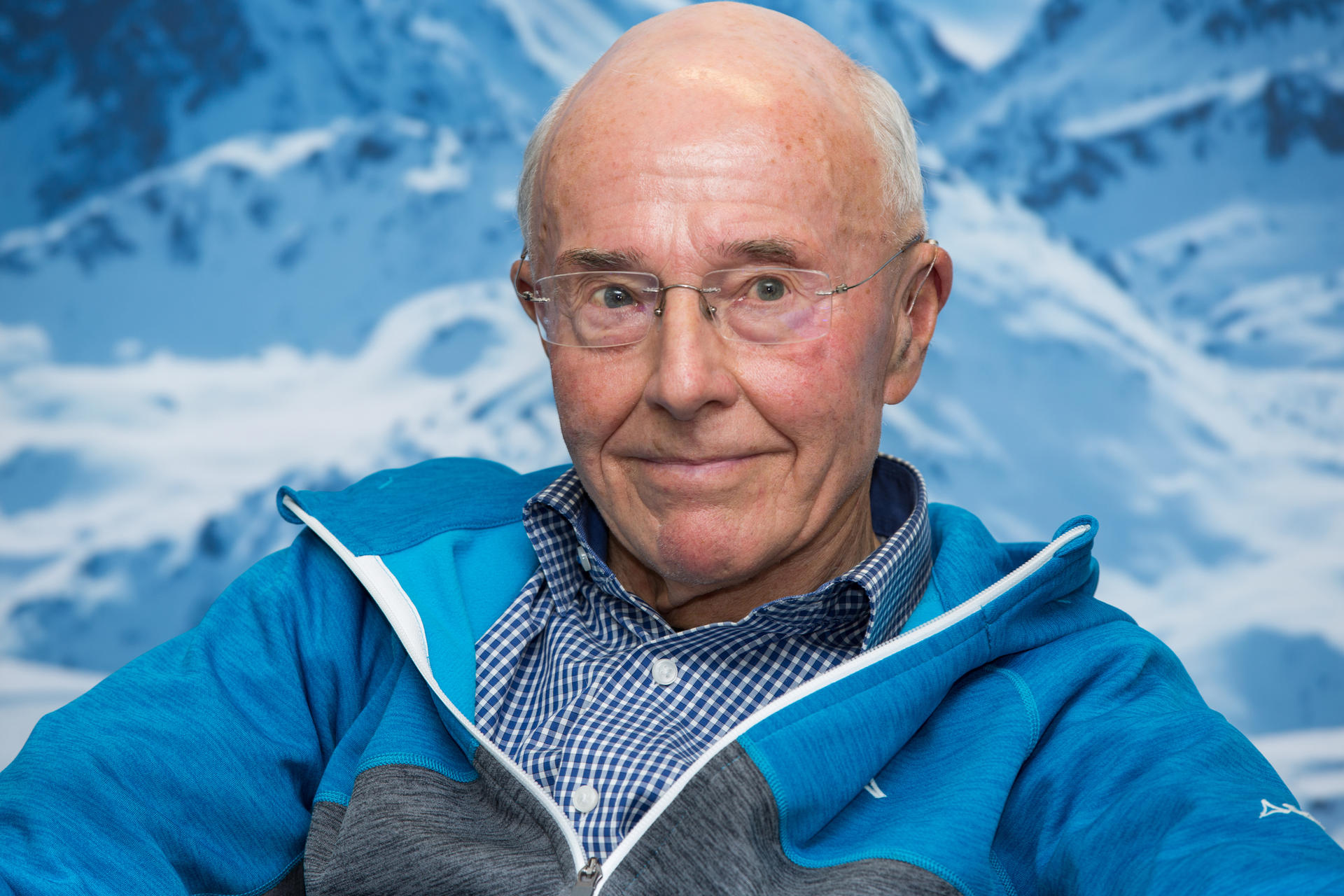 Does Peter Schöffel view it in the same way?
The current owner, born in 1961, on his childhood: "As a six-year-old, I thought to myself: Trust me to have a father who wants to go to the mountains every weekend. I had my German Alpine Club ID card before my birth certificate. As a schoolchild, as a spring chicken, I just did not understand the mountains. Thank goodness, that soon changed. Today I spend most of my free time with my wife in the nature, in the mountains. I find energy for everyday work and at the same time gather important impulses."
Hubert Schöffel remembers the time when outdoors was still not a thing – and Schöffel ran into a crisis:
"We had a new clothing store that my wife ran. She was a passionate and good clothing specialist who managed everything at the shop. But I never wanted us to be retailers. And above all, I never wanted to be just tagging along with my wife."
So I opened a clothing business with three seamstresses on September 27, 1961. We made simple outerwear trousers. It was a routine without a system, without expertise, without a USP. It just didn't work."
Hubert Schöffel on the beginnings of the outdoors business 50 years ago:
"It was this year of destiny, 1967, when I reached a decision: We will build a new factory and focus consistently on sports clothing. Hiking and mountain sports – nobody was offering that back then. Nobody. There were a few tent manufacturers who made some anoraks on the side. There were – at the most – five sports businesses in Germany who even carried such a thing."
Why the time was right back then for outdoor clothing:
"In the 50s, Germany was a completely ruined country. We had hit the bottom, and all we did was work, 50 hours a week. Gradually the fruits of our labor showed, and the first wage agreements came. The 48-hour workweek. Suddenly there were vacation regulations – and vacation allowances. And so it went, step by step: 44, 42, 40 hours.
One thing became clear: We had gotten over the worst of it. We were finally able to consider moderate prosperity. And prosperity includes recreation, and recreation includes sports and movement. And that was the point when it was clear to me that it was time for something new. I was fiercely determined to focus on sports – on hiking and mountain sports and skiing."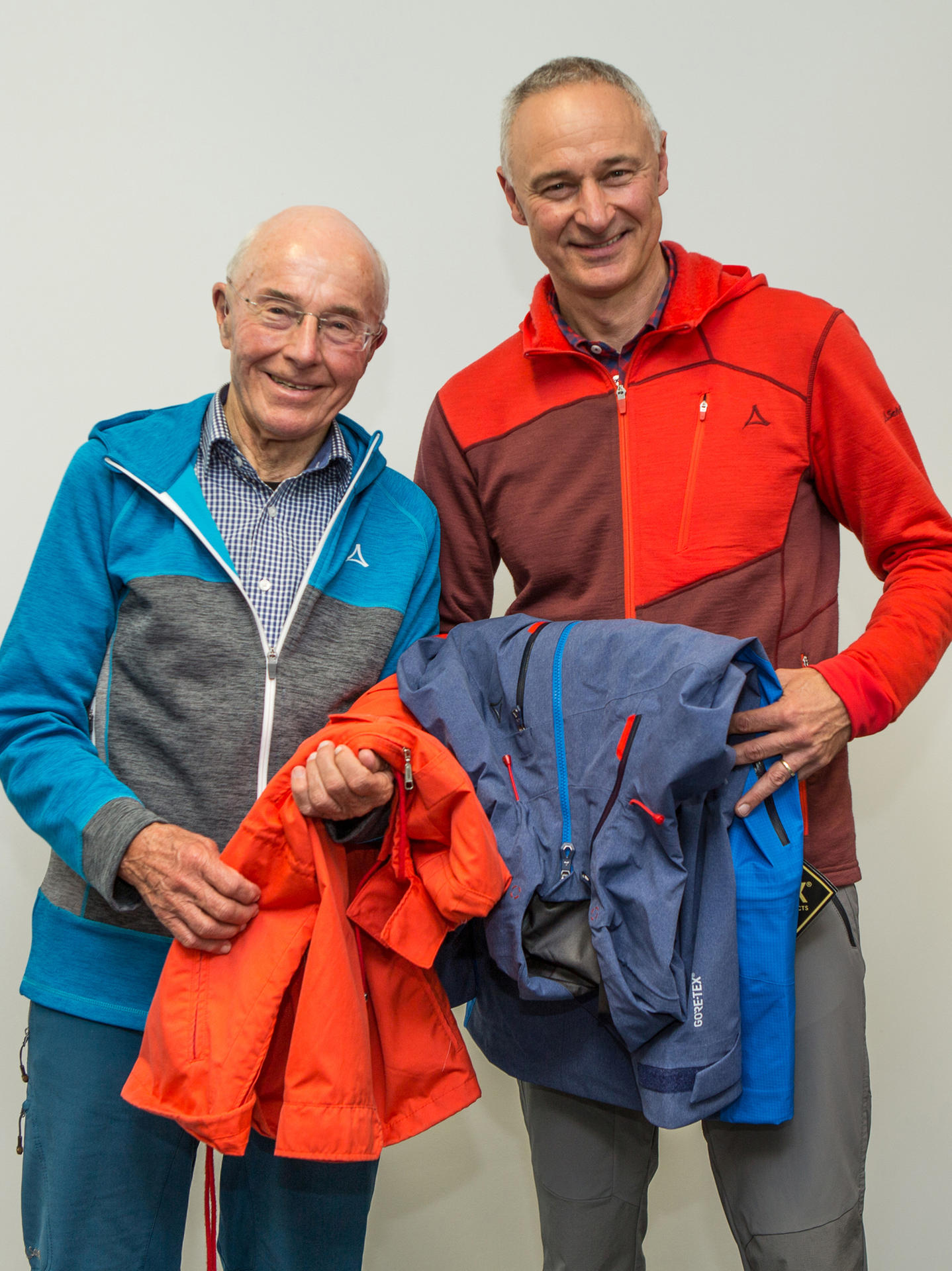 The first products? Hubert Schöffel remembers:
"We offered shorts, knickerbockers. Then came the real sensation: the first elastic chinos."

What did the products look like in the 50s? Hubert Schöffel:
"Mountain sports clothing was a sort of nature camouflage back then. It was either sand-colored or beige. And olive was already considered a daring color. The saying went: The heavier, the better. You were hauling 20 kilos from cabin to cabin back then."
And how did this color end up in the product palette?
"I was already a passionate photographer," remembers Hubert Schöffel. "And then I realized that in a grey, rocky landscape, a red or yellow anorak improved the photo. Our Sentis model was the first colored anorak to appear on the German market. We offered it in bright red and in a really intense blue.
When I showed one of the most important purchasers this anorak, he said to me, 'As long as I'm a purchasing agent here, you will never sell a red or blue anorak!' The world of mountain sports was just so stuck in its conservative ways. But we pushed through."
Hubert Schöffel on his role as innovator:
"I really enjoyed always coming up with innovations again and again – flying the flag for them, promoting them and successfully implementing them. Those who still knows the sports shops from that time will remember that Schöffel was the hiking guru. We then made stretch trousers, the first jet trousers. In short, we have always brought new ideas to the market and stirred it up."
Peter Schöffel on the role of his father at the time:
"I have a lot of respect for the decisions that my father made then, 50 years ago. That was unclaimed new territory."
The breakthrough came with Gore-Tex. Hubert Schöffel on the difficult beginnings of the partnership:
"Gore-Tex came to the German sports market around 1980 as a completely new thing. The first jackets were so heavy they could knock you to the ground. And they had a problem with sweat evaporating: Sweat contains fat, and fat deposited itself in the capillary tubes. And when it dried, the material's water resistance was lost. There was a saying in 1981: Gore is pure sweat. If you uttered the word Gore, it encountered outright rejection.
The sweat defect was then quickly corrected by waterproofing. I was convinced that the idea was good and the new products were ideally suited for the market – and that Gore-Tex could help the Schöffel business become a brand name with an unrivalled position."
Hubert Schöffel on the breakthrough with Gore:
"We had an agreement: Gore would handle everything related to marketing and advertising, without concentrating on the cost. And Schöffel would handle everything related to the product and the business. We had to make sure the goods were available, and Gore saw to the advertising. We begged the sports retailer Sport Schuster to partner with us, but they were convinced that nothing would ever come of it. Finally, we managed to get them to order 67 jackets in six sizes. What a load of effort that was!
Gore had a full-page ad for 67 jackets printed in the Süddeutsche Zeitung on a Thursday, and Sport Schuster only had to commit to displaying one of these jackets in a store window on Rosenstrasse in Berlin. It was the Tibet model. The advertisement ran that morning – and by 11 a.m., there were only two jackets left. Schuster went on to sell over 4,000 of our jackets over the next two years. That marked the birth of Gore-Tex. It was like a dam had burst."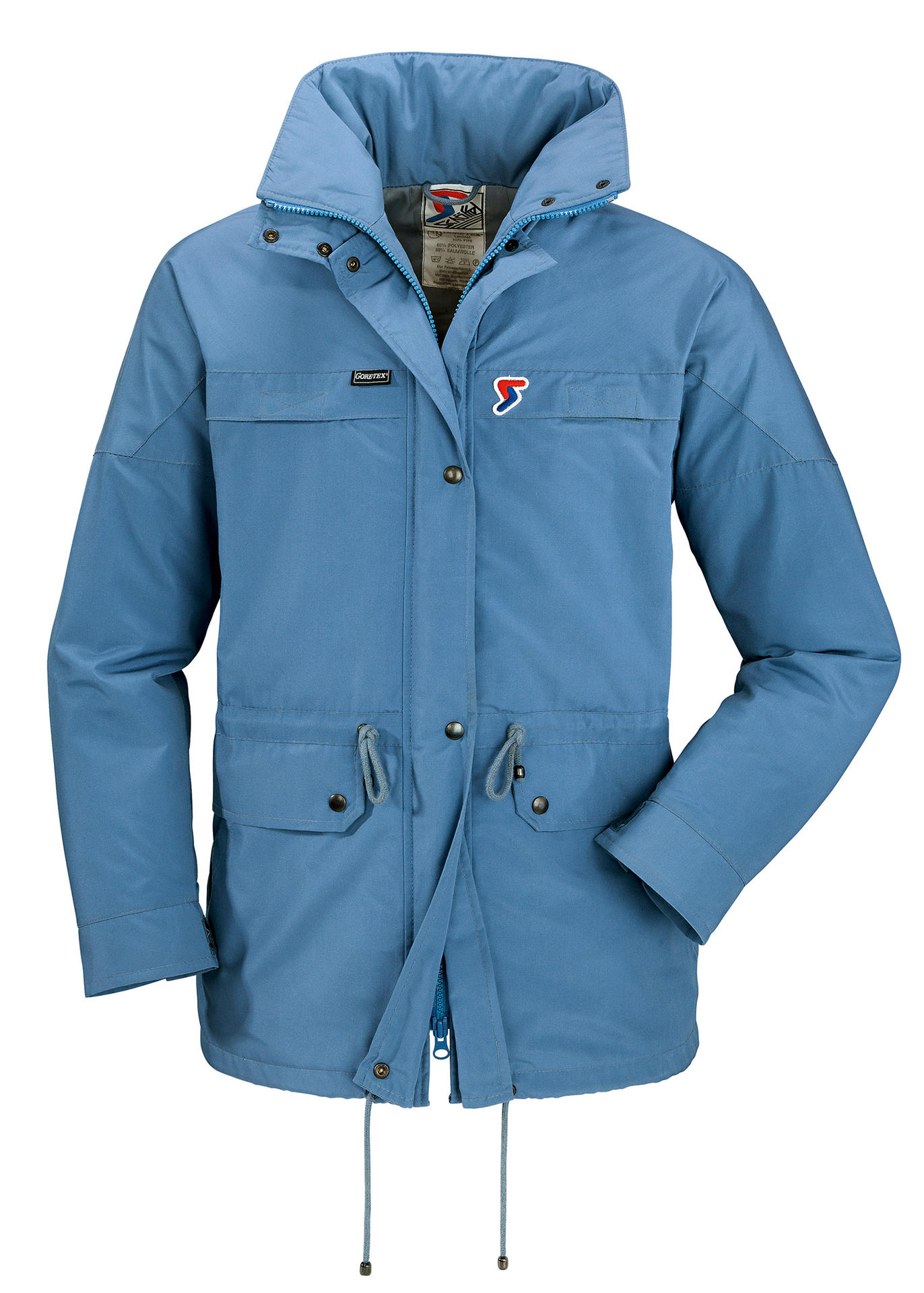 But skepticism in the industry remained. Hubert Schöffel started to notice that at the ISPO Munich.
"It was ISPO in Spring 1983. We had geared the collection 100 percent to Gore-Tex. And everyone at the fair said that Schöffel had gone crazy. We had brought along the "Stormbreaker," a pullover jacket.
We sold 167 jackets at first, all to Munich. Just hours after the delivery, the follow-up orders started coming in. We have sold over 100,000 Stormbreakers; it has become a generic term for modern, technical clothing."
Those are long-gone times that Hubert Schöffel still smiles about today, but which have nothing to do with the present day.
"Back then, I was sales boss, development boss, finance boss, purchaser, staff boss, and I had the whole product management in my portfolio. That is how easy business was in the 70s. And that is where you must simply recognize how dramatically times have changed."
Hubert Schöffel: With the old methods, Peter would not last a season
Today, Peter would not last a season using the method that I had success with back then. It sometimes boggles my mind when I see the difference now, compared to how "easy" business was back then. You just had to do it right. There's simply no way to compare it to how things are done today."
The current owner Peter Schöffel comments on the olden days:
"The economy in post-war Germany was characterized by pioneers, by lone wolves, who held the flag high and whom others followed. Those days are over."
And how will things in the family company carry on? Will you successfully pass the baton to the next generation? Peter Schöffel is optimistic:
"That was probably passed down from my father in my genes – that entrepreneurship is simply fun. And there's something to this entrepreneurial mindset. Yes, losses are also part of life. That's the way things go, both in personal life and in business. And when you show this kind of open attitude, then there's a chance that your children will share this excitement and interest. It is not about, money, power or fame.
I am happy that, from where I am standing today, it looks more than likely that there will be an eighth Schöffel generation. Then we will hopefully aim for the 250-year mark as well. And there are not many companies in Bavaria that are this old and still in family hands."