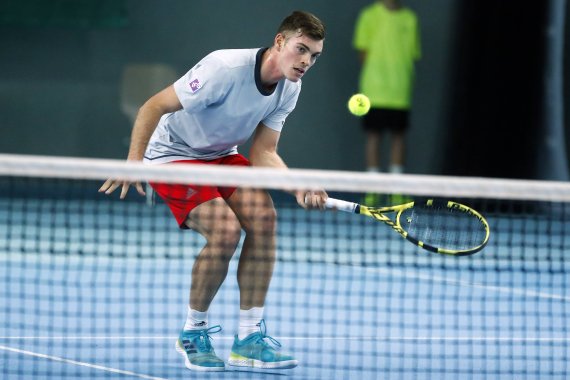 Maximilian Marterer (23) and Yannick Hanfmann (27) are among Germany's best tennis players. Marterer, originally from Nuremberg, has been a professional for three years, currently holds the 74th place in the world rankings and has so far won 1.1 million dollars in prize money. Karlsruhe's Hanfmann has also been a professional for three years, is ranked 158th and has earned almost 370,000 dollars in prize money. Both train in Oberhaching at the Tennis Base, the men's base of the German Tennis Federation. A conversation about money, parents, Instagram and the question of business or economy class.
ISPO.com: Gentlemen, let's talk about money! Professional tennis player - that sounds like a dream job: travelling around the world, always playing in the warmth and earning a lot of money at the same time. If it were that simple! What's the secret? How do you make a living playing tennis?
Yannick Hanfmann: Ha! Playing well helps.
Sure. But how do you get there?
Maximilian Marterer: Tennis is a sport in which you first have to invest a lot. You need the help of your family, who almost inevitably has to invest in your career. I wasn't supported by the district when I was young. I rejected the offers I got to continue working with my exercise bike.
How old were you then?
Marterer: 12, 13 years. When I played a bit better at 15, 16, I already generated some income from league games.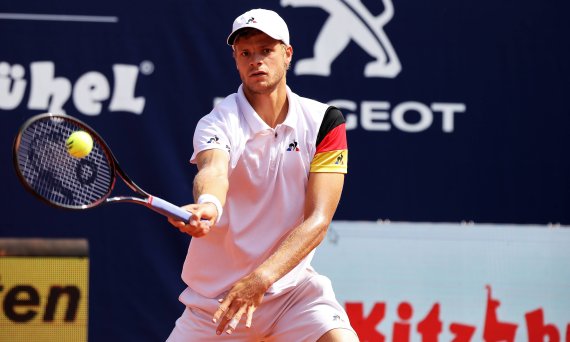 In which league do you get paid in tennis?
Marterer: I got paid in the regional league and the 2nd league. I had already had a few sponsors for many years by that time.
When did it start with the sponsors?
Marterer: When I was 16, I joined Adidas and got a national contract because I once played in the final of the German championship. I was also very successful in the European youth tournaments, number one in the U16.
When did you start to make a living from tennis without the sponsoring of your parents?
Marterer: In general, the first thing is to perform, to be successful and to live mainly from the prize money. At the end of the day, the focus is on the sport, with which you ideally want to earn money all your life.
Which ranking position do you need to have to make playing tennis profitable?
Hanfmann: If you are in the top 100 and play the Grand Slams, you already have a good income, about 200,000 Euros. In order to make a living from it, you will have to be between rank 130 to 170.
Just like you are right now.
Hanfmann: Exactly. Of course, it always depends on where you play well. If I play well in the Grand Slams and the ATP tournaments, it's a good time for the cash register. There is naturally less prize money in Challenger tournaments.
And even those tournaments of smaller categories don't always take place at your own doorstep, but often at the other end of the world - keyword travel costs...
Hanfmann: That is indeed a huge cost element. Here at the base in Oberhaching we have a very good set-up, because we don't have to pay the travel costs for the accompanying trainers. That's a bit of a relief for the players. We pay a fixed monthly amount to the Base for this. This kind of sharing principle is certainly more convenient than getting by on your own.
How does it work for you, Mr. Marterer? Your coach Michael Kohlmann works at the same time as the Davis Cup captain...
Marterer: Sure, he usually travels with me. But if he can't come, I join the group, integrate myself into it and I am being taken care of.
Mr. Hanfmann, how and when did you start with sponsors?
Hanfmann: You can see it on my T-shirt here: The French clothing company Le Coq Sportif was and is my first sponsor. I got my first support from the Baden Tennis Association, where I could train for free from the age of 16 on. After graduating from high school, I went to college in California, got a scholarship there and graduated. I was relatively good at tennis at that time, but I never imagined the DTB to come and say: "You can train with us".
A dream came true. How did your career continue after college?
Hanfmann: Lars Uebel became my coach in Munich, first at SportScheck in sharing with three other players, then here at the Base. Here, I can train cheaper and in addition I profit from the group system. When I had my breakthrough last year, so to speak, with my successes at the BMW Open, I also got a bit lucky: I played in the final at the ATP tournament in Gstaad, and the Vice President of Le Coq Sportif was sitting in the stands. By chance they were looking for a German player: I was at the right place at the right time.
What else?
Hanfmann: Before that, I had two years of DTB support linked to the rankings. I got the rest from my parents. I was lucky my parents could afford this investment. I'm very grateful for that. I've been financing myself for about a year and a half, almost two years now. It all depends on how fast you are playing quite well and how much potential is in yourself. If my parents had not been able to support me financially, I wouldn't be sitting here talking about Adidas contracts right now. I just wouldn't have made it.
Tennis is mentally a very demanding sport. How well can you repress the idea of money on the court? Because: the better you hit the ball, the more money you get.
Marterer: You try to hide it, but it's difficult. On the other hand, you don't always sleep in the cheapest hotel at the tournament. You have to make sure that you feel good, that you have a good environment - even if you have to pay in advance.
For example, the consideration that I am now flying in business class to the Australian Open - that is an investment in my tennis. To some tournaments I will also take a physiotherapist with me. All investments that may not pay off in the first two weeks, but in the long run will help you play a few percent better. And if it's just one match in a Grand Slam, then that's a multiple of what I've invested before.
How important is social media for your sport?
Hanfmann: You can see that in one way or another. Those who want to do Social Media and do it well may have a chance. As an older, not so well known player, I can't get much out of it. Maybe it's more for players who look good and use Instagram to get some followers or a sponsor.