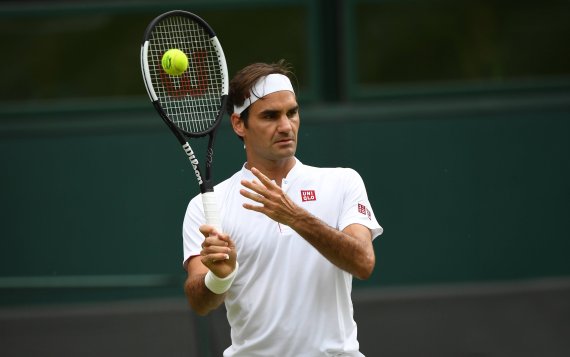 Just in time for his 20th appearance in Wimbledon, Roger Federer presented a new outfitter. He'll be dressed in Uniqlo clothes. The Japanese sporting goods company is to reward him handsomely for this.  "Mr. Federer is one of the greatest champions in history. We share a goal of making positive change in the world.," said Uniqlo CEO Tadashi Yanai.
The Italian "Gazzetta dello Sport" wrote weeks ago about a ten-year contract for 259 million dollars. The €25.9 million annually would be a significant increase from the €8.6 million Nike is said to have paid the world's number one. Federer wouldn't confirm the numbers.
On the fringes of the Mercedes Cup in Stuttgart, the 36-year-old had already said that he "hadn't had a contract with Nike since March". Stock exchange traders registered the change: Nike, which is listed in the Dow Jones, lost as much as 3 percent at times.
In his home country, however, Federer has problems after the change of outfitter. Uniqlo was already in the spotlight because of allegedly poor working conditions in supplier companies. Last year, the organization "Campaign for Clean Clothes" formed protests against the company. The Swiss organisation Public Eye has just launched a letter campaign. Those interested should write to Federer asking him to demand fair working conditions.
Federer addresses the social media directly. Uniqlo has now reacted. On its homepage, the company describes its guidelines for working conditions.
Since Uniqlo does not produce shoes, Federer could now negotiate an independent contract with another supplier. Media reports bring Adidas into discussion. This would also end the cooperation with Nike, which has lasted since 1994, for Federer's own brand "RF", whose rights are owned by Nike.
Uniqlo currently has Japanese tennis player Kei Nishikori and golf pro Adam Scott under contract. Until 2017, the former world number one Novak Djokovic was also a Japanese partner before joining Lacoste.