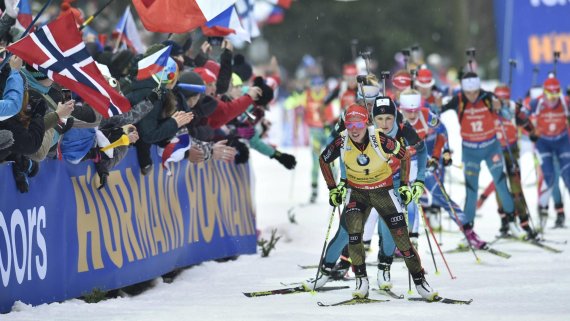 For Rossignol's biathlon and Nordic guru Franz von Wedel, the matter is clear: "Just as Mercedes uses its world championship titles in Formula 1 to advertise the quality of its production cars, Rossignol and other ski companies use winter sports as the perfect advertising platform for their products," he says.
No one can avoid the most important winter sport in Germany. "In this context, biathlon has the greatest media attention in winter sports, with ratings of over four million viewers in Germany alone, making it number two behind soccer. Rossignol's sales figures in the cross-country ski sector are developing positively - although the cross-country ski market is tending to shrink. This has a lot to do with our sporting successes," explains von Wedel.
Rossignol: Titles and successes in the Biathlon World Cup
The French company scooped up eight gold medals in skiing and boots at the last Biathlon World Championships in Oslo in 2016. Four of them were won by Frenchman Martin Fourcade, currently the world's preeminent biathlete and current overall World Cup leader.
Many customers actively ask for Rossignol from dealers after successful weekends with podium finishes, reports Franz von Wedel, who has been part of the industry for four decades.
Then the motto is "Win on Sunday, Sell on Monday." Especially since customers in the cross-country segment can buy Fourcade's original skis and use them themselves on the trail. In the alpine sector, it's different because the boards of the stars are hardly controllable even for good skiers.
Biathlon budget: 500,000 euros
Nevertheless, the stars of the alpine scene continue to collect many times more than the biathlon's top athletes. Bode Miller earned one million euros a year during his time at Rossignol, including the support of co-sponsors - from his ski company alone. And then went to competitor Head, where there was even more money to be made.
By contrast, the budget for Rossignol's entire Nordic and biathlon division is now 500,000 euros a year, according to von Wedel. Top biathletes like Laura Dahlmeier, including success bonuses, can earn at most in the low six figures at their ski company. Although, for example, sales from the alpine and Nordic sectors are similar at Fischer, the Nordic market leader.
Neuner, Dahlmeier: "Wonderful advertising media".
This makes famous biathlon faces such as Laura Dahlmeier and Magdalena Neuner all the more important, even for the traditional Austrian company. Long after her retirement, the two-time mom is still a project-based brand ambassador for Fischer today.
"Both women are wonderful advertising vehicles. Laura is also very authentic, has charisma, rough edges and is not one-to-one interchangeable. That also goes down well with customers," says Tanja Winterhalder, who is responsible for PR and marketing in the Nordic division at Fischer.
Fischer won the most medals overall in cross-country skis and boots at the last World Championships in Oslo (see tables below). In addition to star Laura Dahlmeier, Fischer relies on many national advertisers in biathlon sports in important markets such as Russia (Anton Schipulin) or Norway (Böe brothers).
Factor snow: New ideas in demand
Nevertheless, brand successes do not automatically mean more ski sales. "The snow is also a very important factor. If the end consumer doesn't have any under his nose, he won't even think of buying skis," Winterhalder explains.
That's why the Nordic industry has had difficult years and needs new ideas for the future. "The problem is that artificial snow in cross-country skiing is nowhere near as much of an issue with consumers as it is in alpine. An artificial snow trail in the Olympic Park in Munich, for example, would of course be a dream solution," says Simone Adelwart, Marketing Coordinator Europe at Madshus.
The brand, which belongs to K2, is number 3 in the biathlon scene and is also convinced of the success of its involvement in the TV sport.
Die Ski sind getestet und heute um 18 Uhr kann's los gehen. @madshus1906 #madshus #WirLebenWinter #biathlon #onewaysports #skideutschland #dsvbiathlon #adidas #zonyk #polar

Posted by Benedikt Doll on Thursday, December 1, 2016
Top biathletes ensure ski evolution
"On the one hand, our stars like Ole Einar Björndalen are absolute advertising vehicles among biathlon fans worldwide, and their material also makes them role models for our customers via social networks. On the other hand, we are constantly developing our material together with our top athletes. They are the driving force behind many new developments in the scene," says Simone Adelwart.
In the biathlon, only the modern skating technique is used, which is why the sport appeals particularly to young, active and affluent customers.
Popular races experience boom
"Biathlon radiates an incredible dynamism with its modern competition formats such as the mass start," says Rossignol man Franz von Wedel. "This attracts many lateral entrants such as marathon runners, mountain runners or trail runners to the trails who are looking for a balance in the winter."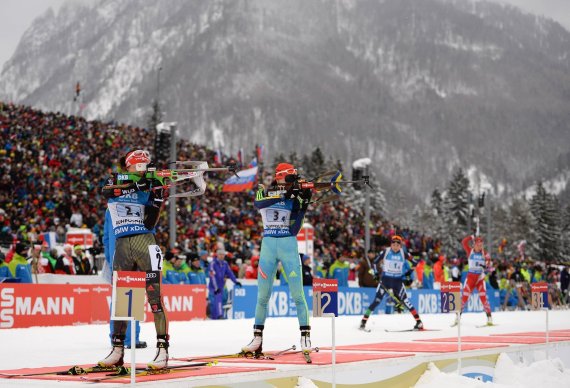 The trend has been alive and well for several years: "This is shown by the incredible growth in popular runs such as the Marcialonga or the King Ludwig Run," says von Wedel. If it weren't for the latent lack of snow, many more people would be out cross-country skiing, because the sustainable sport without lifts and environmental destruction is right in line with the trend of the times. With biathlon as the main advertising engine.
Ski manufacturer: brands like Pampers
Von Wedel: "We don't pursue our involvement in biathlon out of vanity, but from a marketing point of view. Brands like Rossignol or Fischer imprint themselves on people's brains through their constant successes. It's then just like with young families - they also come to the supermarket and ask not for diapers, but for Pampers."
As of the 2017/2018 season, the two market leaders are even cooperating: Fischer and Rossignol have announced a joint sole and binding system called Turnamic.
Brand statistics from the 2016 Biathlon World Championships in Oslo
| | | | | |
| --- | --- | --- | --- | --- |
| Ski brand | Gold | Silver | Bronze | Total |
| Rossignol | 8 | 7 | 3 | 18 |
| Fischer | 7 | 5 | 12 | 24 |
| Madshus | 4 | 5 | 3 | 12 |
| Atomic | 1 | 0 | 0 | 1 |
| Salomon | 0 | 3 | 2 | 5 |
| | | | | |
| --- | --- | --- | --- | --- |
| Shoes | Gold | Silver | Bronze | Total |
| Rossignol | 8 | 7 | 3 | 18 |
| Fischer | 7 | 2 | 11 | 20 |
| Madshus | 4 | 4 | 3 | 11 |
| Atomic | 1 | 0 | 0 | 1 |
| Salomon | 0 | 6 | 2 | 8 |
| Alpina | 0 | 1 | 1 | 2 |