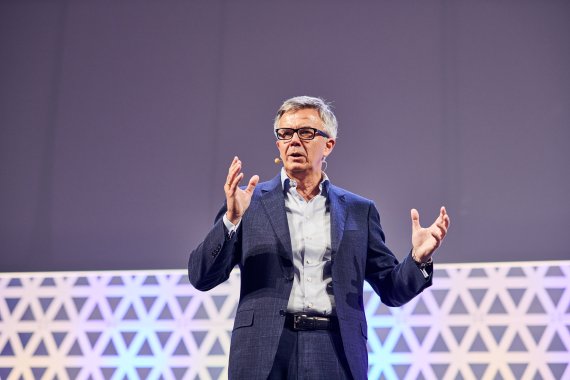 "Digital Ironman for Future Mobility" – that was the somewhat mysterious heading for Peter Schwarzenbauer's keynote. The 58-year-old BMW manager was able to quickly convey what a digital Ironman is and why this picture is quite apt.
"In a triathlon, it's not helpful to be world-class in just one of the three disciplines. You have to be world-class in every discipline if you want to be at the very front," Schwarzenbauer explained.
The race by the name of future mobility is called ACES and has four disciplines, the BMW Group's "Customer Experience and Digital Business Innovation specialist" explained:
A – Autonomous (autonomous driving).
C – Connected (personalized mobility assistant).
E – Electrified (electric drives).
S – Shared / Services (car-sharing).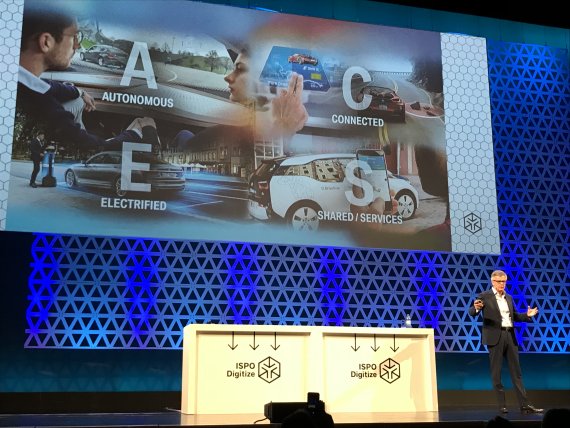 The fact the word "car" doesn't appear in this list is no accident. "The product alone has a tough time ahead of it," says Schwarzenbauer. "These days it's about the experience generated by a product or service. More and more, cars are becoming services." In a number years it will no longer be about cars, "but rather about mobility as a service." A parallel can be drawn here to the sporting goods industry, where more and more often it's becoming about services such as a running app and not just the product on its own. 
In the automotive industry, Peter Schwarzenbauer and BMW are by no means alone in this assessment. It's shared by the other automotive manufacturers, with an intense battle for market shares prevailing. Why is BMW going into this Ironman with such confidence? "Because BMW is relying on its strengths," the experienced business economist says.
In addition to their impressive experience in the manufacture of premium vehicles, BMW's most important strength is safety. Customers have trusted in the safe Bavarian cars for decades – this trust in safety will play a major role in the future, as Schwarzenbauer explains.
The keyword is autonomous driving. The BMW manager: "You're putting your life in the hands of a computer. Who would you trust more here: a company who's been building safe cars for years, or a very young company without this expertise?"
The topic of car sharing is also about valuable experience. It's no secret that there's major money to be made with the fees from DriveNow. It's the data obtained using DriveNow that makes this project so exciting: Nothing can tell you more about customer behavior and customer needs.
The fact that so many BMW i3s are used in the cities doesn't just help with acceptance of DriveNow among the population, it may also be understood as a tactical move.
"Over 200,000 people drove an i3 in the past few months – for many of them, it was the first time they came in contact with an electric car," says Schwarzenbauer.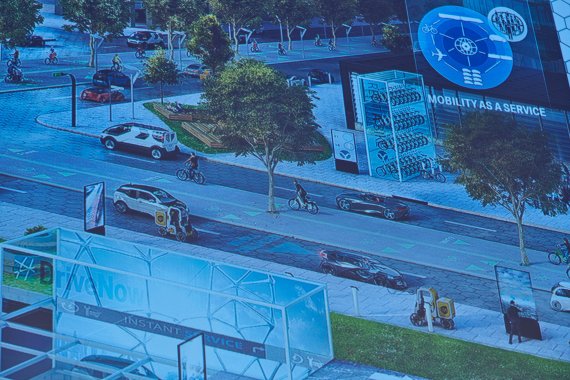 For many people in cities, electromobility is synonymous with BMW. And when it comes to digitizing the search for a parking space, there is no way around the Bavarian car manufacturer. "We don't usually talk much about it, but we are now the world's largest provider of digital parking services with 22 million customers," says Schwarzenbauer.
30 percent of traffic in the cities is the result of the search for parking, the BMW manager explains: "That shows you how enormous the potential is. What city wouldn't be happy to eliminate this traffic?"
Peter Schwarzenbauer is convinced these cities will look completely different in just a few decades: "Parking on the side of the road will disappear completely. Cities will become accident-free, silent, and emission-free. People will experience this as a revolution."
That's why BMW no longer sees itself as an automotive manufacturer, but rather as a mobility supplier – the same way a triathlete doesn't just feel like a swimmer, cyclist, or runner. "We're building on the 360-degree approach to mobility," says Schwarzenbauer. The Munich company's goal is that "by 2025, there'll be only one place you need to look for: a BMW."
Will the race for the mobility of the future be decided as soon as seven years from now? It's difficult to say. It will probably come down to two virtues of an Ironman: the ability to suffer and endurance.