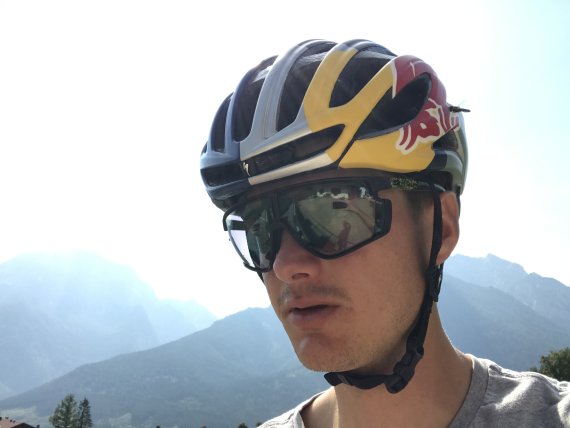 If anyone knows anything about innovation, it's Thomas Alva Edison. The American is, so to speak, the benchmark in inventions. For almost 50 years, from 1868 to 1914, this jack-of-all-trades in technology did practically nothing but invent useful things: from electric vote counters for meetings to nickel-iron accumulators. His ideas were not always implemented in the way he had imagined: he originally intended to use the telephone, for example, for opera broadcasts. Things turned out differently. Where would the world be today without the inventive talent of such people?
Even Toni Palzer can't explain this, but the topic is important for him too: "I am already a friend of innovation. Meanwhile, everything is already so mature, so I think it's really cool when new solutions keep coming onto the market".
Palzer (27) is one of the best ski mountaineers and mountain runners in the world. The man from Berchtesgaden ended the past winter season as runner-up in the overall ski mountaineering World Cup and in summer he improved the record for exceeding the Watzmann mark to under three hours (2:47h) - normal mortals need about 13 hours, spread over two days.
No wonder that someone like Palzer is interested in numbers, in his values, his pulse, but also in the speed with which he rides his racing bike or mountain bike during summer training. Of course there is a bike computer on the handlebars for this purpose, but it has its pitfalls, says Palzer: "Especially if you have set a lot of data fields on the bike computer, it can be dangerous downhill if you look too much downhill. Even when mountain biking, you can't look too well, after all you have to concentrate on where you're going. On the other hand, if he has the EVAD-1 on his nose, seven live data (stopwatch, distance covered, altitude difference, speed, average speed, pace and heart rate) are displayed in his field of vision via see-through technology.
Toni Palzer has been training with the new see-through technology for a good month now. His conclusion: "What I find coolest is that you can collect data on the bike in the downhill, where you really have to concentrate. That is the biggest advantage: that you can concentrate 100 percent on cycling. The glasses make cycling even safer in my eyes. With the glasses you have your data in front of you all the time, so to speak. Of course, when you are riding at your limit, you can no longer concentrate on the numbers. But in normal training I prefer to look at the field of vision instead of down at the bike computer." For him, heart rate is the most important factor: "If you train performance-oriented like I do, the pulse values are already important for a meaningful training. But I also find the speed quite interesting, especially if you ride a distance more often and thus have comparative values. And the numbers don't harm your own motivation, says Palzer.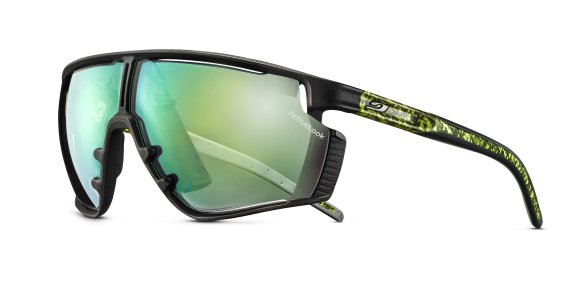 Stéphanie Dugas, Marketing Director at manufacturer Julbo, explains why the innovation department and working with athletes is so important to her company: "Because Julbo is a brand that works closely with athletes and is deeply rooted in the sports industry, we have the opportunity to clearly understand the needs of the market.
Philipp Reiter, professional ski mountaineer and trail runner, is, like Palzer, one of the sportsmen with whom Julbo works. He says: "If you ride fast on steep and narrow mountain roads, it is very risky to check your watch or even the bike computer mounted on the handlebars. Displaying all the necessary training data through the glasses is much safer and allows me to check it in any situation". Marketing Director Dufas describes the genesis of sports data glasses as follows: "For the EVAD-1, we used the same process we have used for years: observing the market, discussing with athletes from different sports to understand their needs, and developing the product together with some of them. A product that will significantly change the way sports are played. But because innovation is a never-ending process, we are already working on the next generation."
Toni Palzer will be the last person who doesn't think it's great. "In competitive sports, innovation is extremely important," says Palzer, "if you're at a certain level of performance at some point, you can simply take a step forward by improving your material. In the summer on the bike, by riding lighter, or in the winter with skis and boots. Especially in competition, which is always an exceptional situation, you have to make sure that the material works one hundred percent, that you are at most light on your feet to be able to show your performance. In the last ten years, a lot has also happened in his sport in terms of development: "When I compare my current skis with those of the past, I can see that the performance of the skis is very good: the old ones were certainly 200 grams heavier." That sounds like little, but in a sport where every gram really counts, it's a huge factor. "In addition, the downhill performance of the skis", says Palzer, "I used to break my skis quite often - now I can't even remember when my last ski broke, probably five or six years ago. Because the material has simply become so good.
There is also the safety aspect, because if Palzer's skis break on some rocky steep slope, he has no crumple zone: "When you do competitive sports, you invest an extremely high amount of money, and then the whole thing should be reasonably safe. You don't invest so many hours of training so that the material under your feet breaks off and you hurt yourself in competition. But with all the innovations, it's a lot safer. A sentence I think even this Edison would sign.