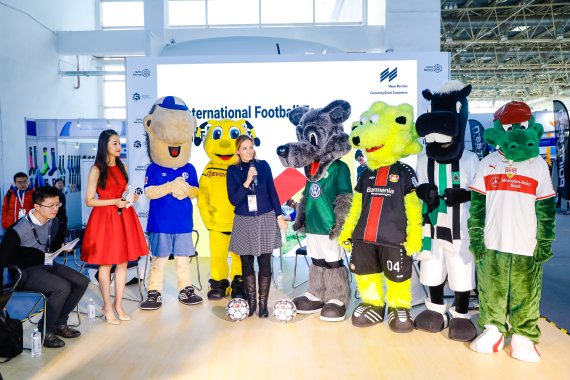 Hermann Hesse wrote in his famous poem "Stufen" in 1941 that "A magic dwells in each beginning".
Sometimes, however, there is also great suspicion in a new beginning. In December 2014, for example, VfL Wolfsburg signed Chinese midfielder Xizhe Zhang of Beijing Guoan to play in the Bundesliga. The accusations: A pure PR gag, a marketing chess move to help the parent company Volkswagen in the second largest sales market to sell more cars!
Wolfsburg, however, was very serious about the transfer, and even though Zhang was ultimately unable to assert himself in sports - the then 23-year-old left Lower Saxony for his home club after only six months - nothing has changed in the ambitions of the Wolfsburg team in China.
"That club, which has the first Chinese player in its squad - one, who is actually playing - has an immense advantage on the Chinese market", said Tim Jägeler, Chief Representative China and Head of International Sales Asia, in an interview with ISPO.com during ISPO Beijing 2019.
And for this reason not only the Wolfsburgers are now in China, but also the Bundesliga rivals Borussia Dortmund, FC Bayern Munich, FC Schalke 04, Borussia Mönchengladbach, Bayer 04 Leverkusen, Eintracht Frankfurt and VfB Stuttgart. Accordingly, all seven Bundesliga clubs presented themselves in January in cooperation with Bundesliga International at ISPO Beijing, the largest sports fair in the Asia-Pacific region.
"We have 23 million fans in China, 80 million people know the BVB. Everyone in Germany says, these figures can't be true," says Benjamin Wahl, Head of China at BVB, about the immense demand in China. Compared to Wolfsburg, BVB is almost an old hand in Asia.
For a little over four years now, the Dortmunders have been represented first in Singapore and now in Shanghai. But the experience with Asian players goes back a bit further. In the summer of 2010, Borussia engaged the Japanese Shinji Kagawa and opened up the Asian market for itself.
"The BVB has already gone to Asia in 2014, at that time overwhelmed by the great demand in the region. Two years ago, Xi Jinping then announced his master plan, 70,000 soccer pitches by 2025, soccer as a compulsory school subject and the goal of China's participation in a World Cup in the coming years. In addition, we generated extreme attention in China through our two tours with the professional team," says Wahl, who currently has a team of five employees.
Wolfsburg only opened its China office in March 2018, even though a first friendly match against a Chinese team took place back in 2012. Jägeler's team consists of three employees and, instead of Shanghai, the VfL "resides in Beijing for two reasons: VW has its headquarters in the city, too, and we are closer to the political decision-makers."
For both Bundesliga clubs, the challenge is to find sponsors on the Chinese market and enter into strategic partnerships for the future. The fact that this is not always exactly the same as in Germany was both a challenge and an interesting experience for Jägeler.
"In Germany, when we meet business parterns for the first time, we meticulously prepare the meeting with presentations and lectures. In China, presentations do not matter at all at first meetings. The Chinese want to get to know you first, eat with you and as soon as there is a certain basis of trust, then the business part follows", explains Jägeler: "Sometimes you wonder about these peculiarities, but in the end we usually laugh about it together with our Chinese colleagues. Sometimes, I even find the German arrogance to believe that the Chinese do business in a strange way, a little obstructive. Things happen in a certain way in China, and we as guests have to abide by the rules and regulations accordingly."
Another important field - and perhaps even more challenging - is the transfer of soccer know-how such as training control, infrastructure or a league system. Despite the government's largely proclaimed master plan, many of these structures are currently still lacking in China, and Bundesliga clubs such as VfL Wolfsburg have their hands full to communicate their expertise with a great deal of sensitivity.
"It is very exciting to see how children grow up in China compared to Germany. How different the training philosophies are. If, for example, our trainers say that for reasons of training control it makes sense to train once, at most twice a day, then the Chinese would prefer to train four times," says Jägeler: "We try to take a middle course and always make recommendations, because we naturally do have a certain responsibility towards the young people."
"If we stand up and say, 'Do it the German way,' there's no point. Because in the end, it's still the Chinese who decide. We are guests, we want to help, and we do not want to presume that only our knowledge is right. The German way is not necessarily always the right way."
Nevertheless, the Bundesliga clubs have significantly more experience in all relevant areas and are fighting against some resistance at a higher level in addition to different training philosophies. Above all, a great deal of impatience on the part of decision-makers often hampers the sustainable development of structures.
"In China, at times it seems as if everything should be turned upside down after a year, even though we actually see a development. The problem is often that the experts accept our recommendations, but in the end the positions of the decision-makers are not occupied by experts, but by people who are not involved in sports."
The transformation from impatience to patience and trust seems to be the biggest barrier at first, but if this is overcome, Jägeler believes that China has a good chance to be successfull in international soccer: "In Germany, young people are led slowly through fun to the youth teams and then towards the professional area. These structures are not yet taking place in China. But this development of a soccer culture will be a decisive factor. If these criteria are met, then I am sure that China can achieve something in soccer."
By the way, contact between Zhang and VfL Wolfsburg was not completely broken off even after his return to China. In the winter training camps in Spain, the Chinese player met his old team from Wolfsburg and there was a friendly exchange. And so it might just be the second or third beginning that will enchant the fans in Wolfsburg and the Bundesliga.
You can get more insights into the Chinese sports market at the China Deep Dive Conference on the 5th of February from 13:00 - 16:00 o'clock in Hall C6.