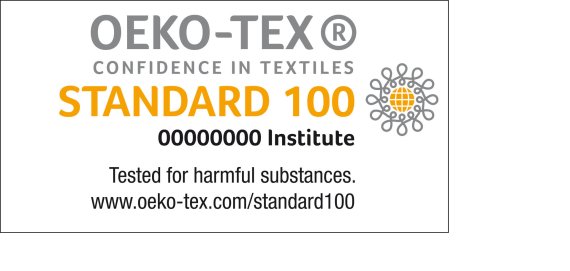 The Standard 100 by Oeko-Tex was developed to test products for their health safety and to mark them with a manufacturer-independent label. It is one of the oldest and best-known eco-labels and is awarded by the Oeko-Tex Association with headquarters in Zurich. It was developed in response to toxic residues in textiles.
Accordingly, its focus is not on the manufacture of the products, but on testing their harmlessness to human health. For example, it tests for banned azo dyes, carcinogenic and allergenic colorants, pesticides for textiles made from natural fibers, polycyclic aromatic hydrocarbons (PAHs), organotin compounds, chlorinated phenols, phthalates (plasticizers), PFOS, PFOA and many more.
The Standard 100 by Oeko-Tex thus ensures that, after successfully passing the test, the certified articles comply with the strict limits for harmful substances in the annually updated catalogue of criteria. It is essential that all components of an article meet the required criteria.
Product safety is divided into four product classes, depending on the intended use: From Class 1 for babies and toddlers with very strict guideline values to Product Class 4 for furnishing materials such as curtains, which hardly ever come into direct contact with the skin when used as intended.