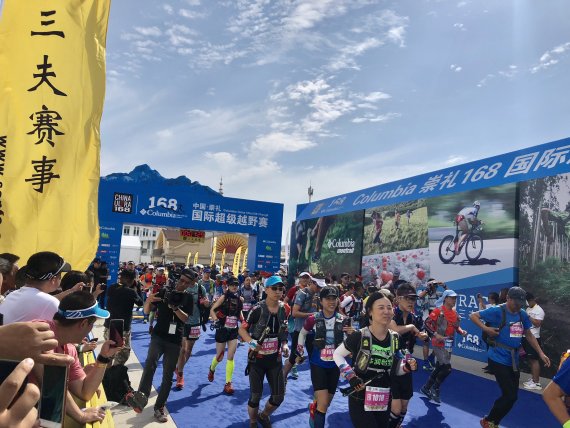 On the 2nd of July, at the first OutDoor by ISPO in Munich, China will be the focus of attention all day long. In the Market Introduction Seminar for China top-class speakers from top companies such as Alibaba, Lowa or Sanfo are giving Insights and exclusive access to the Chinese outdoor and sports market.
The topics of the all-day seminar are developments, trends and figures of the Chinese sports market. The event is aimed at all companies, brands, associations and clubs that want to better assess their chances in what will soon be the world's largest sports market.
Heng Zhang, founder and CEO of the huge Chinese outdoor retailer Sanfo, will also give exclusive insights at the seminar. In a preliminary interview with ISPO.com, he explains how the Chinese outdoor market is ticking and opens the door to Western brands.
ISPO.com: Heng Zhang, Sanfo is one of the largest outdoor brands in China. What are the reasons for the success of your company?
Heng Zhang: As the founder of Sanfo, I love outdoor sports very much. In May I have just completed a triathlon. I understand what outdoor lovers really love! Sanfo was founded in 1997, one year later we started our outdoor club. The Sanfo Club now has over 600,000 active members. Every year we organize dozens of big outdoor events and hundreds of other activities. On the 14th of July we organize the Chongli-Trailrunning-Event over 168 kilometers for the third time. 4300 participants have registered for Chongli, where 2022 competitions of the Beijing Winter Olympics will take place.
So we are very close to our customers, Sanfo has been working with many important outdoor brands for almost two decades and has developed good partnerships during this time. These are a few reasons for the success of our company.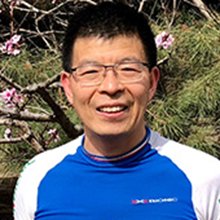 How big is Sanfo now and how important is e-commerce in your company?
Sanfo currently has 39 stores in 16 cities, including two specialized snow sports stores and a running store. The shops are between 300 and 2350 square meters in size, on average about 600 square meters.
Our turnover in 2018 was RMB 486 million (approximately 63 million euros, editor's note). The biggest growth driver is the online business, which already contributed 20 percent to sales last year. The e-commerce division now has 50 employees.
Which sports and outdoor products are particularly important for Chinese consumers?
Running and trail running have been booming in China in recent years, and the products are in great demand accordingly. Quality clothing and European footwear are also popular. Leisure outdoor sports are now practiced by many Chinese, but trekking and camping are not yet as widespread. But skiing and snowboarding are on the rise.
How important is the outdoor market in China generally?
A decade ago, only a few people were interested in outdoor sports. But that has changed with increasing health awareness. More and more people are doing sports in general and outdoor sports in particular. According to studies and e-commerce reports, the sales volume in the Chinese outdoor market is now 65 billion RMB (around 8.4 billion euros, editor's note)!
How has the Chinese outdoor market developed in the past and what do you expect for the future?
Before 2013, the annual growth rate was over 25 percent. Over the past five years, annual growth has slowed to around 10 percent. Skiing and running are particularly on the increase. I will present the current data on the individual industry segments in China in detail at OutDoor by ISPO.
How important are international outdoor brands for Sanfo and in China in general?
The international brands have a higher market share than the Chinese producers, the ratio at Sanfo is about 70:30. Arc'teryx, The North Face, Crispi, Salomon, Garmin or Osprey are sold particularly well at Sanfo, Columbia, The North Face, Arc'teryx, Kolon, Kailas or Toread are important brands on the Chinese market as a whole.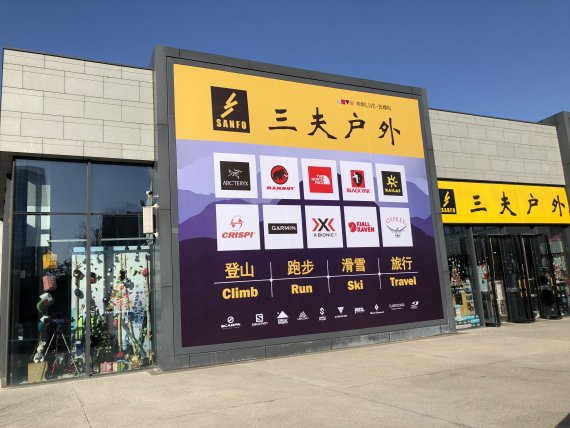 How will Sanfo position itself in the future?
We want to open three to four new large stores each year, each with over 1000 square meters of space. We don't have a plan to expand abroad, but we want to work with even more high quality international outdoor brands.
Sanfo has just signed a strategic cooperation agreement with X-BIONIC. A wholly-owned subsidiary of ours, the Beijing Travel Mouse Outdoors Company (BTM), distributes brands such as X-BIONIC, POC, Dainese, Klattermusen, Reusch, Lizard, Nikwax in China.
BTM sells this brand's products to stores throughout China as well as to Sanfo. Our clear goal is to bring even more good outdoor brands quickly to the Chinese market.
What role do major sports events such as the 2022 Winter Olympics play in the Chinese sports market?
The 2022 Olympic Winter Games in Beijing, Chongli and Zhangjiakou will further boost outdoor sports in China. Especially the snow sports. The Chinese government is investing heavily in new ski resorts and the necessary infrastructure. A high-speed railway line is under construction and is scheduled to open at the end of 2019. With it you will need only 45 minutes from Beijing to Chongli due to speeds of 350 km/h. Many new ski, snow and ice sports facilities are currently being built. The whole country promotes winter sports, which opens up the chance of life for the Chinese sports market.
What do you expect from your visit to OutDoor by ISPO in Munich?
I want to inform myself about the latest developments and products in outdoor sports. And of course I would like to meet old friends and partners. We will talk about the development of the Chinese outdoor market and I would like to discover some new brands that Sanfo can offer to customers in the Chinese market.