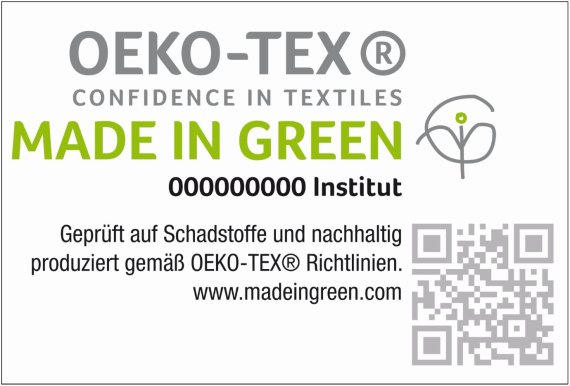 The Made in Green by Oeko-Tex seal was developed to communicate sustainable commitment directly on the end product to consumers. The label indicates that a product has been manufactured from materials tested for harmful substances, in safe and socially acceptable workplaces and in environmentally friendly companies. The standard combines two other Hohenstein standards: The well-known 100/Leather Standard, which certifies the product's harmlessness, and the STeP, which certifies production according to ecological and social aspects. However, this does not mean, for example, that organic materials such as cotton from controlled organic cultivation must be used. Moreover, the payment of minimum wages is a prerequisite for the certificate to be issued, and the payment of living wages is merely encouraged.
The added value and special transparency of the Made in Green by Oeko-Tex label for the consumer result from the traceability of the individual production steps of a textile or leather article which has been awarded the label.
The main difference and added value compared to other product labels is the transparency of Made in Green for the consumer. The product ID or a QR code indicated in the seal allows the manufacturing process to be traced back for all interested parties.
The labelling system provides information about which production plants along the textile chain produced the textile, which production stage the factories involved belong to and in which countries the production took place.
The Made In Green by Oeko-Tex label is awarded for a period of one year, after which it must be reissued.