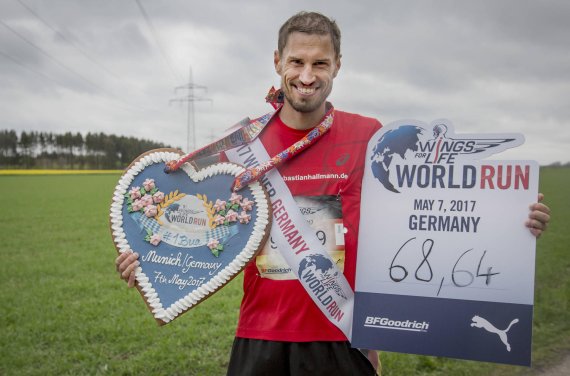 The Wings for Life World Run brought 155,000 runners from around the world to the start lines in 58 countries. The wheelchair user Aron Anderson from Sweden won in Dubai with an unbelievable 92.14 kilometers.

Hallmann Wins Munich, Neuschwander number six in the world
Sebastian Hallmann won the Munich run at the World Run with 68.64 kilometers and was the second best German across the world. Florian Neuschwander, the German champion from last year (here an interview about his tips and tricks), headed to the start line in Milan this year and with his 83.36 kilometers, he took the sixth place in the global ranking. The runner with the longest run distance is Bartosz Olszewski from Poland with 88.06 kilometers.  



How to Prepare for an Ultra-Marathon
Sebastian Hallmann (40) was a seven-time German champion in middle and long distance runs, i.e. over 10,000 meters.  Alongside his professional running career he studies Politics. At the moment he works freelance as an advisor, coach and speaker in the running sector. As a running expert, Hallmann worked with freeletics to develop the freeletics running app.
Mr. Hallmann, how long and how have you been preparing for this ultra-distance run, the Wings for Life World Run?
Honestly I didn't specifically prepare for this distance. I had the intention of incorporating more longer runs in my training plan from January, but unfortunately I got a few colds. So I only manage a run of 28km, one of 31km and a trail run of 28km. Of course there were also a few "normal" long runs around 20km. The total number of kilometers that I have run in my life, combined with a lot of stability training, saved me over this distance.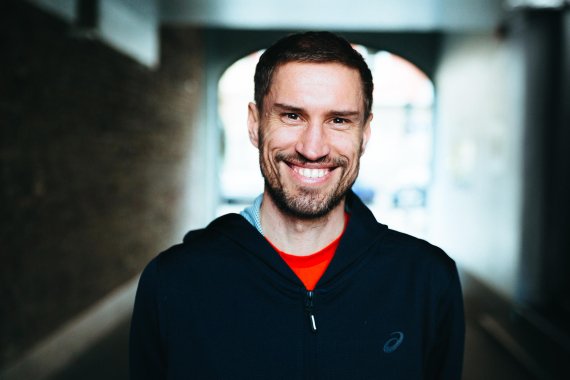 Long runs: How many kilometers an ultra-runner runs each week

How many units/kilometers per week do you train in preparation for marathons and ultra-distance runs? 
Due to my ages and my job, I can't usually train more than seven units per week anymore. If I do then my recuperation doesn't go well. One or two rest days are more valuable than heading out the door again just to reach a subjective goal of weekly kilometers.
As a general rule I run every day if time allows and if my body doesn't send any other signals. Then I'll usually accumulate between 80 and 120 kilometers per week. Normally the long runs are important when preparing for a race over such a long distance.

If I'd been able to better prepare myself for the race, I probably would have got further or my muscles would have been more relaxed at the end. After 60 kilometers I felt that my muscles weren't used to the continuous load and started to get stiff.
How a middle-distance runner becomes a long-distance runner
How does a 10k or half-marathon runner succeed in becoming a marathon or ultra-runner?
Your training priorities shift. There are fewer quick kilometers, but more long units. You can essentially get rid of sprint training or any fast training content because there's no point in being able to run the last 100m two seconds faster if you need to run 10 seconds slower for each of the 60km before, because you don't have the endurance. Even if the really fast runs are no longer there, I should still keep variety in my training. That means not just long and relaxed runs, but also long and fast runs adjusted to the distance.
Become a product tester and experience new sports products and ideas live: Register here for free >>>
In a motivation crisis? The running group also helps Sebastian Hallmann

How do you go about preparing with a motivation crisis, how do you motivate yourself every day – also as a successful ASICS Frontrunner?
Defined goals are there for exactly that reason: They should help to avoid motivation crises. The way I am is that I like to run and need to be stopped. In the meantime I have enough experience and I can also put on the brakes myself. I haven't really experienced a motivation crisis. If you have a low point and you're already out, then that's okay. In that respect I'm quite emotionless.

To fill motivation troughs you have the objective, i.e. the "why am I doing this" and also other small tricks to tackle the training. Appointments with running friends exert a kind of positive pressure and running groups which exchange about training online in the evenings and motivate one another are also helpful. With routines and fixed appointments in the calendar, you can also avoid procrastinating your training.

In addition it is helpful to find the time of day that it works best for you personally. An early riser who only ever runs in the evenings will have to overcome more than a night owl who is first filled with energy in the evening.
And for those who don't want to run, those who really don't feel like it, but who have no problems with motivation, they should reward themselves with a day on the couch. Perhaps the unwillingness is a signal that the body needs a little bit of regeneration time.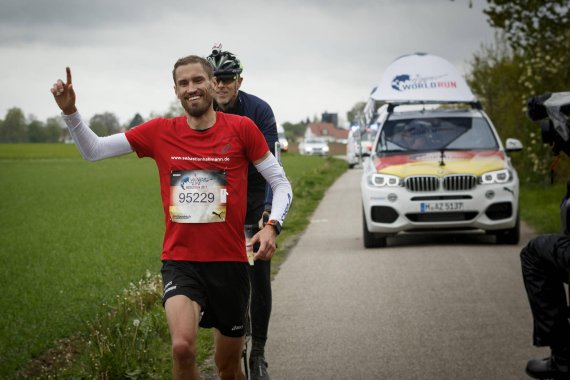 Ultra-marathons: Easy-going runs do not mean regeneration

How do you regenerate after such an ultra-marathon, what do you recommend in general?
Peace. Absolute peace. Eat a sufficient amount and don't just concentrate on filling up your carbohydrate reserves which are quickly full, you also need to pay attention to your protein supply. The body needs protein to repair everything that was broken. A relaxed run on the next day serves no purpose. The best thing to do is to leave your body enough time to recover from its exertions.

It's not just the race that hangs in your bones; in the run up lots of time, mental and physical energy are used to gear up for the marathon or ultra-run project. The body has deserved a break after this and will benefit more from a rest period than from a few dead kilometers which you run round the block for your sporting conscience.  

Read here: The 10 best tips for buying running shoes – by Urs Weber >>>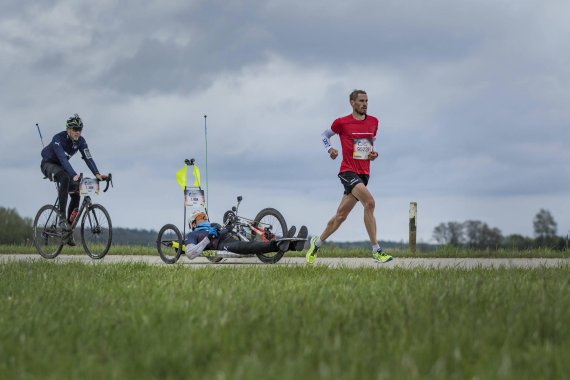 Your three most important tips that can also be used by amateur runners?
1. Continuity: Run regularly 

If you train regularly and without large breaks within the realms of your individual time limits, then you will achieve your goals in the long term.

2. Change between strain and relief

After every intensive training session an easy-going unit should follow, and in the same way a regeneration phase should be planned after a longer intensive phase in order to allow the body to repair itself. Regeneration is just as much a part of training as the exercise load itself. The more intensive the training blocks, the more you need the regeneration phase.

It is especially important to listen to your body in this cycle of strain and relief. If the training plan says you need to strain but your body is crying out for a rest, then let your body rest. Someone wrote the plan with the best of their knowledge and conscience but the body knows when enough is enough. Of course you ignore it sometimes, but then you know for the next time that you should listen to it.
3. Variation in training

Just running the same routes at the same tempo will of course make a running beginner quicker, but the body will eventually not respond to the same stimulus and your performance will stagnate. Running offers many ways to vary your training plan. You can essentially vary the length, speed and terrain you run on. Speed variations, long runs and hilly terrain are very easy ways to make your training more appealing. The best thing to do be prepared for a competition is to pick the training method which is most suited to the objective.

4. Stability training

This is incredibly important for your posture and most importantly for long distances to maintain your efficient running style.
Train with Sebastian Hallmann: At Urban Runners Munich and in a technical running course
When/how/where can amateur runners train with you?
It'll be easiest at Urban Runners Munich every Wednesday at 19:30 in front of the Park Café in Munich. This running group is even free for participants. Additionally there is a technical running course every Tuesday at 19:00 in the Schyren stadium, depending on how it works out in terms of time there is a diverse running training session every so often on Sunday, or you can visit one of my running workshops or running camps. The exclusive variant would be to make use of a personal training session. You can get all information about this on my website or on Facebook.

More about Sebastian Hallmann's running courses: http://www.sebastianhallmann.de/
Apps and Wearables: A must-have for every runner