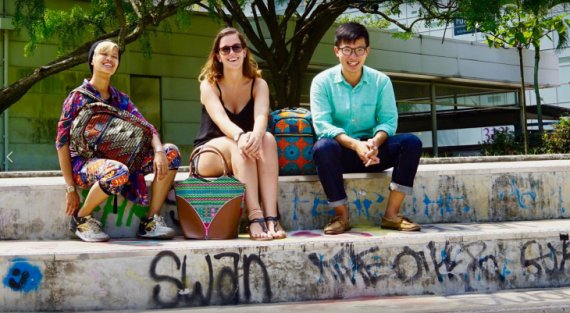 The Social Mercenary offers traditional Ghanaian apparel and accessories with a modern twist. The pieces are made by Ghanaian artisans using the handwoven "royal fabric" called Kente with African styles and prints. Features include YKK zipper for laptop or cell phone pockets, extra strong threads, or traditional waxed cotton used for backpacks and caps. 
The Social Mercenary was launched in May 2017 and just eight months later the British startup was on everyone's lips as ISPO Brandnew Winner in the Social Awareness category at ISPO Munich 2018.
In an interview with ISPO.com, founder and CEO Jack Fellows talks about how an idea became an award-winning start-up and what lessons he learned from the first year.
ISPO.com: How and when did you get the idea for your product? Was there some kind of flash of inspiration at a certain moment?
Jack Fellows: The idea came after I volunteered in Ghana for a few months. I was always being asked when over there if I could sell other people's products abroad. I realised that people here didn't have access to international markets which made development even harder. I found these incredible backpacks using local African print. I took this product to Hong Kong and we went from selling on street corners to raising £10,000 on Kickstarter which scaled up our production from an initial order of 90 bags to 500.
How about the social component?
This journey sparked a unique interest in the wider issues of textiles and so we realised that we have to ensure our workers safety and wellbeing – so we partnered with Ethical Apparel Africa to ensure that these issues were constantly checked and enforced.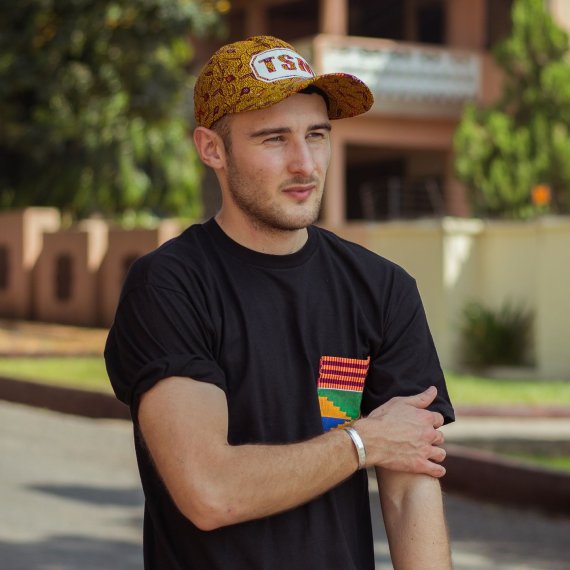 Which were the main steps and obstacles in the development of the product?
The main development issues were in sourcing components for the backpacks. For instance the zips made locally were of poor quality and it was hard to find a waterproof material that really lasted. We eventually imported these goods which raised our costs. The next obstacles were in keeping the lead time short, there are many issues in Ghana that can halt production such as many public holidays, power cuts and delays in delivery of needed materials especially locally produced fabrics.
How did you build up your network and look for partners or investors?
Our network was built up through a series of events and online presence. Trade fairs such as ISPO Munich have been brilliant in meeting retail buyers and expanding the business via wholesale. Online Social Media and word of mouth has so far been the best way to increase B2C sales but awards from institutions such as Adobe have also helped us gain credibility and awareness.
What are your three most important advices for other founders?
1) Don't be afraid to fail! That doesn't mean you can be reckless, it just means that you have to try a solution despite having never done it before or not having the resources. 90% of the time it is the founders fear that halts the company's growth, not their skills.
2) Leverage your skills! As a founder your role is to grow the business, build a team, ensure the company is well balanced from marketing to finance. Leverage means to use other people's skills to help grow faster and further. In the early days I tried to juggle everything myself and I found myself "multitasking" and never really achieving anything substantial! Making the commitment to say hire a bookkeeper allows you as the founder to focus on that next step.
3) Fall in love with your customers, not your products! Eventually all products become irrelevant, but if you know your customers and have a rapport with them, you can innovate on the product to provide more value!
In retrospect, what was the biggest mistake you made when starting your company? What would you do differently?
The biggest mistake was falling in love with my product or my business rather than my customer. At the start I was so focused on how I could help my friends in Ghana that often the products didn't fit the UK market or did not meet the quality expectations of UK consumers. I was then in a catch 22 because I couldn't help those in Ghana without first selling the products. If I were to do it again I would run more surveys upfront and have samples to get people reactions.
How difficult is it for young companies to establish themselves in your market segment?
Due to the competitive nature of the accessories market it is quite hard to establish yourself, especially in our case where your product is higher than the average price and so we've had to really differentiate ourselves from the basic school backpack and really tell the story of where these backpacks came from so that we differentiate ourselves from our competitors.
What are the next steps in the development of your product and company? Are further developments already planned?
Our next developments are to broaden our product range and to begin using more sustainable fabrics and technologies. We've also created strategic links in the US, France and Germany so it'll be interesting to see how these develop.
How have you benefited from ISPO Brandnew? What feedback did you get directly at the fair? How has ISPO Brandnew affected your network?
The event was incredible and elevated our business to a whole new level! As a start-up it can be hard to commit to large events such as ISPO Munich, but we had a fantastic position and from the event we generated many leads – one which has opened up a large opportunity in France. It was also a great learning experience to meet amazing businesses and producers. We were delighted with the positive response to the Social Side of our business.