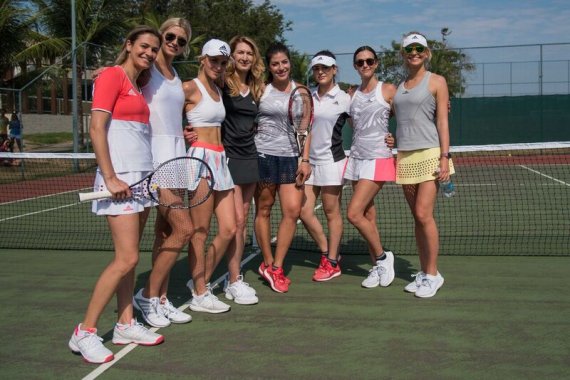 In Germany 54.43 million people turned on the Olympics on the channels ARD or ZDF at least once. Hardly anyone could escape the sport fascination during the premium event that is the Olympics.
But how do you reach those who are not so enthusiastic for Rio 2016? How do you reach the young generation, who perhaps see the Olympics just as a scandal-ridden institution that is only enjoyed by old men?
Adidas Turns Rio 2016 into the "Influencer Games"
The sports manufacturer giant based in Herzogenaurach, is not among the official Olympic sponsors this year, but told ISPO.com about its influencer marketing strategy: "While the 2012 Olympic Games in London went down in history as the first ever 'Social Media Games', Adidas wants to make the Olympic Games in Rio the first 'Influencer Games'".
Rio SQUAD <3 Lena Gercke, Fitness On Toast, Yoga With Adriene, Rachel Apollonio and Kéfera Buchmann

Posted by Caro Daur on Thursday, August 11, 2016
What does this mean for the Olympic Games in Rio? "For the 'Creators' House' initiative, 20 of the most well-known female influencers and bloggers in the world were invited to Rio for a very special mission. The influencers live together in a house, try out different sports, visit sporting events and share about their activities in Rio with their followers on social media."
20 attractive ladies (over two weeks of the Olympics) in a house with a pool, constantly accompanied by photographers and present on every social media channel? Adidas creates its own version of Big Brother.
Just Some of the Social Influencers who Received Invitations from Adidas:
Influencer Marketing - Really Quite Simple
Influencer marketing is one of the most talked-about tools used by advertisers and developers at the moment. The technique uses the social media popularity of public individuals, also known as opinion leaders or disseminators.
The principle is simple: Companies invite influencers to events such as product launches, the influencers share a (very positive) report about it on social media and their fans get to know the company and the product.
The likelihood of fans listening to a product recommendation from their idols is naturally high.
However, the most important element of influencer marketing is authenticity. Dan Neale, co-founder of the London PR and Social Media Agency, Alfred, describes the deciding features of successful influencer marketing: the collaboration between the influencer and the company must be "genuine, relevant and authentic".
Payment for Influencer Marketing is Frowned Upon
On the other hand, most marketing experts are in agreement that monetary payment has no place in influencer marketing. "Once you have payed your influencer to promote your product, you lose credibility and the influencer stops being influential", as it is always said.
Steffi v Lena --> i failed so badly! 🙈🙈🙈 she will always be the winner! But i had sooo much fun!

Posted by Lena Gercke on Friday, August 12, 2016
For Adidas' Rio-project, that was not so important. Popular influencers such as Lena Gercke, the first winner of "Germany's Next Top Model", will not be willing to perform services like these without payment. Even though the sports-mad model had the opportunity to play tennis with the legendary Steffi Graf.
Caro Daur Receives No Fee from Adidas
In this way you end up with photos and videos which are of interest not only to traditional media. The Facebook video of the tennis session between Steffi Graf and Lena Gercke has been seen over 172,000 times.

Model Kéfera Buchmann released a Youtube video about the Adidas Creators' House in Barra (a suburb in Rio). It was dominated by Adidas' three stripes and has been seen by over 760,000 users. In the past it could well have been called sneak advertising of the finest.
Not all influencers received money for their services. Caro Daur, one of the most popular fashion bloggers in Deutschland, only got the trip, along with some shoes and clothes. As Adidas told ISPO.com, the blogger from Hamburg, who is also active on Snapchat (carodaur), "received no payment for her stay".
No Instructions for the Influencers, says Adidas
For their influencer marketing project at Rio 2016, Adidas "gave the influencers no instructions or requirements". "For us, a co-operative relationship is very important."
Adidas wants to evaluate whether the campaign, which cost Adidas a six-digit figure in euros, was successful before it shares any of the results.
Blogger Gushes about her Adidas Family
The social influencers' excitement about their Adidas-trip to Rio was in any case palpable (as was expected). Caro Daur enthusiastically thanked her "beloved Adidas family" in her blog. "The trip was simply epic and I hope that we will all see each other again at the Olympic Games in four years to celebrate as one big Brazilian-Swedish-English-American-German-Adidas-Takataka-GANG."
On her homepage Daur talks up her favorite items from Adidas. When you click on the links and buy from the Zalando online store, the blogger gets a cut of the money - and that's also influencer marketing.