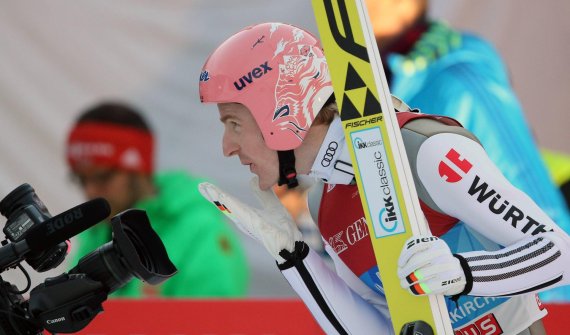 For 29 years, Dieter Münch has responsible as the Head of Marketing/Advertising at Würth. The global market leader in retail with mounting and fastening material has, in recent years, primarily made a name for itself among sports fans as a premium partner of the German Ski Association (Deutscher Skiverband, DSV). Now the company is also accelerating its activities in international soccer as a partner of the European Qualifiers for the 2018 World Cup.
B2B, B2C, B2B2C – What's the right strategy for my company? Apply for the ISPO ACADEMY in Seoul and Munich now! >>>
In an interview with the industry magazine sponsor news, an excerpt from which we are publishing here, Dieter Münch explains the new course of action, the differences from sponsorship in winter sports, and measures in the B2C sector.
Würth focusing on international sponsorship
ISPO.com: Würth is now also involved as a sponsor for the games of the European Qualifiers for the 2018 World Cup. Why?
Dieter Münch: We are an internationally positioned company with foreign subsidiaries in 84 countries. The European Qualifiers for the World Cup are an excellent opportunity to put the Würth brand in the limelight in several European countries at highlight games with high TV viewership interest. In addition, this construct offers us the option of also flanking international campaigns.
What does this commitment bring in comparison to the DFB international match sponsorships?
Exactly the broad international components. We're always looking for sponsorships that will also radiate internationally. Purely national sponsorship, for example the national handball league, would be out of the question for us.
Our DSV sponsorship, for example, also has an effect in other countries. My Norwegian marketing colleague is often excited when German ski jumpers go over the bakken with Würth branding. The DSV sponsorship is also being picked up on in other countries with an affinity for winter sports.
Winter sports: Target group in Germany older than in Austria
Is the target group in your soccer engagement a different one than, say, in winter sports with the DSV?
Yes, that's where it's highly country-specific. In Germany, for example, the target group for winter sports is older than, say, Austria. For us you can say the target group is 40+, that is, the "decider age."
Soccer, on the other hand, speaks to every age level equally, it gets started at younger than ten-year-olds and reaches all the way to retirees. I think that the mix at Würth is really good...
...and the youth?
We had also once considered adding a very young, dynamic, spectacular sport to the whole thing, but ultimately decided on the established mix. Würth is a modern, quality brand with traditional roots; we aren't the Red Bull of the craft industry, more like Coca-Cola.
Our target group is broad and reaches from the 16-year-old Zimmerman Foundation, who uses our Würth app services and appreciates our highly innovative screws, to the 75-year-old senior boss who's sworn by our brand and customer connection for 50 years, and has made every step in his company's development with us.
Würth strengthening B2C activities 
Would someone know the Würth brand all without the sports operations in the winter, and especially in soccer?
Of course. For decades, Würth has maintained an extremely active and approachable market access with over 31,000 vendors worldwide. The brand is renowned with craftsmen – naturally, more at home in Germany or in Austria than in Malta or Latvia.
Our brand, you always have to consider, has to date been a B2B brand. In this respect, all of our sponsorship activities are especially effective with people who have already had professional contact with Würth – everyone else can't buy Würth, after all, they need a trade certificate to be a Würth customer.
Are there leanings to also becoming active in B2C?
We'll be opening a "Würth Family Store" for end customers in Stuttgart next year – the initial tests were positive and it definitely makes sense to sound out once how the brand is received in B2C. Fundamentally, however, Würth will naturally stay a primarily B2B brand. Things are shown to be a bit different with our workwear line "Würth Modyf."
With "Würth Modyf," we've been active as a fence sponsor at the VfB Stuttgart for some months and have determined that online sales from this region increase significantly on the weekend. So the impulse "saw fence, bought online" works with normal end customers.
Udo Kürbs, publisher of sponsor news, conducted this interview.