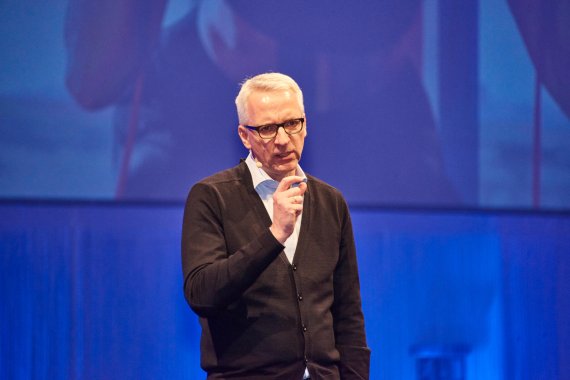 ISPO.com presents the exclusive speech by Roland Auschel at the symposium by Adidas and ISPO on the topic "Digitization as a Growth Stimulus for Industry and Retail."
Roland Auschel's speech, verbatim:
Ladies and gentlemen,

Have you ever contemplated what "the past" means for you? A period of 10, 50, or 100 years?

Your answer will naturally depend on personal experiences, but in the age of the digital revolution "the past" actually means yesterday. In doing so we believe that, with the internet, we are living in a marvelous modernity.

But in actuality the internet is still in its fledgling stage. Our fantasy isn't enough to take hold of the digital reality of the future. Against this backdrop, the word "groundbreaking" seems a bit trite; we need to invent a new word for this development.

For us, for Adidas, it's certain in any case that everything that can be digitalized will be digitalized. Nothing will be left behind, but everything is in store for us – and far beyond our former spectrum of thinking, from smartphones to big data, all the way up to cloud infrastructure.

I promise you that we will seize every new technology as an opportunity to communicate even better with customers and satisfy their wishes even more quickly.
"adidas needs to master every trend"
With our e-commerce business, we're already closer to the customer. We know them, their buying behavior, their budgets, and their purchasing rhythms. It's completely clear that we are securing our short-term requirements and production planning with this data.

However, it is crucial that we use this digital connection to swiftly detect even the smallest changes in the moods of young consumers and react to them accordingly. Our core target group of 14- to 19-year-olds renews itself every five years. In these five years we need to master every trend, and at the same time understand the regrowing core target group.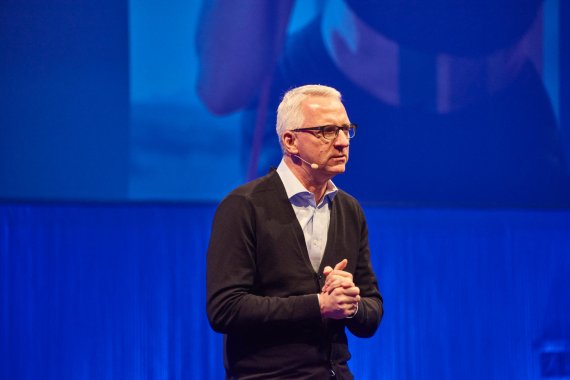 We have to be where these people are networking with each other, finding friends, consuming, conversing, and sharing. Here is where we communicate with them and bring our campaigns to life. Here is where we show what sports mean and what effect they have, here is where young people experience the world of adidas, made up of diverse cultures and lifestyles.

"Positioning adidas where the brand is effective"
Fifteen years ago, hardly any teenagers had a cellphone. Ten years ago, more and more young people began having phones. For five years now, everybody's had one. Today, cellphones are out. 85% of all 12-year-olds use a smartphone. Snapchat and Instagram are outstripping Facebook, as if this platform had been around forever. Facebook has only been available in Europe since 2006.

Now I hear more and more, "adidas with its many young shoppers who'd much rather hunker in front of the computer than go into the store." If it's so, then it's so. Our marketing team doesn't have the task of giving preference to one sales channel, but rather of positioning the brand where it can spread the best possible effect.

It's not about replacing the local retail industry with the smartphone. The idea that the shop window is fighting against the computer is also incorrect. We manage realities, not preferences.

Many retail stores as a base
Regardless of where and how our customers shop, we want to inspire them always and everywhere. We have more retail stores than any other competitor, we're a market leader in e-commerce, and we're even implementing franchising models in challenging markets like China and Latin America.

With more than 2,700 retail stores (12 concept stores, including the Running Store and the new OCS in Berlin, as well as 12 outlet stores in Germany), over 11,000 mono-brand franchise stores (13 in Germany), over 116,000 stores by our wholesale partners, and around 50 of our own e-commerce platforms, we have an unparalleled network of contact points for our customers in our industry.
These customers thus experience adidas across all sales channels, and with a uniform appearance at that. adidas isn't divided or quartered, it maintains one face for our customers.
Pilot project with Zalando in Berlin
We want to offer our customers the best brand experience, regardless of time or location. They want the newest and latest product – and right away. We can fulfill this wish by supplying them with the products directly from our stores. We were therefore very happy about the pilot project with Zalando in Berlin, and are anxious to see how these experiences can also be applied in other business areas.

The internet is yielding a new type of customer, I sometimes call them the swift consumer who doesn't want to miss anything: the right brand with the right idea for the right price, and naturally everything available immediately. This customer always needs to be kept happy.

Retail can't let itself be deterred here, it needs to stay strong. Or, expressed in another way: Because the digital markets are so strong, strong retail should stage itself with strong brands. Every compromise first destroys the retailer's image, and then its profits, too.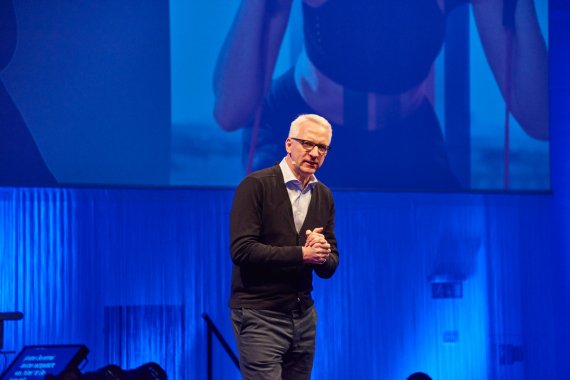 Declining revenue in stationary retail
The market for sports shoes and textiles is growing more and more slowly in Germany, most recently at just 2.5% in a year. In addition, a major shift is taking place between the sales channels. In today's Germany over 30% of this segment is processed via com-platforms, a peak in Europe that's only topped by the USA. And that, of course, leads to further declining turnovers in stationary retail.
In front of this backdrop, I constantly have to read stories of empty stores and deserted pedestrian zones, as if people had just fled a hurricane. But apparently these people are sitting at home, ordering their products with a few clicks of the mouse.

I don't believe, especially as a consumer survey by ISPO shows, that the traditional sports store still occupies a dominant role and that there can be no talk of a threat by online retail.

"The fast overtake the slow"
What's correct is: The fast overtake the slow. Those who complain or duck away will meet with massive problems. Only those who face up to this challenge in an intelligent and determined manner will continue to play a successful role in the competition.

To put it very clearly: Omni-channel is no longer an added benefit; without omni-channel, you won't survive. That's irrefutable.
There's a concentration phase in every industry, even specialty sports retail isn't spared. Now it's come to the point where sports in city centers, in the frequented shopping areas, remains visible. Only the retailers who call attention to themselves with emotion, originality, and permanent topicality will survive in the preferred places.

"adidas is focusing on curious retailers"
Instead of passively waiting for the customer, retail and industry need to actively inspire the customer with innovative capability. Antiquated ideas really don't have a chance anymore, and that's a good thing. adidas needs an environment that will carry this label.

We're focusing on curious and enthusiastic retailers who are up for the 21st century and ready to go to the forefront with us.

The retailer has the fundamental task of catching the swift consumer – with a product presentation that sets standards, with services like free returns of purchased products or a concierge service, and with digital offerings. Yes, with digital offerings!
"Digital stationary retail is not a contradiction"
Right now you might be asking yourselves whether the digitalization of stationary retail isn't a contradiction in itself. How can something that's stationary be digital? In the 21st century, this question is nonsensical.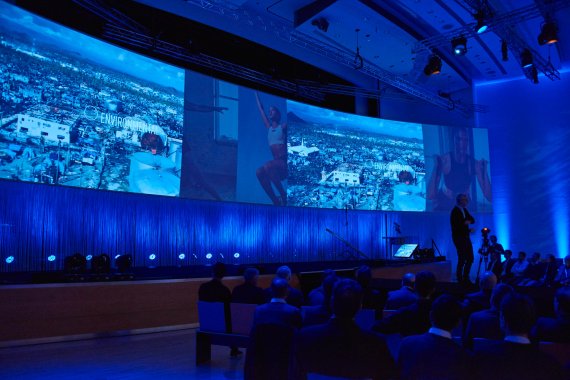 Success also comes along for stationary retail through the consistent use of all digital platforms and networks. The point of sale is what the customers see and feel, the internet is what the customers can get all over the world. The retailer onsite should bring these worlds together.
Should? I believe it's more of a must. Retail has changed radically in the past 100 years, from mom-and-pop stores to discount markets, all the way up to highly specialized one-line shops with a shopping experience character. It would be very peculiar if retail, of all things, didn't advance in the era of the digital revolution.
"The internet is an existential commodity"
The web is not retail's enemy, it's a tool to proactively apply new communication, new mobility, and new networks for its customer approach. For the customer of today, the internet is neither a luxury nor a cultural commodity, it's an existential commodity. It's simply a part of their lives, and retail will be smart enough to make their lives even easier.

And yes, retail even has a true chance here to become a winner. Most certainly, it's still in the beginnings of its online engagement, but retail should free itself from the trap of thinking that there aren't any synergies between the internet and the shop counter.

Online retail is brimming over with self-awareness; stationary retailers should try it out with smooth engagement and a sense for business topics that promote empathy and consultation competence. This also in front of the backdrop where a great wave of success is already headed retail's way. Triggered by the brilliant change in attitude in our society in terms of a healthy lifestyle.

Stationary retail is virtually predestined to bring health, sports, and digital technology together.

"Specialty sports retailers also sell passion"
Let's take a closer look: It's hard to imagine sports without digital technology anymore. The athlete uses a chip that stores all of their personal activity and cardio data to see how they need to optimally train to get closer to their goal. This way, every recreational athlete can afford their own – digital – professional trainer.
It's no longer the case where customers have to pick out multiple sizes and see whether the shoe fits: The specialty sports retailer isn't a shoe salesman, they sell sports, health, communication, and passion.

Retail and industry need to move closer together to master the complexity of customer expectations. We'll only come to a joint forward movement when we share relevant knowledge with one another. Thus, in the digital age, data must naturally be exchanged via sales of our products, for example.

You've probably heard it 1,000 times already, but it's still correct. Extraordinary situations can only be mastered with an understanding of the great, common goal.

"Want to increase consolidated profit annually"
I'll say point-blank where we want to go: We want to make our brands even more covetous and we want to work together with our consumers, athletes, partners, and last but not least retail even more efficiently.

And yes, of course we want to increase our consolidate profit annually up to the year 2020. To achieve these goals, we're concentrating in our strategic business plan "Creating the New" on the factors "Cities," "Swiftness," and "Open Source."

"Mega-key cities make the trends"
Cities! Why cities? My thesis first reads that, in a digital world, every location is equally relevant for the consumer. So, in the digital world, the location plays a much smaller role than in the past.
That is why we can also gain global competition from Germany – and the past few years, we haven't done too badly. At 19% market share, adidas is the clear market leader ahead of its American competitors in Germany.
Nevertheless, what's crucial to our success is the question of where trends are made. Answer: in the so-called mega-key cities. Los Angeles, New York, Rio, Paris, London, Berlin, Moscow, Shanghai, and Tokyo shape the lifestyle of future generations, their sense of fashion and sports. Brands' perceptions are formed in these places. From there, they spread all across the world.
"adidas needs to be where the trendy people are"
The people in the metropolises are braver and more creative, they do their thing and crave actualization. adidas thereby needs to not just be digital, but also physically be where the trendy people are.

And adidas is there. We're investing a lot in these metropolises, in New York alone we've invested more than 50 million euros in the past few months for two mega-stores, and we're transporting the "New York adidas spirit" all across the world via our digital platforms.
My second point from our strategic business plan is: swiftness.

The essential difference between today and tomorrow will be the swiftness with which trends and innovations get from point A to point B.
Ten years ago, we were able to monitor the trends in the USA with a certain degree of calmness, and back then it took a good two years before the new ideas reached Europe. So, we had a good deal of time to purchase merchandise and align sales.
Today we have maybe a couple of weeks' time, soon it'll be just a couple of days, and even this timespan will continue to reduce – maybe to one day or hours. At this point I'd like to mention that we expressly welcome the fact that organizations are taking on more responsibility for their members' collections, when that increases swiftness and decreases complexity.

"More creative freedom for customers"
The acceleration I just described will be triggered by the increasing digitalization of our consumers. We've reacted to this with new, industry-changing business models and technologies.
A good example in this context is the Speedfactory project.
With Speedfactory, we review and scrutinize how and to what end products are manufactured. Thereby, a new era in the development of shoes and textiles is beginning – with more creative freedom for the customers, unique design options, and the highest functionality.
Speedfactory has the potential to evolve into the role model for synergies between digital networking and stationary retail.

Open Source means unlimited creativity
Another current example is our pop-up store "Knit for you" in Berlin. Here, creative consumers can design their totally personalized sweater themselves in the store and have it knit onsite within just a few hours – the "favorite sweater to go," so to speak.
Such innovative concepts fit with our third strategic column, "Open Source." We consider this to be a type of "journey of discovery without a firm goal," where you can act out your creativity as freely as possible. We invite you to blaze unconventional new paths and embark into uncharted territory together with us.

We find ourselves in a lively decade. Lively doesn't mix with black-and-white thinking. We call on retail to face up to this rapidly changing world together with us.

Thank you very much for your attention.