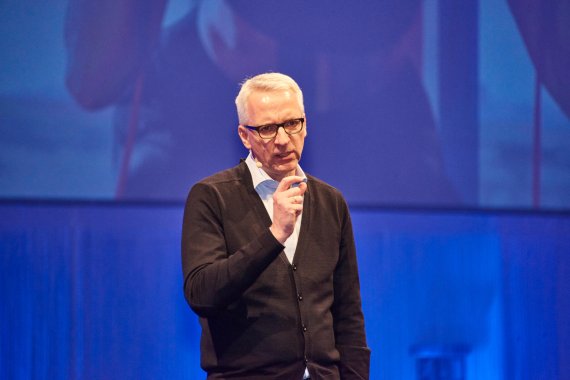 ISPO.com exclusively presents Roland Auschel's speech at the Adidas and ISPO symposium on the topic of "Digitization as a Growth Impulse for Industry and Retail".
The speech by Roland Auschel in the wording:
Ladies and Gentlemen,
have you ever thought about what "earlier" means to you? A period of 10, 50 or 100 years?
Your answer depends on personal experience, of course, but in the age of the digital revolution, "earlier" actually means yesterday. Yet we believe that with the Internet we live in a fabulous modernity.
In reality, however, the Internet is still in its infancy. Our imagination is not enough to grasp the digital reality of the future. Against this backdrop, the word "groundbreaking" seems a bit hackneyed; we have to invent a new word for this development.
For us, for adidas, in any case, it is clear that everything that can be digitized will be digitized. Nothing is left behind, but everything is coming our way - and far beyond our previous spectrum of thinking, from smartphones to big data to cloud infrastructure.
I promise you that we will see every new technology as an opportunity to communicate with customers even better and to meet their needs even faster.
"adidas must master all trends"
With our e-commerce business, we are already closer to the customer. We know them, their buying behavior, their budget and their buying rhythm. It's quite clear that we use this data to secure our short-term demand and production planning.
But the decisive factor is that digital networking enables us to quickly identify and respond to even the smallest changes in the mood of young consumers. Our core target group of 14- to 19-year-olds renews itself every five years. In these five years, we have to master all the trends and at the same time understand the core target group that is growing up.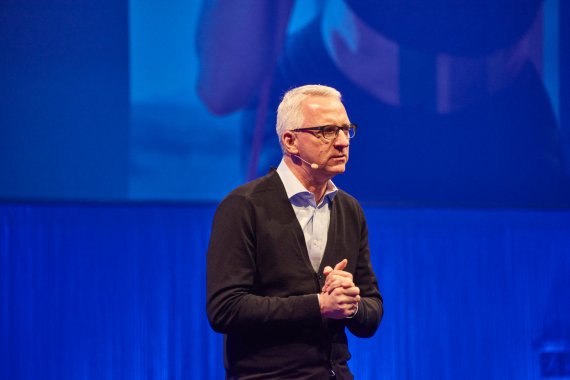 We need to be where these people network, make friends, consume, converse and share. This is where we communicate with them and bring our campaigns to life. This is where we show what sport means and how sport works; this is where young people experience the adidas world from different cultures and lifestyles.
"Positioning adidas where the brand makes an impact".
Fifteen years ago, hardly any young people had a cell phone. Ten years ago, more and more young people started having cell phones. Five years ago, everyone had one. Today, cell phones are out. 85% of all 12-year-olds use a smartphone. Snapchat and Instagram are outpacing Facebook as if the platform has been around forever. Yet Facebook has only been around in Europe since 2006.
Now I keep hearing, "adidas, with its many young shoppers, they'd much rather sit in front of the computer than go to the store." If that's the case, then so be it. Our marketing is not about preferring a distribution channel, but about positioning the brand where it will have the best possible impact.
It's not about replacing local retail with the smartphone. It's also wrong for the storefront to fight the computer. We manage realities, not preferences.
Many retail stores as a base
No matter where and how our customers shop, we always aim to delight them everywhere. We have more retail stores than any competitor, we are a market leader in e-commerce and we even realize franchising models in challenging markets like China or Latin America.
With more than 2,700 of our own retail stores (in Germany 12 concept stores including a running store and a new OCS in Berlin as well as 12 outlet stores), over 11,000 mono-branded franchise stores (13 in Germany), more than 116,000 stores of our wholesale partners and around 50 of our own e-commerce platforms, we have a unique network of contact points for our customers within our industry.
So these customers experience adidas across all sales channels and with a unified presence. adidas is not divided or quartered, adidas keeps one face for our customers.
Pilot project with Zalando in Berlin
We want to offer our customers the best brand experience, regardless of time and place. They want the latest and newest product - and they want it now. We can meet this desire by delivering products to them directly from our stores. We were therefore very pleased with the pilot project with Zalando in Berlin and are excited to see how we can apply this experience to other areas of our business.
The Internet is giving rise to a new type of customer, I'll call him the frenetic consumer who doesn't want to miss out on anything: the right brand with the right idea at the right price and everything available immediately, of course. This customer has to be kept happy all the time.
Retailers must not allow themselves to be distracted here, but must remain strong. Or to put it another way: because the digital markets are so strong, a strong retailer should present itself with strong brands. Any compromise first destroys the retailer's image, and then its profits.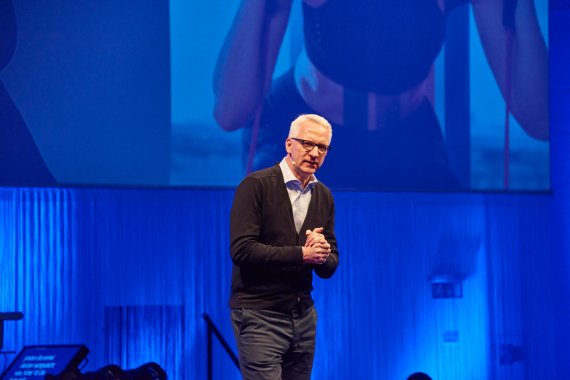 Declining sales in stationary retail
The market for sports shoes and textiles in Germany is growing ever more slowly, most recently at an annual rate of only 2.5%. In addition, there is a strong shift between sales channels. In Germany, more than 30% in this segment is already transacted via com platforms, a peak value in Europe that is only topped by the USA. And that, of course, is leading to further declining sales in stationary retail.
Against this backdrop, I constantly have to read stories of empty stores and deserted pedestrian zones, as if people were just fleeing a hurricane. But apparently these people are sitting at home, ordering their products with a few clicks of the mouse.
I don't believe that, especially since a consumer survey by ISPO proves that the traditional sports store still plays a dominant role, and there can be no talk of a threat from online retail.
"The fast overtake the slow".
It is true that the fast are overtaking the slow. Those who lament or duck away will encounter massive problems. Only those who face up to this challenge intelligently and with a strong will will continue to play a successful role in the competition.
To put it bluntly: omni-channel is no longer an additional benefit, without omni-channel you will not survive. That is irrefutable.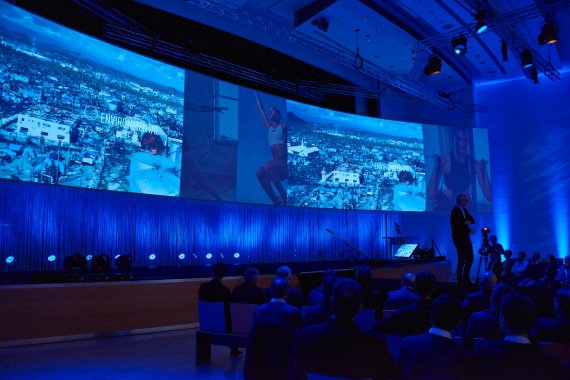 Concentration processes are taking place in every industry, and the sports retail sector is not spared from them either. Only those retailers who attract attention with emotion, originality and permanent topicality will survive in preferred locations.
"adidas relies on curious retailers"
Instead of passively waiting for the customer, retail and industry must actively inspire the customer with innovation. Old-fashioned really doesn't stand a chance anymore, and that's a good thing. adidas needs an environment that carries the brand.
We rely on curious and enthusiastic retailers who have an appetite for the 21st century and are ready to move forward with us.
The retailer has the elementary task of capturing the frenetic consumer - with a product presentation that sets standards, with services such as free return of the purchased product or a concierge service, and with digital offers. Yes, with digital offers!
"Digital stationary trade is not a contradiction in terms".
You may now be asking yourself whether the digitization of stationary retail is not a contradiction in terms. How can something be digital that is stationary? In the 21st century, this question is nonsensical.
Success for stationary retail also results from the consistent use of all digital platforms and networks. The point of sale is what customers see and feel, the Internet is what customers can get worldwide. The local retailer should bring these worlds together.
Should? I think it's more of a must. Retail has changed radically over the past 100 years, from corner stores to discount stores to highly specialized specialty stores with an experiential shopping character. It would be very strange if retail, of all things, did not evolve in the age of the digital revolution.
"The Internet is an existential asset"
For retailers, the Web is not an adversary, but a tool to proactively use the new communication, the new mobility and the new networks to address their customers. For today's customer, the Internet is neither a luxury nor a cultural good, but an existential good. It is simply part of his life, and retailers will be smart enough to make his life even easier.
And yes, retail even has a real chance to become a winner here. It is certainly still in the early stages of its online engagement, but retailers should free themselves from their thinking trap that there are no synergies between the Internet and the store counter.
Online retail is brimming with self-confidence; brick-and-mortar retailers should try it with supple commitment and a feel for social issues that require empathy and advisory skills. This also against the background that a large success wave is already approaching the trade. Triggered by the fulminant consciousness change in our society in puncto healthy life-style.
Stationary retail is virtually predestined to bring together health, sport and digital technology.
"Sports retailers also sell passion"
Let's take a closer look: sports are no longer conceivable without digital technology. The athlete learns how to train optimally to get closer to his goal via a chip that stores all personal movement and cardio data. In this way, every recreational athlete can afford his - digital - professional trainer.
It's no longer a matter of picking out several sizes for customers and seeing if the shoe fits: The sports retailer is not a shoe salesman, he sells sports, health, communication and passion.
Retail and industry must move together to manage the complexity of customer expectations. We can only move forward together if we share relevant knowledge. In the digital age, for example, data on the sales of our products must be shared as a matter of course.
You've heard this a thousand times before, but it remains true that extraordinary situations can only be mastered with an understanding of the big common goal.
"Want to increase Group profit every year"
I'll tell you plainly where we want to go: We want to make our brands even more desirable and we want to work even more efficiently with our consumers, athletes, partners and, last but not least, retailers.
And yes, of course, we want to increase our Group profit every year until 2020. To achieve these goals, we are focusing on the factors of "cities," "speed" and "open source" in our strategic business plan "Creating the New."
"Mega key cities are making the trends".
Cities. Why cities? First of all, my thesis is that in a digital world, every location is equally relevant to the consumer. So location plays a much smaller role in a digital world than it did in the past.
We can therefore also win the global competition from Germany - and we haven't done too badly in recent years. adidas is the clear market leader in Germany with a market share of 19%, ahead of its American competitor.
For us, however, the key to success is the question of where the trends are made? Answer: In the so-called mega-key cities. Los Angeles, New York, Rio, Paris, London, Berlin, Moscow, Shanghai and Tokyo are shaping the lifestyle of future generations, their sense of fashion and sport. It is in these places that the perception of brands is shaped. From there, they spread all over the world.
"adidas has to be where trendy people are".
People in the metropolises are more creative and courageous, they do their thing and yearn for realization. adidas therefore needs to be not only digitally but also physically where the trendy people are.
And adidas is there. We invest a lot in these metropolises; in New York alone, we have invested more than 50 million euros in the past few months for two mega-stores, and we transport the "New York adidas Spirit" all over the world via our digital platforms.
My second point from our strategic business plan is: speed.
The key difference between today and tomorrow will be the speed with which trends and innovations get from A to B.
Ten years ago, we could watch the trends in the U.S. with a certain amount of composure, and then it took a good two years before the new ideas reached Europe. So we had quite a lot of time to buy the goods and gear our sales to them.
Today we have just a few weeks to do this, soon it will be just days and this time span will also be reduced further - perhaps to a day or hours. At this point, I would like to mention that we expressly welcome the fact that the associations are taking on more responsibility for their members' collections if this increases speed and reduces complexity as a result.
"More design freedom for customers"
The acceleration just described is triggered by the increasing digitalization of our consumers. We have responded to this with new, industry-changing business models and technologies.
A good example in this context is the Speedfactory project.
With Speedfactory, we are rethinking and questioning how products are manufactured and for what purpose. This marks the beginning of a new era in the development of footwear and textiles - with more design freedom for the customer, unique design possibilities and maximum functionality.
Speedfactory has the potential to become a role model for synergies between digital networking and stationary retail.
Open source means unlimited creativity
Another current example is our pop-up store "Knit for you" in Berlin. Here, creative consumers can design their own personal sweaters in the store and have them knitted on the spot within a few hours - the "favorite sweater to go," so to speak.
Such innovative concepts fit in with our third strategic pillar, "Open Source. We see this as a kind of "voyage of discovery without a fixed destination" in which you can live out your creativity as freely as possible. We invite you to take unconventional paths with us and venture into new territory.
We are in a lively decade. Lively is not compatible with black-and-white thinking. We are calling on the retail sector to join us in dealing with this rapidly changing world.
Thank you for your attention.