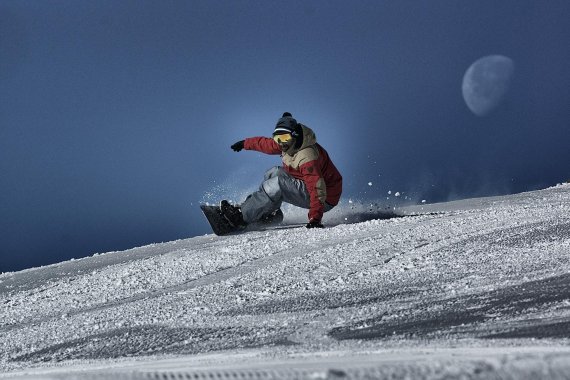 Nevertheless, there is cause for hope: A thrilling Instagram video from Travis Rice and his friend Brian Iguchi can, for example, definitely be an initial spark for the digital natives to throw themselves into the adventure of snowboarding.
The requirements for it have never been better! I'd like to explain why that's the case using the following five snowboarding trends.
1. Grassroots events invigorate the spirit
Snowboarding has stood for individuality since the beginning. But after the competition formats originating from snowboarding like slopestyle, boardercross, and big air were, little by little, copied and adapted by ski associations, the unique character went missing.
With the revival of the banked slalom, an original discipline of snowboarding, things are once again standing clearly apart from other winter sports events. These fun events unite the snowboarding family, since riders from every generation are starting – from beginners up to pro riders.

Many of these events aren't just pure competitions, they're actually a gathering of kindred spirits celebrating the snowboarding culture. Barbecue sessions, concerts, and parts in a familiar place are a good hotbed to revitalize the snowboarding spirit.
2. The carving revival

As a result of the steep trend of "higher, faster, further," snowboarding had lost its grip on reality in the past few years. What brands were communicating in their advertisements and video clips was, for many non-snowboarders and potential new snowboarders, hardly comprehensible.

With the revival of carving, which places the focus on playing with centrifugal force and the associated, unique snowboarding feeling, snowboarding is becoming approachable again. Snowboarding takes place on the ground for the majority of participants, and not in the air.

With how positively and emotionally this is now being communicated by many snowboarders again, the chances aren't bad that even fearful, skeptical parents understanding that snowboarding is no more dangerous than skiing, but also is a damn lot of fun.
3. Splitboarding expanding the spectrum

I know a few snowboarders from the first generation who, as they get older, have swapped their single boards for two and sought out a new challenge in ski touring. But since splitboarding has established itself more and more as a popular segment in snowboarding, even riders in the 40+ age bracket are staying true to the board sport.

Splitboarding is also the trend for the "active outdoor lifestyle," which is especially popular in that age class. And what's more: Splitboarding offers the snowboard industry and retail various cross-selling opportunities – from high-quality, technical clothing all the way up to the broad range of safety products. In an itself stagnating market, there are definite chances for growth, however small.

4. Snowboarding stands for innovation

There is no standstill in snowboarding. Thanks to the high density of creative minds in the board forges' development kitchens, the spectrum is continuously expanding to new shapes.

The industry also doesn't shy away from casting a glance to snowboarding's beginnings, and lets itself be inspired by old shapes and related sports like surfing when developing modern board designs.

Combined with modern production processes and technologies, lots of innovative board shapes are the result. Boards optimally suited for the various forms of play gliding in the snow, and promote one thing above all: fun on the mountain!

Whether handcrafted powsurfers by Äsmo, fishboards with good all-round properties by K2, Burton, Capita, Lib Tech, Ride, and Nitro, or the balanced all-round shapes by Amplid, Rome, Korua, Salomon, and Nidecker: Thanks to perfectly attuned boards, the requirements for learning how to snowboard quickly and happily have never been better than they are today.

On top of that are innovative approaches for more comfort when getting started with binding, such as the speed entry systems from Flow, SP, Völkl, K2, and others, as well as the newly developed step-on binding from Burton. So there's no longer any reason for comfortable or older winter athletes not to get started snowboarding!

5. Snowboarding focusing on sustainability
Producing winter sports products sustainably is a major challenge. It's encouraging to see how seriously and purposefully the snowboarding industry is attending to the topic of sustainability.

Two examples: In November 2015, the US brand Capita achieved the largest, and probably today's most modern snowboard factory in the world in Feistritz an der Gail, Austria. The factory's operation, which was christened with the name "Mothership"...

... runs 100% CO2-neutral.
All power needed for production is obtained from its own hydroelectric station.
People are also focusing on water-based colors, plant-based resins, and less solvent in the production of snowboards.
Capita MFG GmbH doesn't just produce boards for its own label, it also prepares snowboards on behalf of other renowned brands. A concept the ski industry should definitely take a cue from! Eventually, it did the same in the past when it came to shapes, technologies, and competition disciplines.
What goes for the hardware sector applies all the same for snowboard apparel. Here the industry top of the class Burton is taking on a pioneering role and is very close to producing all textiles according to the bluesign standard. Furthermore, down jackets will be exclusively use feathers from 100 percent responsible poultry farming. Production according to these strict sustainability standards can be an inspiration for the entire industry.
Conclusion: Long live snowboarding!
Even if sales figures and growth rates in the snowboarding industry gave little cause for jubilation in the past few years, the abovementioned developments are a positive signal to me. They should embolden the entire industry to continue to follow the struck path with the necessary foresight.