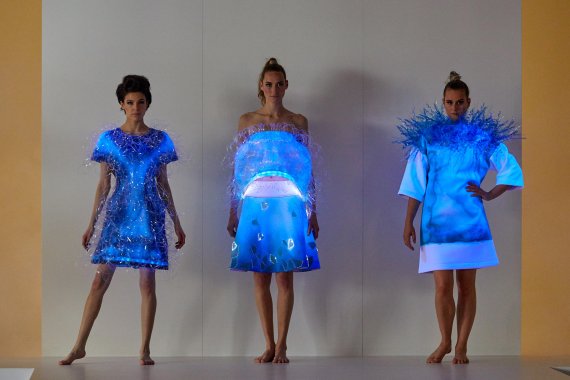 Trade fair Techtextil (9-11 May) in Frankfurt, is a must-visit for textile lovers, as it is a visionary approach to tomorrow's textile applications. It is a show where high-tech and textiles meet, key examples include an airbag for building workers, luminescent and heated garments, smart knee bandages, and textile-reinforced concrete with built-in sensors. For technical textiles it isn't just traditional that you expect, but a variety of applications as suppliers show their latest developments to the automobile, aerospace, architecture and building, occupational therapy, sport and apparel industries, to name just a few.
From Space to the street
Life in Space was the theme of the show. European design students imagined the future of life in space. Guest of honor at this year's Techtextil is Dr. Reinhold Ewald, ESA astronaut and professor for astronautics and space stations at the University of Stuttgart. During the opening press conference, Reinhold Ewald offered insights into his experiences in space and discussed the significance of high-performance materials for space travel: "High-tech materials based on fibers are essential in space travel when it comes to reducing the weight of space capsules. Every additional gram increases costs. Furthermore, textiles also save lives. Just think about astronaut suits. At the same time, materials that have been developed for space travel often find their way into daily life".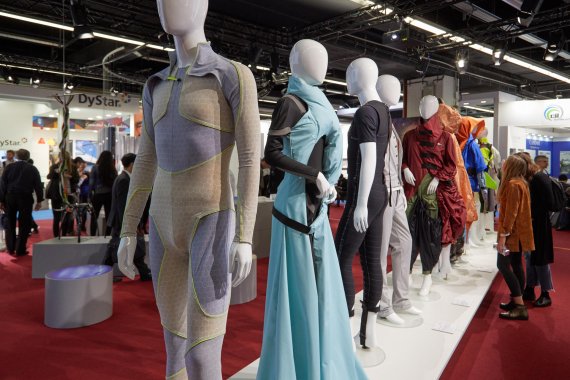 So, that's the professional's opinion in Space, but it isn't a million miles away from what is happening in the textile market for sports and outdoor textiles, as we go lighter in weight and yet still deliver high level performance, enhancing our performance and increasing endurance. Walking the Techtextil show, it is interesting to see the new innovations for different applications in vastly contrasting industries, yet they have a common thread - textiles. Many products developed for one industry may eventually cross over into the active and sportswear sector. You only have to think of Outlast's phase change materials, originally developed for NASA , awarded Certified Space Technology in 2003 and inducted into the Space Technology Hall of Fame in 2003. This temperature regulating fabric can be now found in outdoor sports, bedding, footwear and even medical markets.
Textile Innovation
The Techtextil Innovation Award 2017 featured winners including Centexbel, a non-profit organization and Peterseim Strickwaren from Mühlhausen with their intelligent knee brace that supports patients during the rehabilitation phase after knee operations. A textile sensor identifies the angle of the knee in real-time and informs the patient of this accordingly. It also offers personalized exercises via an app - an interesting concept for sports injuries. In the 'new product' category, the Leipzig-based start-up Texlock was chosen for its innovative, textile-based bicycle lock, which is light, flexible and does not scratch the bicycle's paintwork thanks to its soft surface. Penn Textile Solutions, reknowned for their high compression fabrics in the apparel sector, was selected for an Innovation Award in this category for Ombra-DLS, a shading net for use in facade construction and window installation. By expanding the net to a greater or lesser extent, the light admitted to a room or building can be modified according to requirements, regardless of how much light energy is available at the time.
Enhanced Protection - High Tenacitiy Fabrics
Teijin booth showcased its advanced solutions incorporating various proprietary materials including Teijinconex neo meta-aramid fiber, achieves unsurpassed heat resistance, excellent dyeability and environmental compliance for diverse solutions suited to protective clothing and NANOFRONT, the world's first 700-nanometer ultra-fine polyester fiber featuring superior fitting, slip resistance, heat and light shielding, and filtering properties. Geared towards diverse applications, including clothing, sportswear and industrial applications, Teijin really highlights the multiple industries a textile company can be present in.
Efficient Production
As sustainability and efficient processes influence the textile chain as seen in the ISPO TEXTRENDS Mega Trends for Spring/Summer 2019 it isn't just the textile process that is making changes, but the garments production process too.
Wholegarment knitting by Shima Seiki maximizes the benefits of shaped knitting even further by expanding the potential to 3 dimensions. Wholegarment knitting is capable of producing knitted items in their entirety on the machine, and allows 3D forms and tubing to be produced without sewing. The seam-free nature also ensures continuity of yarn, allowing functional yarns such as conductive yarns to wrap around the entire body for applications in smart garments and wearable technology.
The latest version of Shima Seiki's SDS-ONE APEX3 3D design system for design and simulation of various technical textiles was released at the show. Of particular interest is its ultra-realistic simulation capability that realizes Virtual Sampling. When countless variations must be evaluated before arriving at a final design, virtual product samples can be used to streamline the decision-making process by minimizing the enormous amount of time and cost normally associated with producing actual samples for each variation.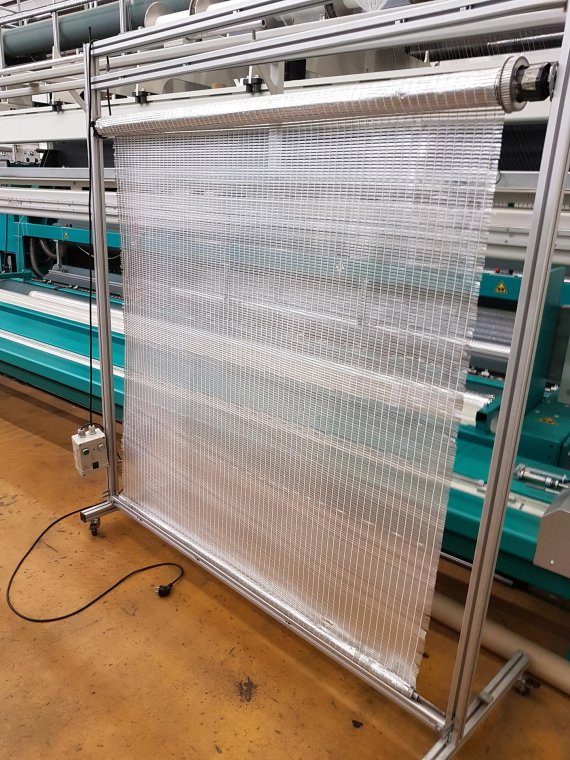 Bio-Synthetics - From Textiles To Membrane Protection
Leading apparel, footwear and gear brands are demanding innovative eco-efficient solutions , with the latest a partnership with the Cordura brand, an ISPO TEXTRENDS winner with DuPont Tate & Lyle Bio Products, bringing a new eco-innovation to Techtextil, driving the future use of new sustainable textiles. Based on the combination of the long-lastingdurability of Cordura fabrics married with the bio-based performance of Susterra membranes and coatings.
"We continue to look at ways that we can benefit the environment as part of our innovation continuum and Cordura fabrics can do this by helping to increase a product's utility and durability," explained Cindy McNaull, global Cordura brand and marketing director.
"As the textile market continues to look for innovative solutions to help reduce its environmental footprint, we want to provide long-lasting products that need to be replaced less often. Through our recent collaboration with DuPont Tate & Lyle's Susterra brand, designers of apparel, footwear and gear will have access to a wide variety of durable fabric technologies that incorporate high performance coatings and membranes based on plant-based materials."
Everest, another ISPO TEXTRENDS winner, is the first apparel fabric mill brought into this collaboration, has the ability to incorporate bio-based membranes and coatings based on Susterra propanediol from DuPont Tate & Lyle into a variety of Cordura brand fabrics. At Techtextil, Everest highlighted how Cordura Naturalle fabrics incorporated with a polyurethane bio-based membrane containing more than 25 percent renewable sourced materials by weight are engineered to help keep your body dry and comfortable in all kinds of weather.
The Susterra propanediol based membrane demonstrates good hydrolysis resistance, excellent low temperature flexibility and elasticity thus allowing the membranes to be incorporated with stretch fabrics for added mobility.

"Eco-innovations in the industry can take the shape in many forms from renewably sourced products, to long-lasting durability to recycled materials," stated Laurie Kronenberg, global marketing director, DuPont Tate & Lyle Bio Products. "We worked with eco-efficiency in mind to develop solutions for those brands demanding bio-based, sustainable, performance materials across a variety of markets," she said.