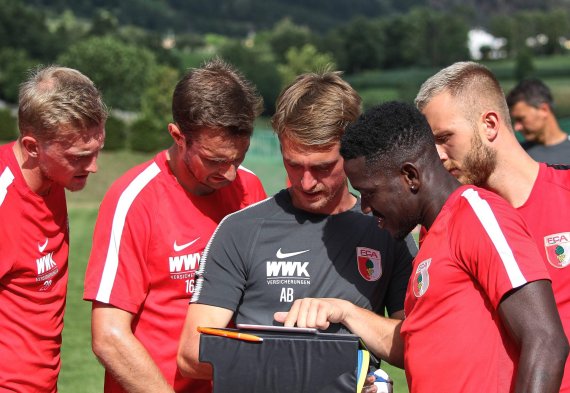 Up until just a few years ago, there still wasn't a clearly outlined job profile. But by now, the major clubs require very specific qualifications and training.
In modern soccer, the successful clubs and teams primarily focus on dominance and game control. One representative of this is start trainer Pep Guardiola, with his vision of the perfect game.

To be able to plan every move, however, Guardiola & co. need a whole team of game analysts who can process all available data on their own team and the opponents in such a way that the coaches can use it to draft successful tactics and lineups. With these successes, due to a certain extent to analysis, and the growing technical possibilities, the need for game analysis experts is growing rapidly – even down to the regional leagues and fourth divisions.
What coveted positions in the sports business are open right now? You can naturally find out with us! >>>>
Our careers experts Andy Gugenheimer (head of sportyjob.com and cooperation partner of the ISPO JOB MARKET) and recruitment consultant Gunther Schnatmann explain what prerequisites soccer-loving applicants need to be able to make top teams even more successful with analysis.
1. "Read" and process data correctly
Digitization is playing a bigger and bigger role in soccer, and is the deciding factor in analysis. Game analysts thus need to be able to handle the quantities of gathered data – Big Data – and understand how to derive the most important results from the more and more comprehensive data sets on games, players, and game situations in the form of tables and graphics.

To this end, analysts need to know which software will provide which results – say, when tracking running performances or ball possession – or how data results can be linked and evaluated. Above all, they should sure in using database systems.

"Experience as a software developer, a programmer, or at least an IT-intensive degree are clear assets if you want to become an analysis expert for one of the big clubs," says insider Andy Gugenheimer.

Future analysts should also always be up to date in terms of software and willing to learn. The German Football Association, for example, is currently working together with software developer SAP on new analysis methods that, if successful, will definitely be implemented in the clubs, as well.
2. Treat video material professionally
On one hand, in analysis the players are points on a two-dimensional field whose movements are registered and rated. On the other hand, there's video analysis where, for example, the upcoming opponent searches for patterns in the play and vivid material is compile for your own team for game preparation.

The game analysis expert visualizes the essential findings of their work in the form of videos, for example placing arrows for running paths on individual video sequences. Just like today's spectator knows halftime Champions League broadcasts by SKY or explanations by ZDF sports expert Oliver Kahn.
Here, experience in processing and preparing moving images is helpful – that is, video files, regardless of the format. An internship at a TV production firm or broadcaster is a good example. Or even work at an online portal that regularly integrates videos into the website.
3. Understand the game

Because the analysis job is complex than it looks from the outside, gathering data alone isn't enough. The assignment falls into game preparation with opponent analysis and match plan creation. Then into the live analysis of the game. And after that, into game post-processing and training analysis.

The specialists analyze individual players, entire parts of the team, and complete teams according to physical, mental, situational, tactical, and perspectival criteria. This way, they make a crucial contribution to squad planning, training direction, and tactical alignment. All of this call for a deeper understanding of the game, even if the analyst "only" gathers data, evaluates it, and derives recommendations from it.

A successful applicant for a job as a game analysis expert should thus preferably have their own experience as a player and a coach, at least in a lower league or youth team.

Recruitment expert Gunther Schnatmann advises: "People who are interested in this highly interesting job, but don't have enough practical experience, should rather take a half a year before applying. And then use this window to at least participate as a coaching assistant in their local club, gaining tactical experience!"
4. Get special training on top of that
Game analysis expert still isn't a job that requires formal training, and there is no analysis degree, at least for new students. Thus, every subsequent analysist does their training or gets their degree in the field of sports, IT, or video production. It's preferable that they're also active as a player or coach on the side.

After completing their studies or training, people who then do internships in the analysis department of a soccer club can then, with a little luck, slide into a permanent position. But the chances are even better when you pack on an additional qualification "on top." The first qualified institutions for this have been around for a few years.

In the winter semester of 2015/16, the German Sport University Cologne started the "M.A. in Game Analysis" post-professional Master's program, initiated by the Institute for Cognition and Sports Research. This last four semesters, and also addresses data analysis in basketball and hockey.
The Institute for Football Management in Ismaning, near Munich, likewise began its first seven-month course of studies in 2015, concluding with the university certificate "Soccer Game Analyst." In Düsseldorf, the IST University of Applied Sciences offers a combined "Game Analysis & Scouting" program.

Adidas, Nike, Odlo, or Jack Wolfskin? Nab your dream job in the sports business! >>>>
The opportunities to get started in this promising job field are becoming more and more manifold, and the number of interested parties is slowly growing. Further education offers are often quickly booked up. So, now is the right time to jump on the trendy bandwagon of game analysis!